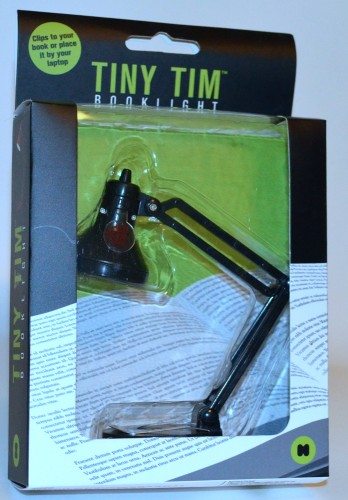 This little book light reminds me of those Luxo desk lamps that inspired the Pixar logo and cartoons.  Just like the Luxo, the Tiny Tim Book Light from Mustard is articulated so you can bend it into various shapes to put the light just where you want.  Let's see how it works.
All images can be clicked for a larger view.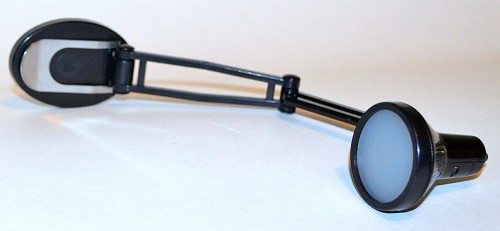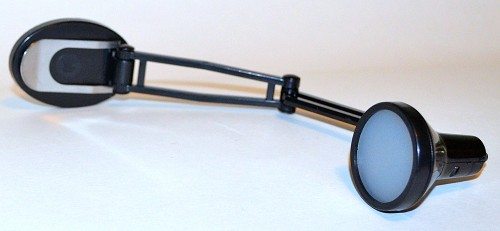 The Tiny Tim is made of red or black plastic.  The articulated joints have metal screws, and there's a metal clip on the base so you can clip it to your book.  Inside the "lamp shade" is an "ultra-bright" LED.  The LED is shielded by a frosted white plastic disk.
The lamp uses three 1.5V AGS batteries.  The first set is already installed, and you'll need to remove a plastic strip to engage the batteries.
The lamp measures 1.6″ X 2″ X 6.7″, and it weighs 1.13 ounces on my digital kitchen scale.


The base has a metal plate inside it for "ballast" so that it can stand on the base.  The back of the cone-shaped shade has a push button power switch.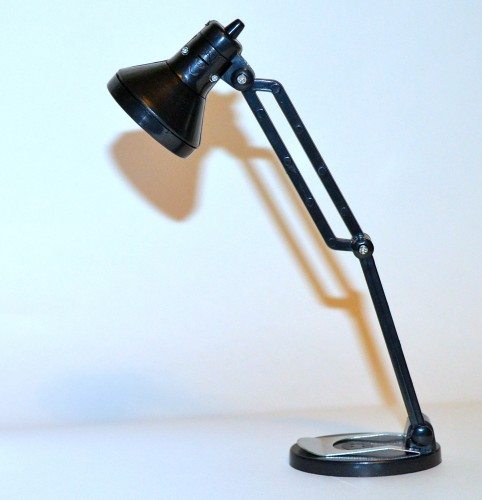 The articulated arm can be adjusted through a large variety of angles.  It can even stand on its base when the arm is standing perfectly straight up, like in the following photo.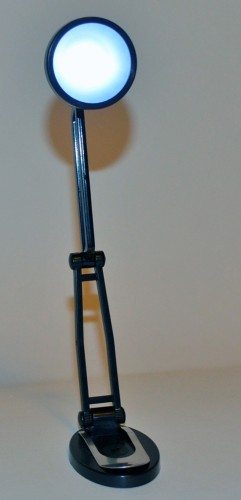 Here you can see the frosted disk with the LED turned on.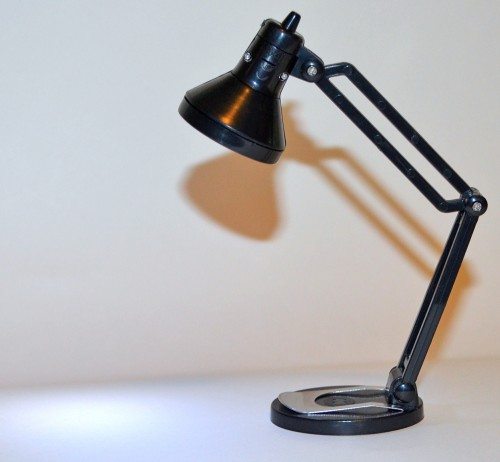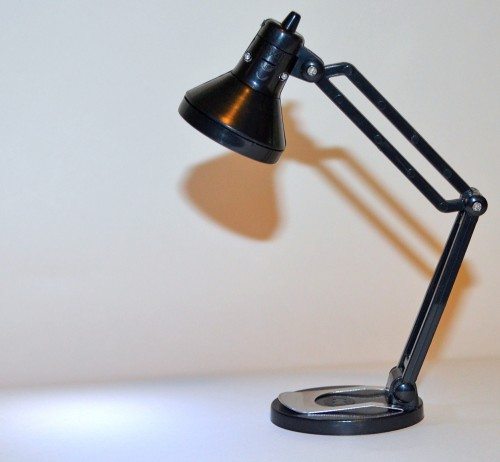 The LED produces a light bright enough to see even with the room light on and when using the flash on my camera.
The Tiny Tim stands up stable enough that you can use it as a tiny table lamp.  It can light up your keyboard enough to help you see in a dark room, or it could be a night light, but it's not going to light up your room.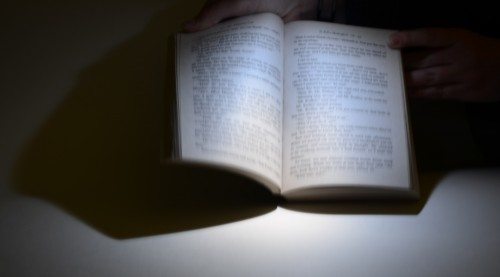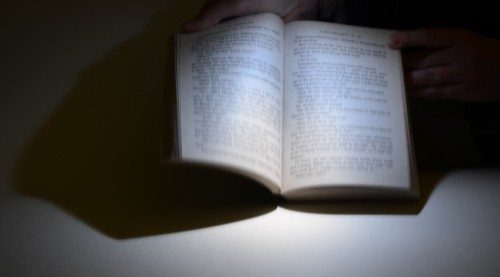 I have the Tiny Tim clipped onto the back of this paperback book.  The room lights are off, and the flash is turned off, too.  I wasn't able to focus on the text well enough to make it legible in the photo, but it's well-lighted enough to make it easy to read the book, even in a dark room.
The clip is a bit tight, but you can clip it to the cover of an eBook reader, or it could even be clipped on to the top of a thin reader.  I tried it on the top of a Kindle, but the Kindle seemed thick enough that I think the lamp would pop off eventually.
The Tiny Tim is cute as a button, and it does exactly what it's designed to do – light up a book or serve as a tiny desk accent lamp.  At £7.99 (about $12.50), it's cheap enough that you could buy one to use as a book light and one to use on your desk.
The Gadgeteer may receive a commission on purchases made from affiliate links on our posts.
Product Information
Price:
£7.99 (about $12.50)
Manufacturer:
Mustard
Pros:

Works great as a book light
Works great as an accent light
Really cute!

Cons: