We use affiliate links. If you buy something through the links on this page, we may earn a commission at no cost to you. Learn more.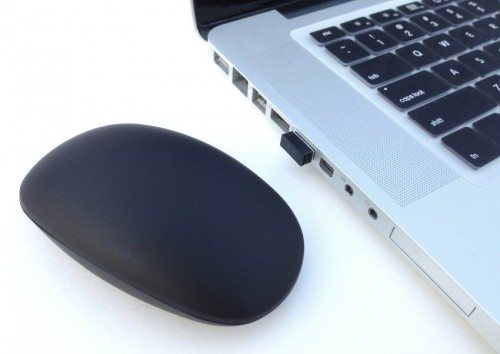 Despite all of the gesture-based user interface systems that have become popular in the past few years (think Wii, XBox Kinect, and of course smartphone touchscreens), the mouse is still the go-to workhorse of input devices for desktops and laptops.  But nearly all mouse devices have basically the same functionality, and many share near-identical styling.  Not content with this, the Manhattan Stealth Touch Mouse is a bit different.  It has a sleek, simple look with its satin black finish and no mechanical buttons.  The styling and functionality intrigued me, so was happy to have the opportunity to evaluate the Stealth Touch Mouse.  Onward!  
 NOTE: Click on images to enlarge.
Packaging
The Stealth Touch Mouse's packaging is acceptable enough.  It gives a fairly clear view of the mouse itself and its tiny Bluetooth wireless USB adapter, but only from the front and sides.  It doesn't provide a view of the other accessories, which in this case is only the travel bag, but it is nice to be able to see everything that is included in the package if you are a prospective buyer.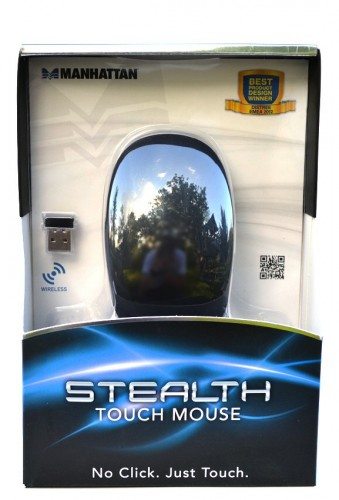 Package Contents
The Stealth Touch Mouse's package contains the follow items:
Stealth Touch Mouse
Bluetooth* Wireless USB adapter [*EDIT: I had assumed this was a Bluetooth device, but it was later pointed out (and I confirmed) that it is not.]
Two (2) AAA batteries
Travel bag
Quick Install Guide (not pictured because unfortunately I misplaced it before I got around to taking the pics, but you can view it here)
Specs
From the Manhattan Products site under the Specifications tab:
USB
Patented Curve-Touch technology
Mouse: laser, 1200 dpi resolution
Automatic power save mode
Controls: scrolling, swiping, right and left button mouse with patented Curve-Touch technology
Compatible with Windows XP/Vista/7, Mac OS 9 and up and Linux
Mouse: 30 (h) x 60 (w) x 90 (l) mm; 1.18 (h) x 2.36 (w) x 3.54 (l) in.); 79.4 g (2.8 oz.)
USB receiver: 20 x 12.7 x 1 mm (0.8 x 0.5 x 0.04 in.)
Features
No buttons. Innovative Curve-Touch technology allows for wheel-free scrolling and fingertip control on the touch-sensitive surface.
2.4 GHz technology offers wireless freedom with effective range up to 10 m (33 ft.)
Can be used as a normal mouse or a presenter to show your PowerPoint or PDF presentations
Auto power management helps extend battery life
On-board storage compartment protects USB receiver from loss and damage
Compact size and ambidextrous shape
Low-friction base smoothly glides over work surfaces
Plug and Play installation — Windows and Mac compatible
Lifetime Warranty
Appearance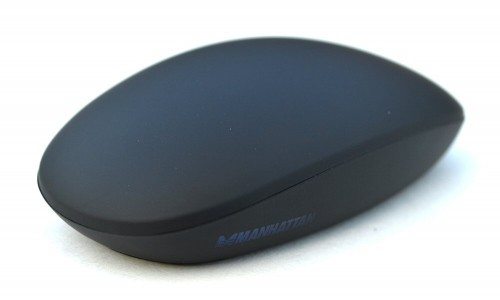 The first thing I noticed about the mouse is its sleek appearance and texture.   It resembles a cross between the U.S. Air Force's B-2 Spirit stealth bomber aircraft and one of those stones you find on a beach that has been smoothed by the elements.  Manhattan claims the Stealth Touch Mouse to be the "first mouse that features all 'touch' technology" and that it "recognizes preprogrammed fingertip movements."  That may be the case; however, the Apple Magic Mouse functions in a very similar way, but actually provides more functionality in terms of the number of gesture-based inputs that it recognizes, even allowing for the Stealth Touch Mouse's presenter mode (more on this below).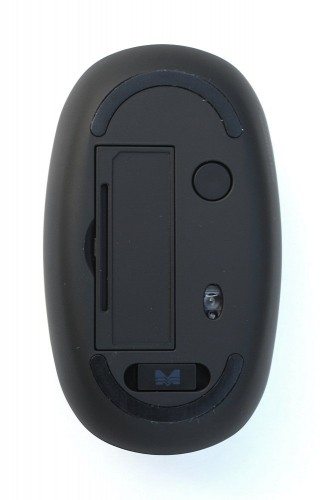 The underside of the mouse has a bit more going on.  There are two low-friction, C-shaped pads, one on either end, to encourage the mouse to glide across surfaces.  A single round, rubberized Power/Reset button, a battery cover, a small portal for the laser sensor, and the Bluetooth wireless USB adapter in a small cavity round out the features on the bottom of the mouse.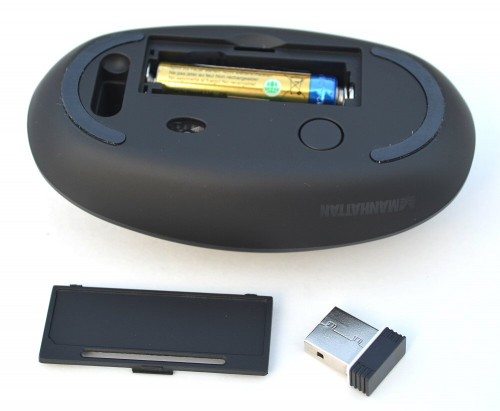 The battery cover pops open easily with a fingernail, and the two AAA batteries (included) are only moderately difficult to load, especially the one on the bottom of the compartment.  The small cavity into which the Bluetooth wireless USB adapter snaps in for storage allows it to sit nicely flush with the bottom of the mouse.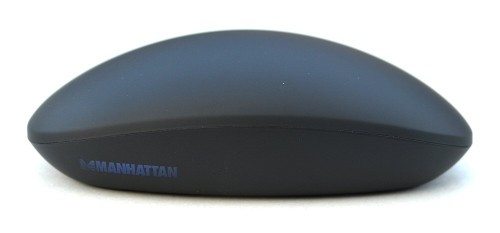 As mentioned above, the first thing I noticed about the Stealth Touch Mouse was its sleek appearance.  There are no buttons, no scroll wheel, nor any discontinuities on the sweeping curve of its matte black surface.  To the touch, the mouse has a very slightly rubberized, satin feel.  However, if you leave greasy fingerprints from eating potato chips, they will be a bit difficult to clean off the surface.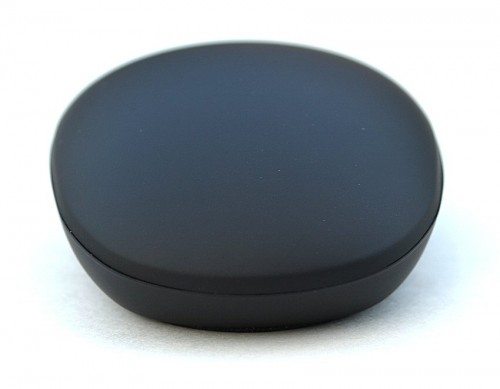 The mouse is very symmetrical in both width and length.  Which looks cool, but can make it somewhat difficult to know which direction is the "front" when you first pick it up.  It has a relatively low profile (lies flatter) in comparison to other mouse designs.  Although I would not consider the mouse to be a dedicated "travel" mouse, with its low profile and smallish size in comparison to other mice, it could quite easily become a staple in your travel computer bag.
Operation and Performance
Pairing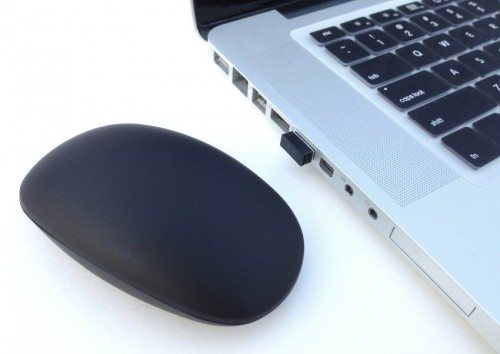 In order to use the mouse, the first thing that must be done is pairing  it with on a computer.  Remove the Bluetooth wireless USB receiver from its spot on the underside of the mouse and plug it into an open USB port on your Mac or PC, then press the round Power/Reset button on the bottom of the mouse.   This wakes the mouse from sleep mode and also activates Bluetooth pairing.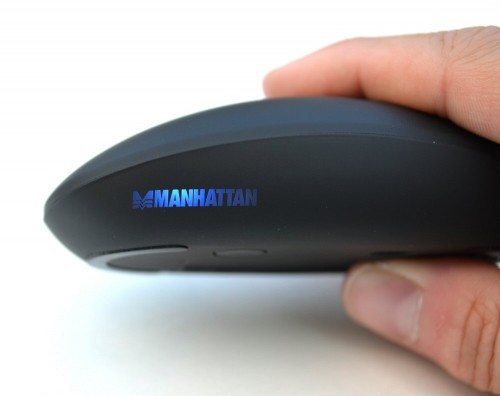 The 'Manhattan' logo on the side of the mouse then begins to slowly blink in a blue color.  Next, Bluetooth pairing is initiated per your computer's specific procedure.  I found it quite easy to do with both my MacBook Pro and my work-issued Lenovo laptop.  Once paired, the Manhattan logo begins to slowly pulsate until it goes into sleep mode again, at which time it turns off.
Mouse Mode
The Stealth Touch Mouse can be used in either of two modes, mouse or presenter.  Laying the mouse on a surface places it in mouse mode.  In this mode, the top front portion of the mouse is actually divided into three touch-sensitive areas that are analogous to the functionality of a set of conventional mouse buttons, but without the actual buttons.  Performing a click function is accompanied by a faint "tick" sound, presumably to simulate the click of an actual mouse button.
Left area: tap to select/interact, double tap and hold to grab/highlight (i.e. left click)
Middle area: swipe forward to scroll up, swipe backward to scroll down, double tap and hold to quick scroll up/down.
Right area: tap to access the command menu (i.e. right click).
Here's a look at the Control Cheatsheet provided by Manhattan that provides some additional info: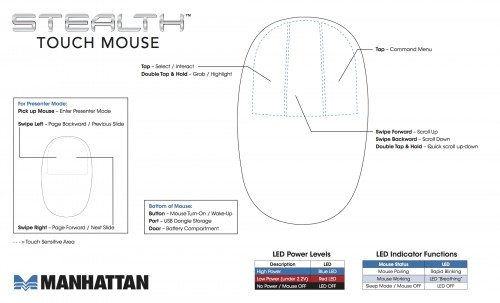 In theory this all sounds great.  In practice however, I found some drawbacks.  The first was that, without the benefit of actual discreet, physical buttons, it was difficult to ensure that I always had my finger in the correct touch-sensitive area—I frequently scrolled when I intended to left- or right-click and vice versa.  I got better at this with a bit of practice, but it was still a bit annoying.  The second was that it was extremely difficult to master the double tap and hold to grab/highlight.  The mouse seemed so sensitive that I keep clicking off of things or dropping something that I had selected before I intended to let it go, or I just plain couldn't highlight/select something to begin with.  This was probably the single most frustrating aspect of the mouse and something that I never mastered, even after using the mouse for several weeks.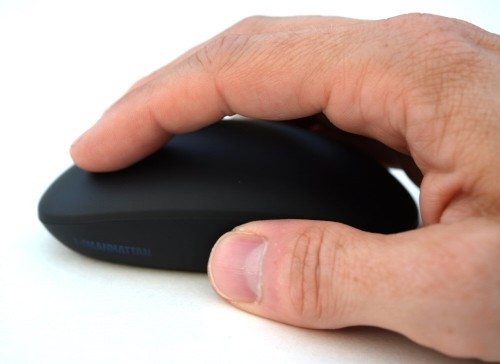 Presenter Mode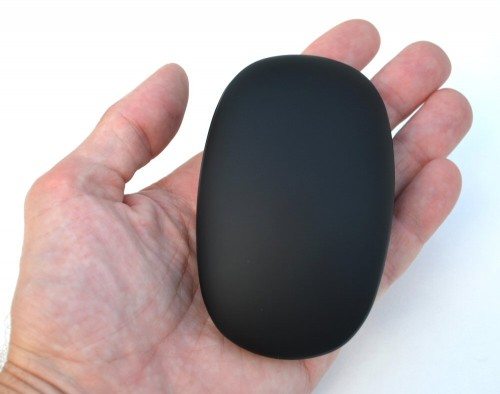 Lifting the mouse to a vertical position places it in presenter mode.  In this mode, the top front portion of the mouse changes functions, with the standard 3-button mouse touch-sensitive areas transforming into a single large area that allows the following:
Double tap to being or end presentation
Page forward/next slide with a swipe right
Page backward/previous slide with a swipe left
Accessories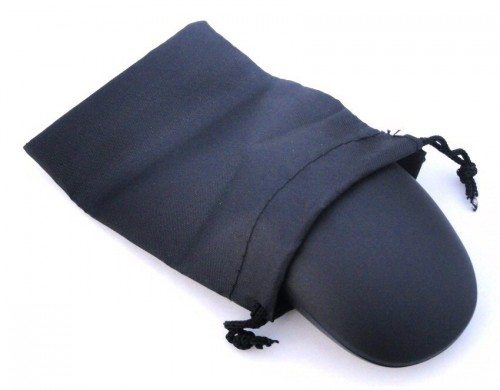 The Stealth Touch Mouse's lone accessory is a black drawstring travel pouch.  It is thin and adds minimal weight and bulk to the mouse, but can protect it from light scratches or dings.  Its a nice addition, but I don't think that everyone would necessarily feel the need to use it.
Conclusion
The Manhattan Stealth Touch Mouse is a very sleek-looking mouse with no physical buttons or scroll wheel and a black satin surface texture.  Though not specifically designed to be travel mouse, its low profile lends itself to use with laptops on the road.  Though its lack of physical buttons contribute to its sleek appearance, it is difficult to perform some functions with this mouse that are common on most other mouse designs, in particular select-drag-drop, which can be frustrating when learning to use it.
Update 03/26/2015
While this mouse looked cool, as I said in the review's conclusion, the difficulty in performing some functions with the mouse, particuarly simple things like drag-and-drop, really frustrated me and I stopped using it.
Source: The sample for this review was provided by Manhattan. Please visit their site for more info.

Product Information
Price:
$59.99
Manufacturer:
Manhattan
Requirements:
Pros:

+ Looks cool--slim, low profile, all-black color scheme
+ Feels cool--slightly soft matte finish
+ Mouse model or Presenter mode

Cons:

+ Difficult to perform "click-drag-drop" function
+ Hitting the right "click area" not always easy