We use affiliate links. If you buy something through the links on this page, we may earn a commission at no cost to you. Learn more.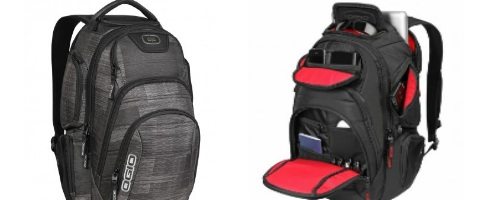 I am a bag-aholic. Somewhere deep in my reptile brain I seem to be convinced that if I find just the right bag, I can get perfectly organized and my life will make sense.
OK, so far that has never happened, but the Ogio Renegade RSS backpack has come closer to my ideal than any bag I have tried before.  In fact, to call this a 'backpack' is to do it a disservice. This thing is a mobile warrior battle bag!
If you are unfamiliar with Ogio, they are an upper-end maker of bags for travel, golf, laptops, etc. with a good reputation for design, quality, and functionality. You see all of this in the $160 Renegade RSS.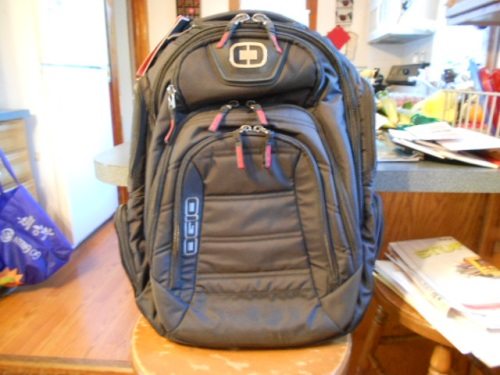 The Renegade RSS bag is medium big with specs of:
Dimensions: 19.5″ H x 14″ W x 8″ D
Weight: 3.6 Lbs.
Capacity: 1900 Cubic Inches
The bag has a lot to brag about. The outer material is "840 D Junior Ballistic Poly, 600D Poly" – "Senior ballistic material" is what they use in bullet-proof vests. Almost none of the functional stitching is exposed – just some quilting and decorative trim. That is harder and more expensive to do but greatly adds to the durability and looks. Much of it is padded with "iFom integrated foam panels", which just adds to the "body armor" look.
It has a whopping sixteen zippers, most of which are beautifully designed and look incredibly tough. There are pockets galore! Many of the pockets are not only padded with the iFom, they also feature cute little reflective tags with icons that can either suggest what to use a given pocket for, or help you remember what you dropped in it (as in "I packed the sandwich in the iPod pocket.") On top of all that, most of the pockets are also lined with Red Protection – a soft but apparently tough fabric that is screen and case friendly while the red color adds visibility and a distinctive look.
Here is a quick rundown of all the pockets:
Front organizer pocket with sub-pockets suggested for pens, a mouse, the checkbook, and a generic zippered pouch.
Tablet pocket with a Red Protection open pouch for the tablet, and plenty of space besides.
Small upper front pocket – a zippered and protected pocket with two interior mesh pockets and no icon to suggest a use.
Main compartment with no additional dividers or pockets inside.
Crushproof box on top center suggested for glasses.
Laptop compartment worthy of its own paragraph.
Upper side pockets (2). Mirror-image pockets recommended for MP3 players (although without a specialized cord slot) and camera.
Lower side pockets (2). Similar but not identical. According to the icons, your power cord goes in the one with the wide elastic band in the middle inside, and a water bottle goes in the one with a bungee rig to hold the neck.
Shoulder strap expanding pocket, suggested for cell phones.
Whew! Lots of pockets! I find myself a bit overwhelmed by all of these, and a little confused. I really cannot see a scenario where I really would carry a laptop AND a tablet AND an MP3 player, etc. (although I often carry a stand-alone camera.) Sure, I can use them for other stuff, but some of them are a bit oddly shaped for some of the stuff I need to bring. I also have to admit that as large as the bag is, I think the main compartment is a bit small (some of the other pockets intrude into its space.) I should also point out that the shoulder strap cell phone pocket does not fit my smartphone, and probably does not fit many other wide models.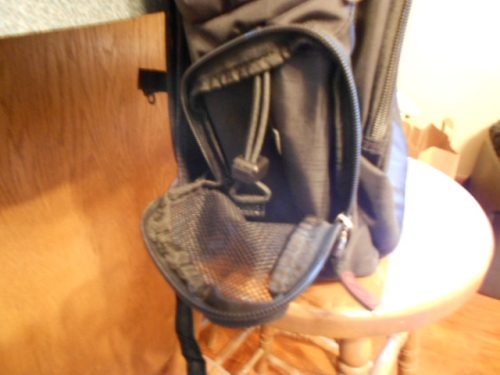 Never miss one of our posts again. Sent MON, WED, and FRI with the latest gadget reviews and news!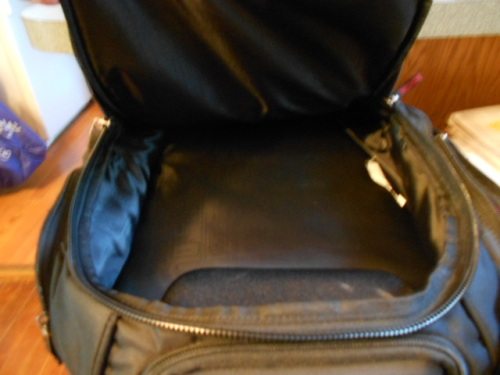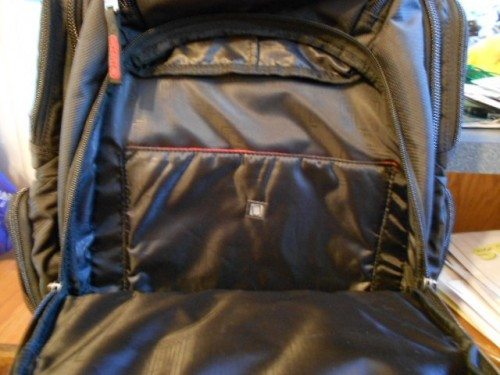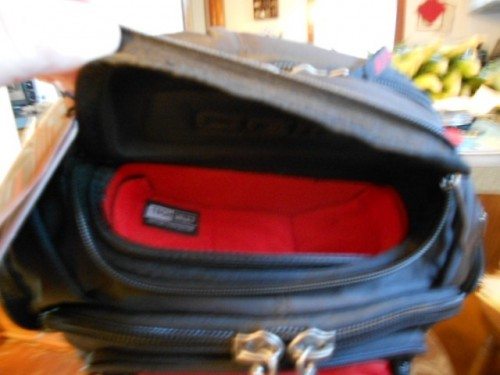 RSS means Reactive Suspension System and refers to the way the laptop carrier portion of the bag is designed. The laptop section is behind the main compartment, or against the back of the bag and is designed for 17″ laptops up to probably about 2″ thick. The compartment is lined with their Red Protection material – a screen and case friendly soft fabric. The back of the bag is reinforced, padded, and covered with the same tough nylon. The real trick is that the inner liner does not quite reach the bottom of the bag so the laptop is suspended for protection.
The straps are the sorts of contoured things with a sternum strap you often see on the better bags. They are well-padded and shaped to really help carry a load, and they can be easily adjusted for your size and comfort. (However, as so many of us know, there really is no such thing as "one size fits all".) There is also a well-padded and tough carry strap. Mesh and ribbing on the back of the bag appears to be designed to improve the airflow and make it even more comfortable. The bottom is tough and padded, but has no special features.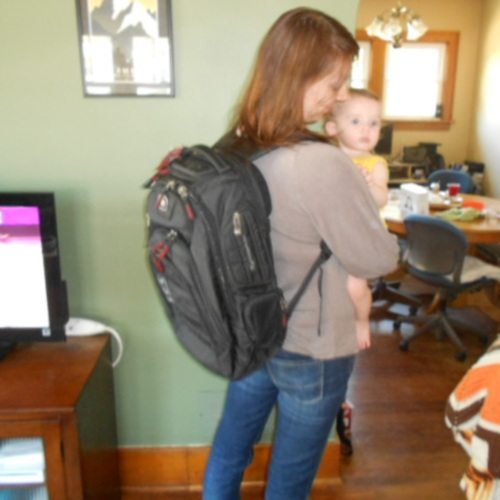 The bag comes in basic black or charcoal with red highlights, and lots of logos – some of which are reflective! (There on logos on tapes on the zipper pulls, on both shoulder straps, on top, on one side, and twice on the front.) It looks good from a distance without looking odd or really expensive. Up close, it almost reeks of workmanship.
This is a mobile warrior's bag. You might actually have a bit of trouble finding non-electronic things to fit all the pockets. This beast will carry your office or mobile studio without strain or risk to your precious equipment.
Product Information
Price:
$160
Manufacturer:
Ogio
Pros:

Tough
Stylish
Organized
Well-designed

Cons:

General purpose storage space is a little limited