We use affiliate links. If you buy something through the links on this page, we may earn a commission at no cost to you. Learn more.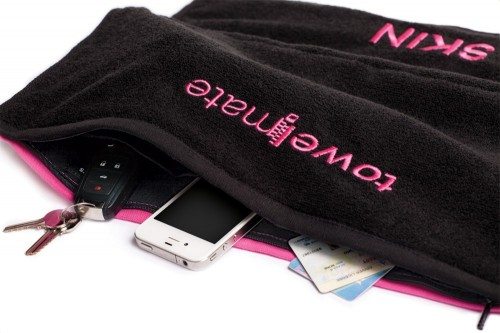 Beach season is finally here, and hotter than ever.  Ditch the need to lug a beach bag, chair, towel, and protective electronics cases from the car and through the hot sand with the all in one TowelMate.
TowelMate's beach line products tout hidden waterproof zippered pockets around a built-in, removable pillow.  The pockets are accessible via a hidden zipper on either side of the pillow.  The right side features three Velcro-sealed compartments for smaller items, such as keys, a phone, a wallet, etc.  On the left side of the pillow is a single large compartment sized to fit an iPad or a book.
Each beach towel is oversized for lounging at 36″x70″, made from 100% cotton velour, and actually come in attractive patterns and colors, such as zebra, hibiscus flowers, and multicolor stripes.
If you're planning on hitting the gym instead of the beach, there are also yoga mat and gym towel versions (with smaller labeled pockets) featuring a germ shield layer between one side labeled "GYM" and the other labeled "SKIN".  There is similar stitching on the beach towel, but at the gym this simple distinction seems to be a mark of genius.
The towels range from $20 to $35, depending on style and size.  They are also licensed by Apple so that regardless of towel size, the hidden pockets are sized to fit at least the iPhone and iPod.