We use affiliate links. If you buy something through the links on this page, we may earn a commission at no cost to you. Learn more.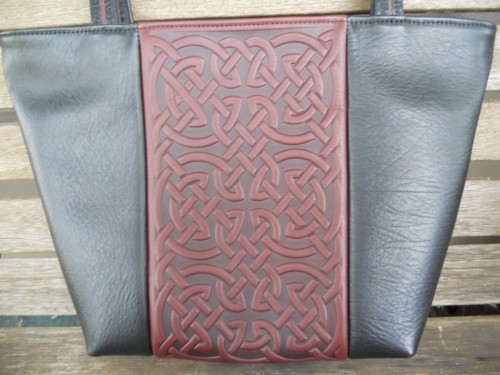 The Gadgeteer has reviewed several items which are handcrafted by Oberon Design. When I was asked to review the Bold Celtic Tote Handbag and the matching Bold Celtic Women's Bi-Fold Wallet, I was really excited to get the opportunity. You may remember the news item for the iPad cover with the Tree of Life pattern on it. I am a very happy owner of one of them. I was really impressed by the quality and the craftsmanship that went into making the cover, so I wanted to see if the rest of their items were made equally as well.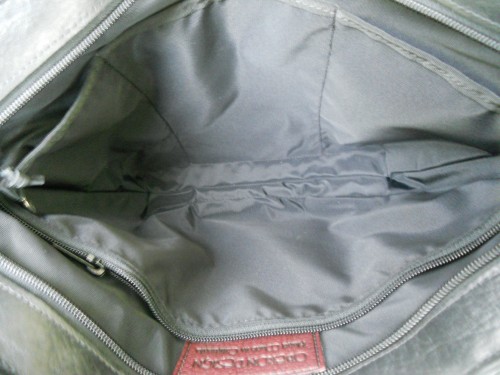 This handbag is very spacious. It boasts three large sleeve pockets on the inside as well as a full-length zippered one. I'm guilty of using my handbag for more than just carrying my wallet and car keys. I tend to shove everything in it from a hair brush for those windy days, to my camera for those surprise picture moments; I really need something extra roomy. This handbag provides just that.
The Bold Celtic Tote Handbag measures 10 inches high, 15.5 inches across at the top and 9.5 inches across the bottom.  It is 3.75 inches deep. There is plenty of room left inside the handbag, even when the zippered compartment and the sleeves are full.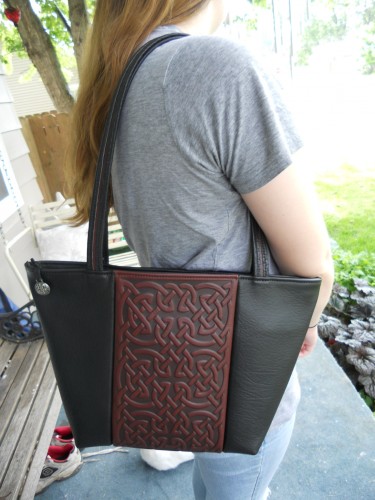 The straps measure 24 inches long, allowing the handbag to fall just above your hip, which for me is completely comfortable. The straps are also long enough to allow this handbag to be on your shoulder when you're wearing a heavy winter coat; I like that feature. The straps are sewn with a wine colored strip of leather right down the center. Aside from being attractive, this feature actually aids in keeping the straps up on your shoulder. Not sure if Oberon Design had that as the intended use, but I sure like that feature a lot. There's nothing more annoying to me than having my purse straps falling off my shoulder all the time.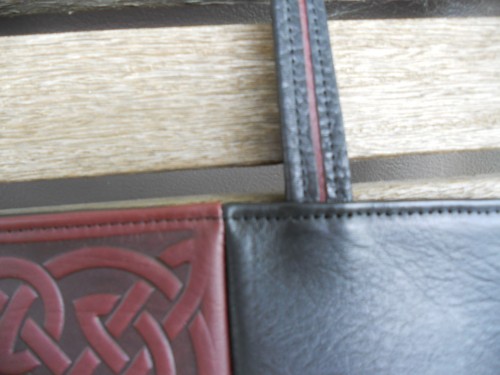 I am impressed by the level of quality and the leather that this handbag is made from. It's made with a nice, thick leather, but it's not heavy or bulky to carry at all. I love how lightweight it is. The lining is also very durable. Oberon Design stated the lining is made with ballistic nylon (parachute cloth), and I believe it! It's very heavy material, and I bet it will hold up against all those random pointed objects we seem to find in our bags from time to time (pens, mechanical pencils, eye-liner pencils, eye-glass repair screwdrivers, etc).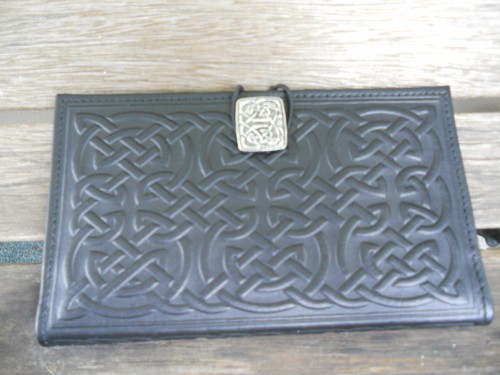 The Bold Celtic Women's Bi-Fold Wallet was equally well constructed. It is all black in color and has the same stamped leather design as the handbag. It is 7.25 inches tall by 4.375 inches wide. It has a designed pewter clasp with a bungee strap to close it. The pewter closure is very sturdy and the construction of the wallet seems top-notch.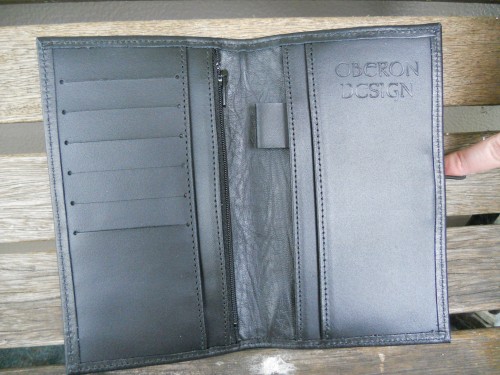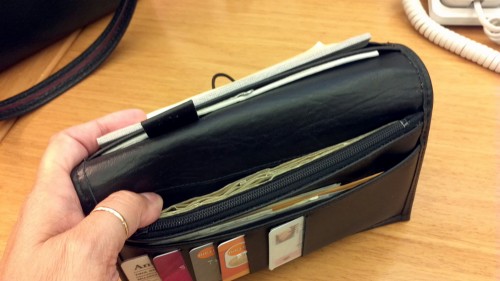 An issue most would probably have with either of these items would be the cost. The handbag lists for $236.00 and the bi-fold wallet for $118.00. For someone on a budget, they're both a bit pricey.  I am certain I'd never spend that kind of cash on a handbag or wallet before having this Gadgeteer opportunity.  I believe now, after carrying the handbag for several weeks, that it's worth the money, and I'd probably consider purchasing another one when this one wears out. Especially if you look at the leather quality and the attention to detail. I believe this handbag will last a long time, and I'll enjoy it for years. The bi-fold wallet however, I'm not completely sold on. I wouldn't invest the money unless some things were changed about its layout. Like I said, the construction was done very well, and it's made from high quality leather, but the non-user-friendliness of it killed it for me.
Product Information
Price:
$236 for tote; $118 for the wallet
Manufacturer:
Oberon Design
Pros:

Pros for Handbag:
High quality leather
Beautiful design stamped
Vivid coloration
Straps are perfect length (winter coat ready)
Straps stay up on shoulders (I suppose from the seem in leather design)
Very large inner compartment, plenty of room
Lightweight, not cumbersome to carry
Stitching was flawless
Pros for Wallet:
High quality leather
Beautiful design stamped
Bungee closure allows for growth
Plenty of slots for cards
Stitching was flawless

Cons:

Cons for Handbag:
Pricey
Needs leather softened a bit but not really a complaint, it'll work into it
Cons for Wallet:
Zipper compartment facing inside seem was so hard to use
Cash slot facing inside seem as well was hard use
Cannot use one-handed to get cash/coins
VERY pricey