We use affiliate links. If you buy something through the links on this page, we may earn a commission at no cost to you. Learn more.
This post brought to you by Crucial.com. All opinions are 100% mine.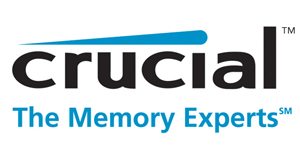 Isn't it funny how quickly what was cutting-edge technology when you bought it becomes old and tired?  Computers are too expensive to replace on a whim, so you need to find ways to get more life out of yours.  Having sufficient memory is crucial to getting the best performance from your computer.  Memory is, simply put, the workspace in your computer where the programs run.  As programs get more complex, they require more room to run optimally.  When you don't have enough, your computer gets slow.
Simply upgrading the memory can increase the useful life of your computer.  My laptop is a year old now, and I'm starting to think that even it could use some extra memory to keep things humming along while I'm surfing, writing for The Gadgeteer, and editing photos all at the same time.
Selecting the correct memory for my system can be intimidating because of the vast number of manufacturers out there and the large number of chips they offer.  How do I know what to use, and can I really trust the salesman in the local big-box electronics store to steer me to the best product for my computer?  Crucial.com has online tools, like their System Scanner that can tell me exactly what I need.
Crucial.com is owned by Micron Technology, Inc., one of the largest DRAM and NAND manufacturers worldwide.  Many computer manufacturers ship their products with Crucial memory inside.  For almost 15 years, Crucial has been supplying high-quality memory that's guaranteed to be compatible with your computer, directly to users.  Crucial offers several methods to make sure you get just the memory module you need to get your computer operating at peak performance.  Their Crucial Memory Advisor™ tool and the Crucial System Scanner online applications help you find exactly what you need for your system.  With over 250,000 upgrades available for over 50,000 devices, chances are they'll have what you need.  You'll get the right product, and you'll get a money-back guarantee and a limited lifetime warranty with it.  Crucial is the best place to shop for memory upgrades because they have the highest quality modules at the lowest price, and they have direct technical support to support you with your upgrade.

Crucial is offering another way you can upgrade your computing experience.  Between now and June 30th, they are sponsoring a contest with a Grand Prize of a $10,000 Apple Gift Card.  Think of all the new MacBooks with Retina displays you could buy with that!  Crucial will also donate a $10,000 card to TechSoup® Global.  The First Prize winner will receive a Crucial® SSD upgrade, and one runner-up will receive a Crucial memory upgrade.  I've already entered; that's my confirmation page you see here.  You have until June 30th to visit the Crucial Memory Sweepstakes page, complete a quick Apple computers survey, and enter to win!  What are you waiting for?  Go enter now!