We use affiliate links. If you buy something through the links on this page, we may earn a commission at no cost to you. Learn more.

The Clique from Henge Docks is a thin, rigid plastic tray with form-fitted recessions engineered to unite your Apple Wireless Keyboard and Magic Trackpad. The Clique not only combines your Apple peripherals, but allows you to use your keyboard and Trackpad without needing a flat surface to place them on, making it perfect for your couch, chair, or bed.  Let's give it a look.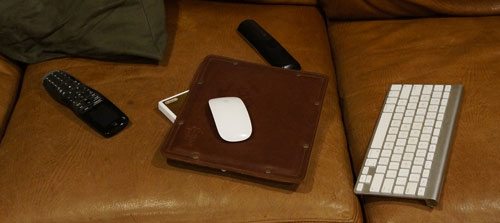 This is a typical scene in our media room. I cannot tell you how many times that Apple Magic Mouse has crashed to the floor. I have wanted a solution to the clutter, difficulty manipulating the devices, need of a flat surface, and constant threat of droppage for a long time now.  The Clique seems to be the ideal answer to my situation.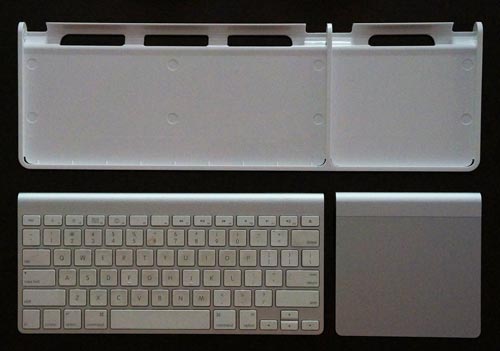 As you can see, the Clique has two slots specifically designed to securely hold the Apple Wireless Keyboard and Magic Trackpad together and in place.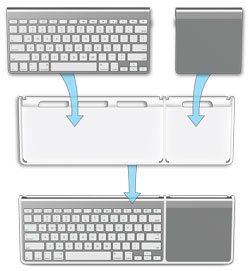 Inserting the wireless devices into the Clique is literally a 10 second effort/snap/click.

Once inserted into the Clique, the keyboard and Trackpad combine into a single unit. As I stated above, the supportive tray design is excellent for using the Apple keyboard and Trackpad in a media or bedroom type of setting.

The bottom of the Clique has soft rubber pads to protect whatever surface it is sitting on.

Turning the Apple keyboard and/or Trackpad on and off is a snap. Henge Docks engineered a spring-loaded power button into the right side of the Clique that can be pressed to turn the Trackpad on and off. There is also a small slider switch underneath the keyboard that is used to turn the keyboard on and off without having to take the it out of the Clique.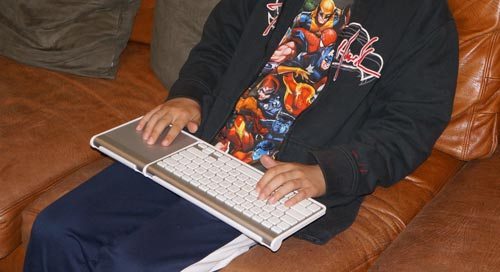 The Gadgeteer Kid is a lefty, and even though he is muddling through (we delegate control/navigation of the Mac Mini to him usually), Henge Docks is (thankfully) taking preorders on the Clique v.L, a left-handed version of the Clique.
The Henge Docks Clique is well made, effective, and perfectly fitted to mate your Apple Wireless Keyboard and Magic Trackpad. At $24.95, I think it is a worthy bang for the buck, especially if you need to unite or use your Apple wireless input devices and/or use them on a non-flat surface.
Product Information
Price:
$24.95
Manufacturer:
Henge Docks
Requirements:

- Apple Wireless Keyboard
- Apple Magic Trackpad

Pros:

- Well made
- Perfectly fitted for the Apple keyboard and Trackpad
- Unites Apple keyboard and Trackpad into a single unit
- Can turn the devices on & off with built in switches
- Can be used on non-flat surfaces

Cons: