We use affiliate links. If you buy something through the links on this page, we may earn a commission at no cost to you. Learn more.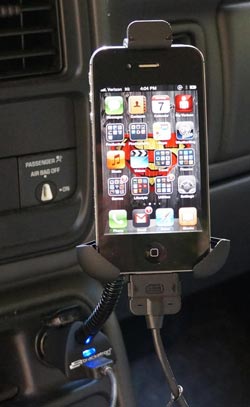 When I drive, my iPhone is typically rattling around a cup holder or the center armrest between the front seats, neither of which is ideal. I cannot tell you the number of times it has fallen over or crashed to the floor of my vehicle. It is definitely not the ideal way to treat your expensive smartphone. Without a doubt, there are MANY smartphone car holders currently available but few have a built-in USB charging port that powers/charges and securely holds your device while going down the road. The folks at Bracketron Inc. have developed a well made Universal USB Power Dock Pro Flex smartphone holder that is held in place and is powered via the 12V power plug of your car.
Contents: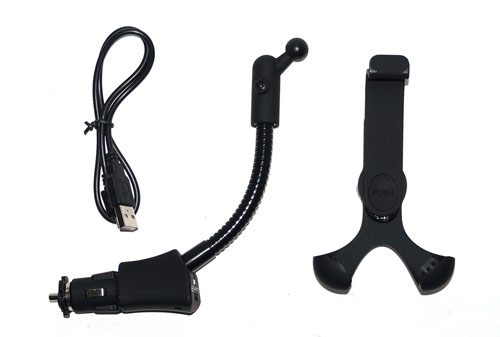 The Bracketron Universal USB Power Dock Pro Flex includes the universal holder/mount, 12V/USB/flexible arm assembly, and microUSB cable.
Features:
Universal holder with flexible neck design features 360° rotation and smart grip feet for optimal mounting and viewing angles while providing full access to all controls and ports.
PowerGrip arms securely hold the mount in your 12V port
High output (5V, 1.5A) USB port
Durable, molded high impact plastic construction with soft touch finish
Works with any USB cable provided with your handheld device
MicroUSB to USB cable included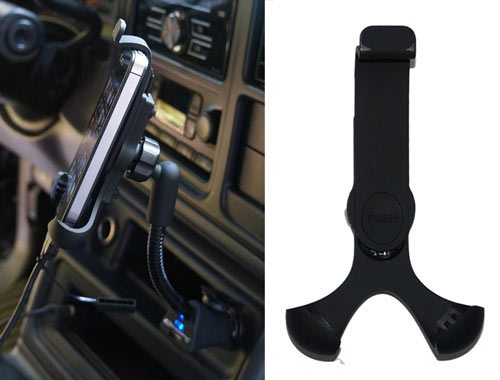 The stiff yet flexible arm does a surprisingly good job of holding my iPhone in place. Although, it does move around a little on bumpy, unpaved roads but less than I had expected. Along with being able to tilt and pan, the ball and socket allows for 360 degree rotation of your device.
The holder itself is constructed of a hard, rigid plastic that is coated with a thin, soft rubber so that it does not mar your smartphone. As you would expect from a 'universal' smartphone cradle, it is adjustable. I tried it with several phones, the largest being an Android RAZR. From my iPhone to the RAZR, all fit just fine.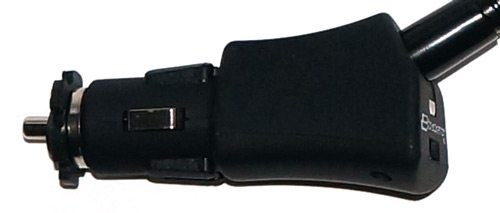 The PowerGrip arm securely holds the mount in your 12V port. The plug has rubber fins that create a bit of additional pressure to firmly hold the entire mount in place.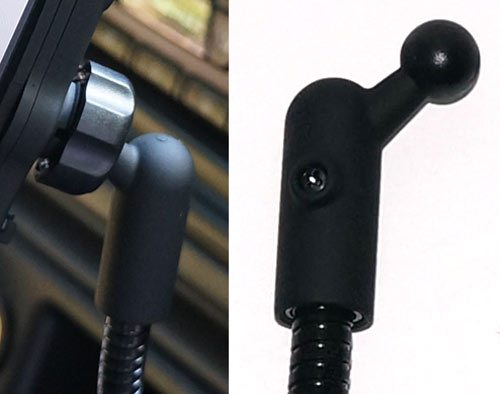 The universal holder is held in place/to the flex arm by a ball in socket mechanism….very much like your hip. The ball pops into the socket and then the circular clamp screws down on the both, locking the ensemble in place. Once you position the flex arm, it does a very good job staying where you left it.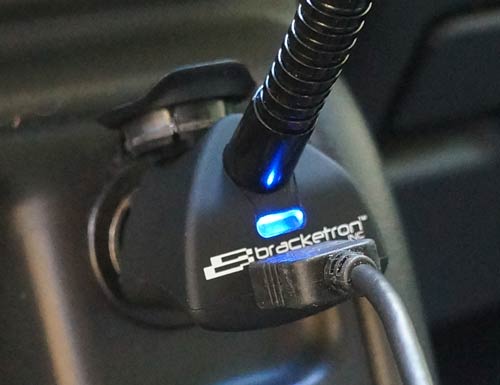 The USB plug has a blue LED indicator light that tells you when the port has power.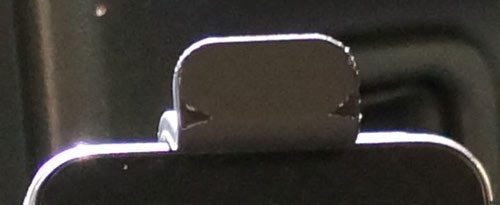 The only (minor) negative comment I have is that the soft rubber coating on the adjustable smartphone holder came with a production flaw. You can see here where the rubber coating is not covering the hard plastic underneath.
Other than this relatively minor issue, the Bracketron Universal USB Power Dock Pro Flex is a good way to securely hold your smartphone in your car (or for that matter, boat as well). It does a more than adequate job of holding your device in place and charging it to boot. The MSRP is $35 but can be found for less on the Net. If you are in need of something to keep your smartphone from rattling around your vehicle, you definitely should consider the Power Dock Pro Flex.
Product Information
Price:
$34.95
Manufacturer:
Bracketron Inc.
Requirements:
Pros:

- Universal mount works with a majority of smartphones
- Adjustable/flexible arm stays in place well
- USB power port works well

Cons:

- Came with a minor flaw in soft rubber coating