We use affiliate links. If you buy something through the links on this page, we may earn a commission at no cost to you. Learn more.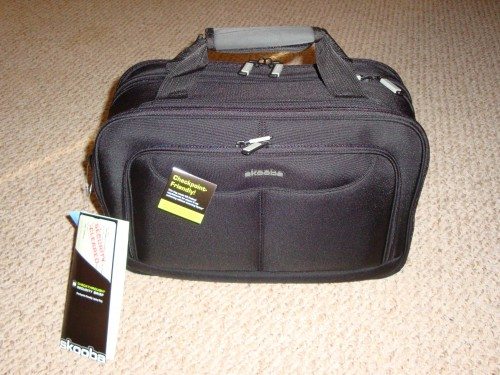 I am a big fan of laptop/gear bags, and I'm always searching for a bag that not only will protect my equipment from everyday bumps, but also hold everything that I like to carry with me.  I was very happy when Julie was kind enough to assign me the Checkthrough Security Brief by Skooba Design. I currently have been using a backpack-style computer case to carry my laptop and gear with me. Over time it seems my shoulders were always hurting carrying the backpack around with me, especially on company trips.  I would love to try a messenger bag some day and will probably end up purchasing one as soon as I can find one that I like, but I like the design of this laptop bag.
The construction of this bag is top quality; a lot of care was taken with the design of the material. Heavy-duty self-repairing zippers and box-X stitching make this bag durable.  It should last you a lifetime.  The bag is made with an ultra-durable micro-ballistic nylon exterior that's water repellant.  With over 20 pockets, this bag has more than enough compartments for storing most of your daily-carry gear. Zippers can be locked with a lock that you own, making it pretty secure.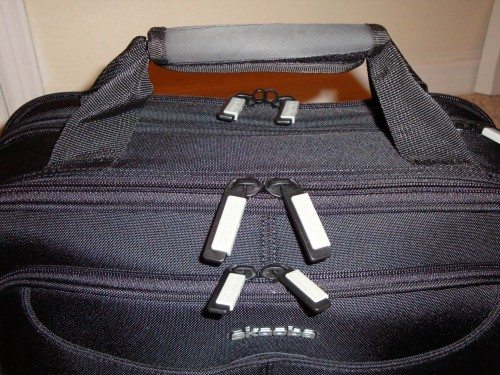 Let's look at the compartments. I don't carry too much stuff with me, just the necessary items like chargers for phones and the laptop, USB cables, calculator and some thumb drives, so I had plenty of extra room with this case. The inner compartment has a removable divider that you can store your files in, as well as plenty of padded pockets to store your sensitive electronics. As you can see, I don't have too much in mine, and there is plenty of room.  Maybe I need to buy a few more things.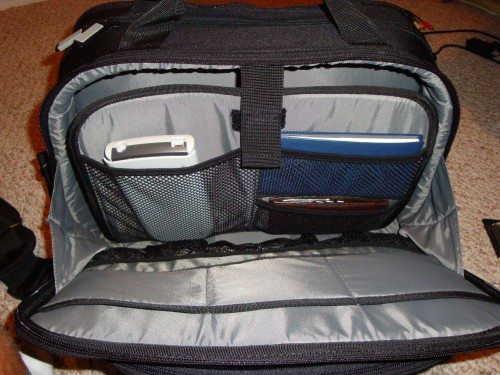 The outer compartment doesn't have the padded pockets, but still has plenty of space for your items.  It even has a dedicated USB slot for your thumbdrive.  I am pretty sure you can have alot of different configurations as to what you put where. I have my chargers and external hard drive and cables in this compartment.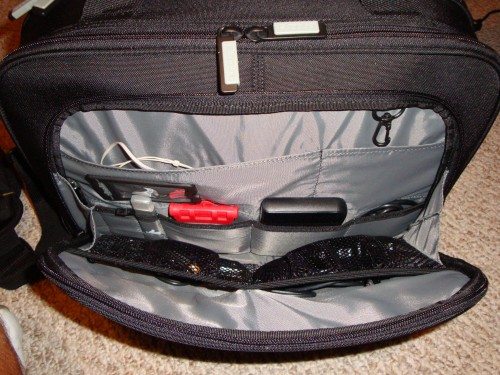 The bag is Designed to hold most popular 15/16-inch laptops and some 17-inch models, like the Macbook Pro. One really nice feature of this bag is it is designed to be able to go through airport screening without having to take the laptop out.  The laptop is securely held in place after you adjust the bumpers to fit the size of your laptop. I am a little concerned with the gap between the laptop and the flap.  It seems like there is a lot of air space between the two, maybe allowing the laptop to move around too much. The bag opens and hinges in the middle to separate and isolate the laptop compartment from the rest of the bag.  There is a clear see-through compartment that allows for viewing of the laptop, and should let it pass through airport security. I am going to see what happens when I take my trip later this month.
I was concerned that this bag was going to be too heavy, but I was impressed with the weight after I had it loaded down with all my accessories and laptop. I like the fact that it doesn't make my arms or hands tired carrying it around. It also comes with a nice shoulder strap that has a patented SuperBungee pad that seems to take the load off of your shoulders while carrying the bag around. I found that my shoulders felt good after carrying it around for an hour, but I didn't like having the bulk of the case on my side, and felt awkward carrying it that way.  I will just use as a briefcase and carry normally.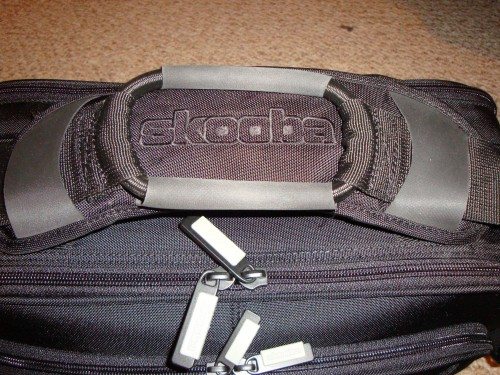 All in all, I am very happy with this case. It has plenty of room for all of my components, and it doesn't feel heavy after having carried it around for a few hours. I will definitely not be using the bungee strap as it just seems awkward to have this case hanging on my side, but that is just me. This bag is durable and lightweight. I would recommend this one to anyone who does a lot of traveling. I like the quality of the materials and the heavy duty zippers that come with this.
Product Information
Price:
169.95
Manufacturer:
Skooba Design
Pros:

Lightweight, durable
Airport security check-through advantage
Heavy duty zippers

Cons:

Air gap between my laptop and zipper flap may cause shifting of laptop
Bulky when carried on side of body.