We use affiliate links. If you buy something through the links on this page, we may earn a commission at no cost to you. Learn more.

I am in a never ending battle to keep my hectic life less cluttered. This fact spans all aspects of my world…from my office space, to my desk at home, to our garage, and everything in between.  Kurt Kay & John Kurcheski of K Concepts have designed an interesting device for mounting some of your sports equipment (aka balls) to your wall, hoop, fence, goalpost, trunk of your car, etc. The Ball Claw is engineered to securely hold your basketballs, volleyballs, soccer balls, and footballs out from underfoot.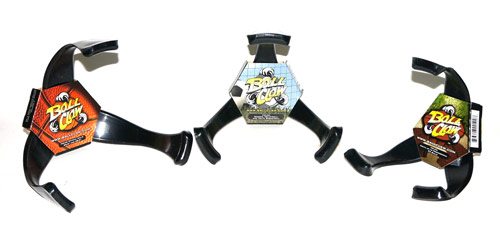 The Ball Claw comes in three sizes: large for regulation sized basketballs (29.5″ and 28.5″), medium for #4, #5 soccer balls, volleyballs, and youth basketballs, and small for youth, high school, college and professional footballs.

The Ball Claw is well constructed of a high-quality injection-molded ABS plastic that feels very sturdy when flexed. It can be used indoors and outside.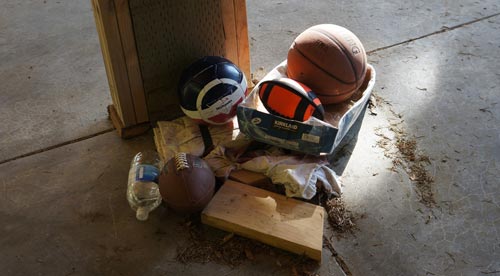 Sadly, this is one of several ways the Gadgeteer Kid and I store our sports balls. Definitely not he best way to keep/take care of your sports gear and equipment.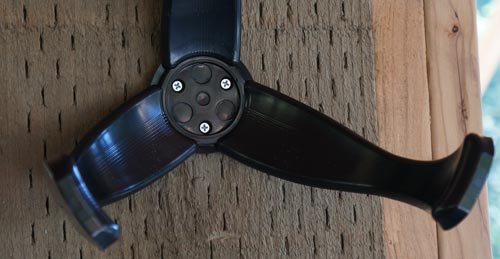 Installation was a breeze. The Ball Claw comes with basic installation bits and pieces (aka screws and molly bolts). Using the Bosch impact wrench I reviewed a few years ago, it took the Gadgeteer Kid and me less than five minutes to install all three of the ball mounts to a pillar in our garage.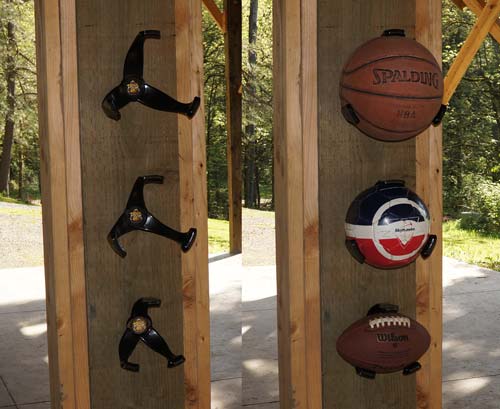 The Ball Claws definitely work as advertised. They are well thought out, designed to last and at $12, relatively inexpensive. Truly a great way to keep your sport balls organized and out of the way. I do like the Ball Claw and have ordered another to hold a second basketball…..probably should get a second football one too ;).
Product Information
Price:
$11.99
Manufacturer:
Ball Claw
Pros:

- Well made
- Simple, effective design
- Easy installation
- Great way to organize sport balls
- Can be used in a variety of places/locations
- Inexpensive

Cons: