We use affiliate links. If you buy something through the links on this page, we may earn a commission at no cost to you. Learn more.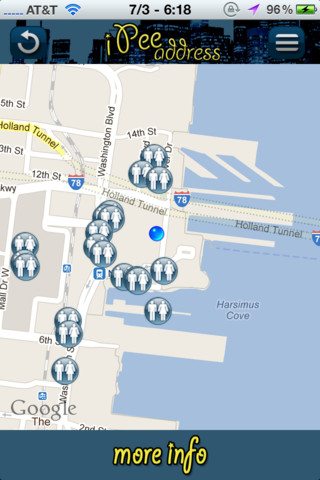 There is nothing worse than being in downtown San Francisco (or downtown anywhere) and you can't find a public bathroom.  Forget about the small shops or stores that won't let you use theirs or require you to buy a cookie or a latte in order to get a special code to use theirs.
IPee Address solves your problems!  Well, for iPhone/iPad users anyway…  The application allows you to find the nearest public restroom, cafe, or restaurant that has public restrooms for when you have to do what you have to do. It's pretty much the best 99 cents I've ever spent.
Caveat Emptor:  Read the fine print.  Just because a bathroom shows up on the app, that doesn't mean you can use it. The website claims the app is "for entertainment purposes only", but a public restroom when you gotta go is at least worth a try.