We use affiliate links. If you buy something through the links on this page, we may earn a commission at no cost to you. Learn more.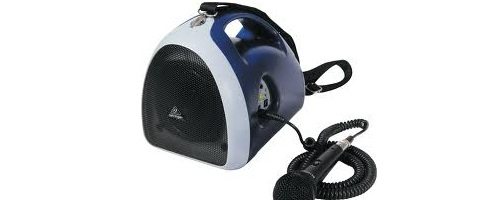 One of the most valuable public speaking tips I have ever gotten was that sheer volume is a powerful ally. It allows you to roll right over room or ambient noise, it allows the listeners to more easily focus on the message, it allows you to better modulate your tone for effect, and it gives you something to do with your hands if you can't or don't want to use a headset or lapel mike.
Since I teach classes part time, and since the classes are often in less-than-perfect settings, I have long wished for a good portable PA/music system, so I jumped at the chance to try out the Europort EPA40 handheld PA system from Behringer.
Behringer has an excellent reputation in audio equipment, everything from professional mixers to high end speakers to small guitar interfaces, so they pretty much know both what the customers want and how to make good stuff. The Europort EPA40 is their only 'handheld' PA system (they also offer 'portable' systems that are larger and more powerful).
There are only a few parts in the box. The base unit is sort of a football shape with an integral handle, and includes:
Front-mounted 5″ full-range but lightweight loudspeaker.
12vDC 2.6 amp hour sealed lead acid battery that lasts 8 hours and recharges in 4. (6FM2.6-E04)
Control panel with lit power button, 1/8″ 'line in' jack, 1/4″ 'mic in' jack, 'power' jack, volume control, and LEDs for charging and low battery.
Removable shoulder strap with storage space in the base.
8.5″ x 7.1″ x 11.2″. 5/7lbs (2.6kg)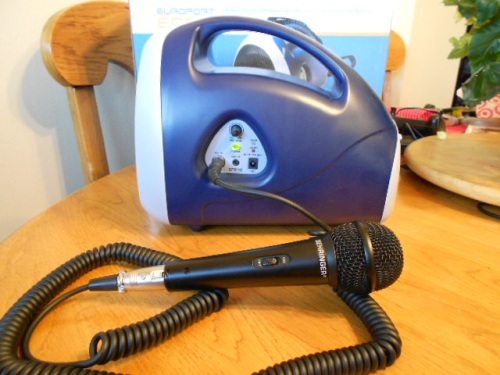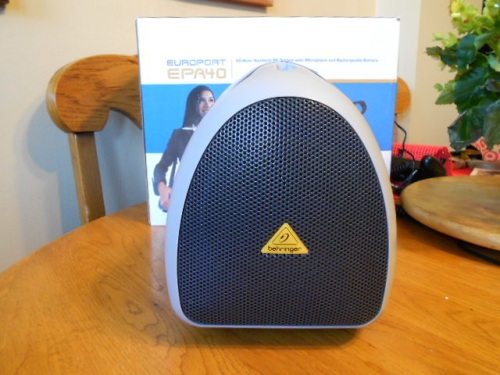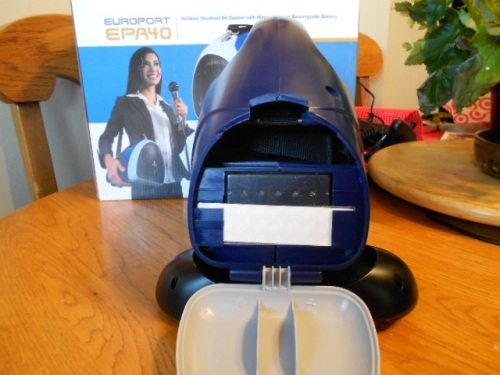 There is a microphone included- the Behringer Super Cardioid XM1800S:
"Presence lift in critical mid-range gives you maximum voice projection", which I think means it is tuned to make voices sound good.
Balanced low-noise XLR filter
Two-stage pop filter
Feedback suppression
80 to 15000Hz response
600 ohms impedance
XLR connector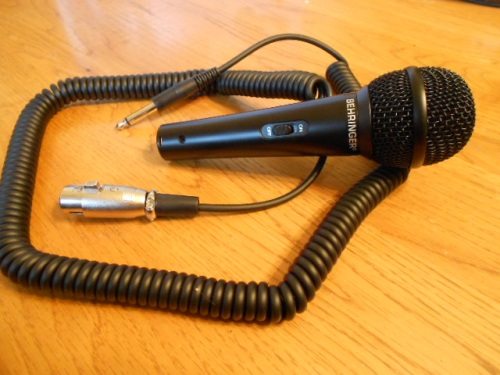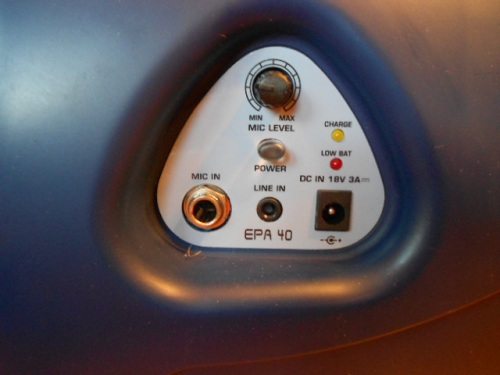 The kit also includes a 3′ coiled cord (XLR to 1/4″ mono male) and a recharging cable. Some reviews mention a mike holder, but there was not one in my package. There was also a catalog, instructions in multiple languages for the amp, English instructions for the mic, and a few other pieces of paper included.
The EPA40 is easy to assemble and use, the trickiest part is getting the battery installed, and that is only because it is not immediately obvious how to orient it and it is a snug fit. The battery is held in place with sort of a slotted gate plastic piece that seems rather cheap.  The Plexiglass gate piece has a piece of protective paper on it covering some self-adhesive film on the plexi; they seem to have re-purposed a part from some other device, but it does the job well without adding bulk or weight. It is a pretty light unit with a long strap, so it would be easy to carry on a shoulder for outdoor use for extended periods. There is a little bit of rattle and play when shaken, but overall is pretty solid.
The sound quality is not bad. It is obviously tuned for voice clarity more than perfect music reproduction, so most things sound a bit… hollow? Voice comes across nicely, and music is OK but nothing to get too excited about. Oddly, when you use the 'line in' jack, the volume on the unit is bypassed and only the volume control on your player changes anything. On the other hand, it does amplify the music well above what your player can output on its own or with non-amplified speakers. You can play music and still use the microphone, which comes in handy for some of my applications (playing music to keep the rhythm while teaching technique for example).
It is indeed loud! Of course, the louder it gets, the more interference becomes a problem. For example, hanging it from your shoulder only lets you go to about 25% before you start hearing squeals and hums. As with most systems like this, the more 'behind' the speaker you are, the better. 25% or so was all I needed in a classroom that was about 30×30 feet.
While it is a good microphone, it is not a top of the line model and amplifies the sounds you make handling it – setting it down without turning it off can sound like a small explosion! It has some decent heft to it and a simple on/off control. I am hoping to get a good headset mic to use for classes so I don't have to haul that heavy thing around all the time, but I don't have any other mics to try right now.
The unit lists at $218 but is generally available for about $100. For the full $200+ price, I would have expected a little better design from it. Not only does it just plain look rather clunky, I am bothered by the lack of on-board storage for the mic or charger. The storage space available, designed for the shoulder strap, has lots of interior space but a rather small opening that the top of the mic or the 'brick' part of the charger just plain don't fit in. There is also no place to hang the mic when doing a shoulder carry. Some sort of hanging bracket on the shoulder strap or on the unit itself would be really, really handy, considering that it is at least partly designed to be used while standing. I also would love to see a 'line out' jack for a supplemental speaker (in a large room, having the sound come from multiple locations usually means better coverage and lets you drop the overall volume a bit.)
A concern in several reviews is that the lead acid battery does not have a long service life and is hard to find replacements for. While it was fairly easy to find the operating specs of it, finding spares was a different story. You will get much better battery life if you charge it after each use and store it with a fully charged battery (source: Battery University. Note, this does not apply to all types of batteries.)
While better storage and an upgraded battery would make this a better machine, there is little doubt that it is pretty nice as it sits. I've used it successfully in classes a few times so far and it did what I needed it to do without breaking a sweat.
Product Information
Price:
MSRP of $218, usually available for $100
Manufacturer:
Behringer
Retailer:
Amazon and others
Pros:

Easily portable, even 'carryable'
Good amplification
Easy to use

Cons:

Short battery life
No storage for mic