We use affiliate links. If you buy something through the links on this page, we may earn a commission at no cost to you. Learn more.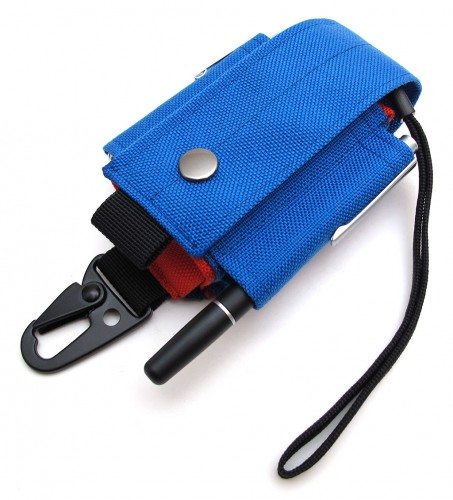 Is it just me, or does having a gadget fetish tend to spawn a second fetish for gear bags and cases? Being a gadgeteer is a slippery slope my friends, and I'm here to provide you with yet another way to spend your weekly paycheck. You're welcome and I'm sorry. Pick one. Skinth Solutions are hand sewn sheathes for your small EDC (everyday carry) items. I happened to discover them several weeks ago and was given the opportunity to have one created for me so that I could tell you more about them.
Note: Click the images in this review to see a larger view.
Skinth Solutions is a 1.5 man operation ran by Eric Au. He's a photographer that had a personal need to carry some tools and found that the current sheaths available on the market just didn't make the cut. So he made his own and Skinth was born.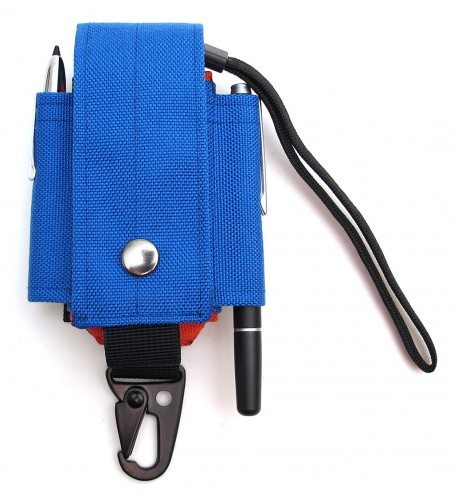 The Skinth is available in several sizes, Cordura colors and with many customization options. I'm not going to go over every available feature and size sheath. If you're interested in having one made, you can spend hours (not kidding) drooling over the pictures on the Skinth site. I was sent a Skinth OG + in Royal Blue with Orange that you see above. The OG + has room for a 4.5″-5″ long tool (interior 1.75″ wide, 3/4″ and 3.5″ long). A snap flap keeps the tools from falling out and two side tubes can hold pens and small flashlights.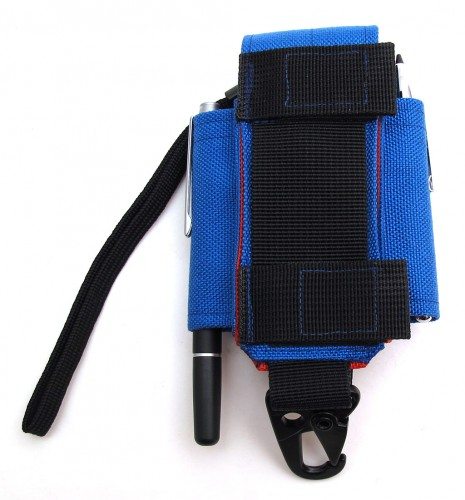 The back has a belt loop and an added option of Velcro strips to hold a knife.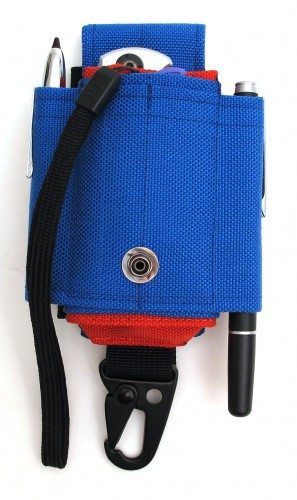 There is a large pocket to hold one or more tools, a flat slot in front of that and then two narrow pockets in front of that. In addition to the slots and pockets there are two open tubes on each side.

Side view.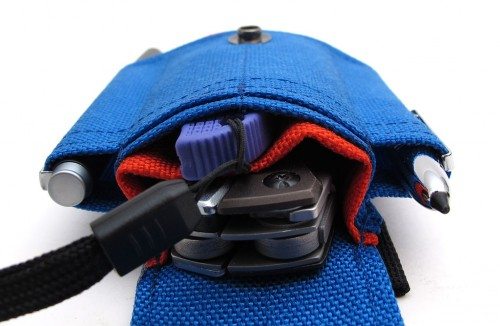 The main storage compartment on the OG + can hold most standard sized multi-tools like a Leatherman. The thin pocket above the main pocket can hold smaller flatter objects like a pocket knife.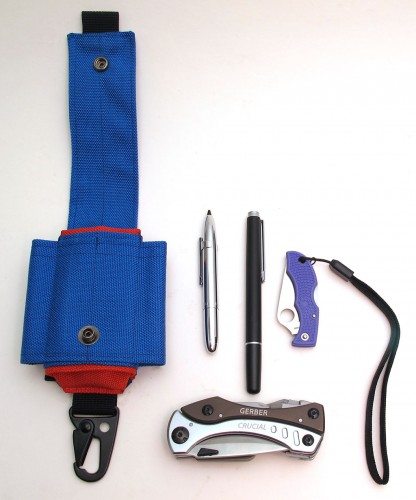 Here is an example of what the Skinth OG + can hold. It can actually hold more than what is pictured here if you get creative and have smaller tools.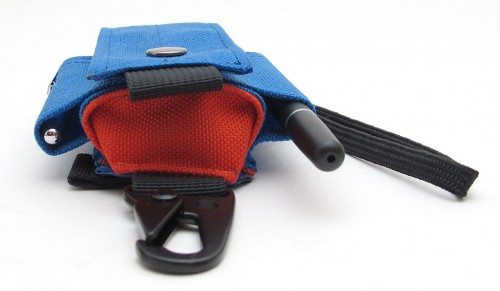 The materials and construction of the Skinth is great. Eric definitely knows his way around a sewing machine.
The only mini gripe that I have is that there's about a half inch of extra material at the base of the main compartment. My guess is that Eric just forgot to trim the extra fabric during the construction process. This is a handmade product, so I can forgive it.
Skinth sheathes are well made and look great, but they aren't something I would wear on my own belt… mainly because I don't wear a belt. And because I'm a girl who works in a office and doesn't have a job that requires me to keep a collection of tools at the ready. But if I was a guy that needed my EDC tools with me all the time, a Skinth sheath would definitely find a home on my belt.
Eric does a wonderful job designing and making these tool holders. He offers enough customization options that you will be able create the perfect sheath to hold your gear.
Update:
Right after I posted this, Eric emailed me with this info:
Funny you made that note, as soon as I finished making your Skinth, I thought about how to improve how the bottom can be done. That 1/2″ of xtra material is now hemmed in place and the bottom is finished in the same way.

Everything past yours is now constructed in the same way.
Product Information
Price:
Skinth OG + Starts at $35, Prices vary depending on customizations and style of Skinth chosen
Manufacturer:
Skinth Solutions
Pros:

Many customization options
Handy tool holder

Cons: