We use affiliate links. If you buy something through the links on this page, we may earn a commission at no cost to you. Learn more.
Ok, apparently everyone thinks this app is the bomb.  HuffPo likes it, New York Times and Edmunds.com both like it.  It's available for iPhone and other Smartphone users and it's free.  And if it's free…it's me.
Whether it's an auto emergency, a roadside breakdown, or just a small problem, RepairPal can help. The award-winning RepairPal website and smartphone apps for iOS and Android (find links to these apps on the RepairPal website) tell you the right price to pay for your repair, find you a great mechanic in the area, track all your repairs, and give you one-touch access to roadside assistance.   Be prepared 24/7 for a car emergency.  With RepairPal, you're covered everywhere you go in the United States.
What Else?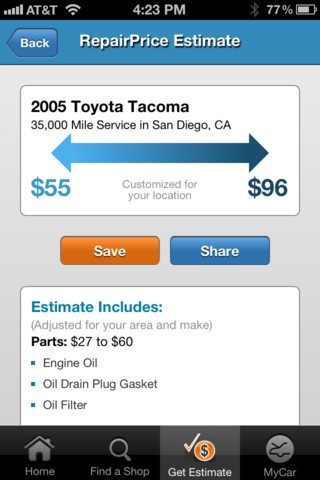 SAVE MONEY.  In addition to the app being completely free, you can get an accurate and unbiased repair and service estimate. Know the fair price to pay before you take your car to the shop. VERY helpful if you're a woman – and ladies, you know exactly what I mean.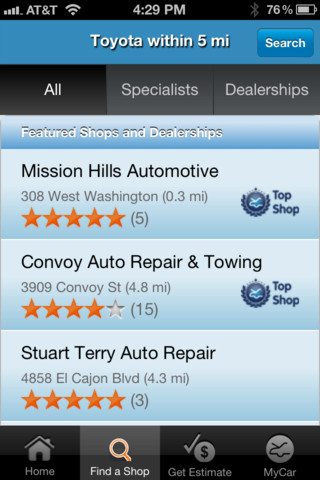 FIND A GREAT SHOP. With the most comprehensive GPS-enabled repair shop directory, RepairPal helps you find a recommended repair and maintenance shop near you. And if you tell them a cool app like RepairPal was how you found them, chances are they're going to do what they can to keep that favorable rating.
GET ROADSIDE ASSISTANCE. RepairPal brings roadside assistance into the 21st century by allowing you to pay only when you actually need the help, instead of paying an annual membership fee.  I haven't tried this feature out yet and until I do, I'm still sticking with AAA, but hey….not a bad Plan B.
TRACK YOUR REPAIRS. Keep your complete repair history with you. Record what you've done and make a checklist of what you need to do next. All data is synced between the app and RepairPal.com.
STAY IN SYNC. Sync your MyCar account on RepairPal.com, checklist, and repair history – Everything you need is with you, wherever you are.
RepairPal.com  Piece of Mind all for the low, low, price of FREE.