We use affiliate links. If you buy something through the links on this page, we may earn a commission at no cost to you. Learn more.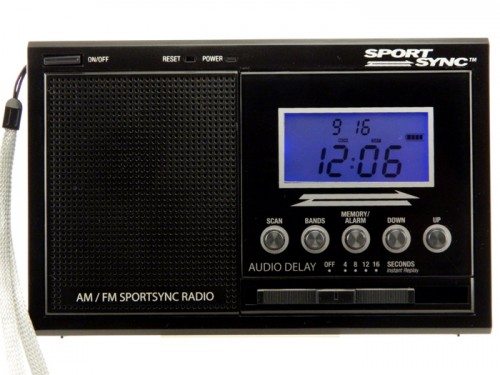 It was October 14th, 1975. Bottom of the 10th, the Reds and Reds Sox were tied in game 3 of the World Series. Ed Armbrister attempted to advance Caesar Geronimo with a bunt. In the ensuing action, Carlton Fisk thought he was interfered with, and Reds' fans were subjected to announcer Curt Gowdy's complaints about the play over and over again. That is when a tradition was born in our house. Turn down the TV and crank up the radio for baseball games.
Over the years, that approach became more difficult. As the TV broadcast is sent to the station, then to the cable company and finally to your DVR, more than likely the TV action will be noticeably delayed from the radio play-by-play. Enter technology.
The SportsSync AM/FM Radio provides a configurable delay of up to 16 seconds. The delay is set by a slider on the front of the radio. They do warn that there is a chance you would experience a problem if the TV is ahead of the radio (I would think that is rare), or if the difference was more than 16 seconds. All in all, this looks like a pretty cool solution to the baseball fan that wants to watch their team on a national feed, but listen to their local radio broadcast.
Hat tip to announcer (not surprisingly RADIO announcer) Dan Hoard for the heads up on this device on his Twitter feed.