We use affiliate links. If you buy something through the links on this page, we may earn a commission at no cost to you. Learn more.
We write a lot about keeping gadgets safe from damage.  Cases, gear bags, screen protectors and the like are all subject to being damaged by something you may accidentally do. But what about preventing an unwanted transfer of technology (ie. theft)? We can't all go around with safes and lockboxes strapped to everything, can we? Well, there is a company on the market now that tries to help you prevent an uncontrolled loss of gear access. FJM Security  has a series of products that can protect various items. Their MobiSafe  is a smallish plastic box with an attached steel cable and combination lock, designed to prevent anyone from walking away with your gear. Light and easy to open or lock, the high-impact ABS plastic case is held to any support that can be surrounded by a 2″ circle of steel airplane cable. I was sent one to test, and found it to be as described on their website. Let's take a closer look at this little gadget!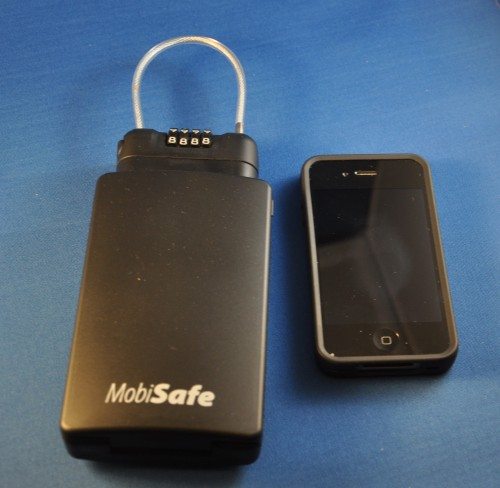 The basic construction is a clamshell case with a separate piece that contains a cable lock which clips into it, holding it shut. The cable can be released to slide around whole objects by sliding a simple trigger that is completely hidden from access when it's locked into place. The airplane-steel cable that loops around to secure your goodies is covered with a clear vinyl coating, which will prevent rust and keep it from scratching things, should you attach it to a painted item.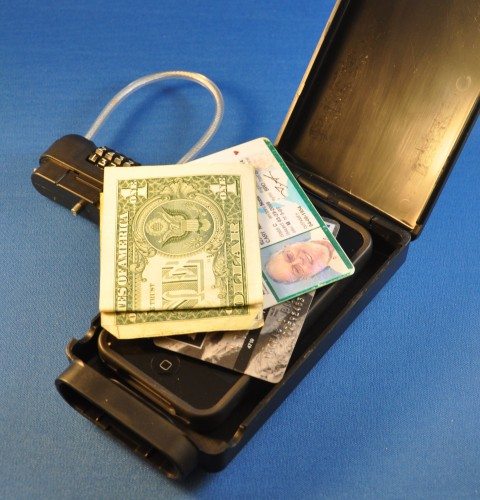 While the case it thin and light, I think it would take a bit of work with a blunt instrument to remove the clip from the collar that holds it.
Usage is simple: Remove the cable assembly, open the case, fill with stuff, put the cable around something permanent or difficult to move, close the case and clip the cable into it. There is a pin in the end of the cable assembly that goes through a molded hole in each half of the clamshell, so there is no way to force it open without actually breaking the plastic itself. This construction greatly increases the strength of the storage compartment lock, but it also means you have to enter the code and remove the cable assembly every time you want to go into the storage area. It's an irritation, but not as bad as having your ID or phone stolen, I guess. (This is why we can't have nice things, people! Stop stealing!)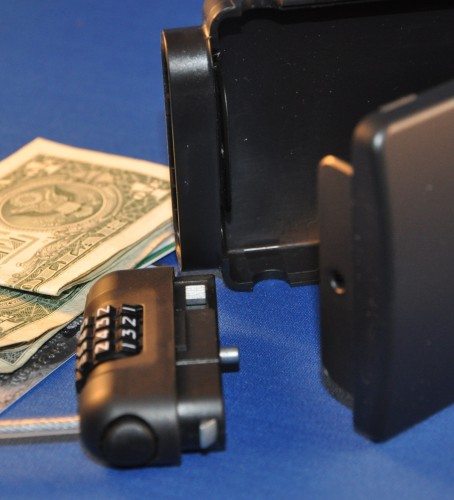 There are two smallish holes on either edge near the cable housing, which allows you to have earbuds or a power cable going into your device. This means it would be nice for a display for, say, speakers, where you didn't want anyone changing the settings or running off with your music source, but wanted music playing through the demo product. While a great idea, you'll have to choose your connectors carefully, since most smartphones or iPods have their outputs on the top or bottom. This means the cable may not fit within the box while inserted.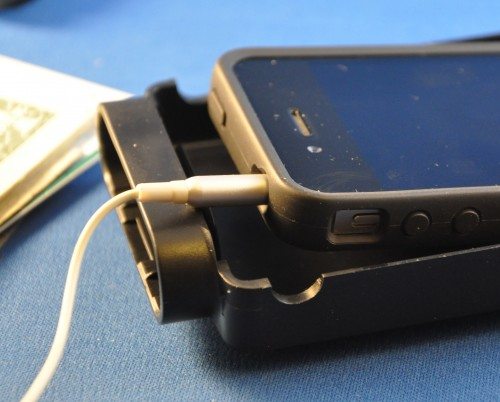 The MobiSafe is shown on the website's pictures on the beach, clipped to a railing at a ballpark, and to a chair at a poolside restaurant. While these places could be used, be aware that the case does not seal your devices from water, sand, heat, or humidity. Yes, it may be safe when you return from your romp in the surf, but it may also be covered in grit or seawater or spilled beer. I don't think the plastic four-digit combination lock would work as smoothly with sand in it, either.
I enjoyed using the MobiSafe during bike rides and when at coffee shops or the like. It's a hassle to balance everything when going to fetch your food order, or when ducking into the library to get your reserved books, and the safety afforded by this unit is quite nice. I'm sure, with the advent of tablets and larger smartphones, that this category will grow, and other units may have weather protection, etc. But, even as a start, this is a great case for those times when you're just wanting to secure your phone, a few bills and your ID while you take a turn around the dance floor.

Product Information
Price:
$14 (currently on sale for $10!)
Manufacturer:
FJM Security
Requirements:

Stationary object with opening to secure MobiSafe to.
Thin stuff to fit within the storage compartment.

Pros:

Light, strong, easy to use.
Holes for power/audio cables offer secure listening/charging.
Affordable.

Cons:

May not be large enough for some phones.
Some audio/power cables may not fit within while plugged in.
Opening storage area is a bit fiddly.