We use affiliate links. If you buy something through the links on this page, we may earn a commission at no cost to you. Learn more.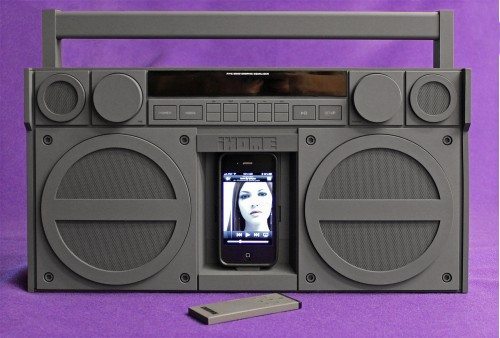 Does anyone remember the Apple Newton? It was arguably the first handheld mobile device and it was way ahead of its time. However, it had so many issues, it ultimately failed in the marketplace. Well, I remember the Newton. I owned four of them and I loved them all. Now, if you are wondering what my love of a failed Apple device has to do with a boombox, let me explain. The Newton had this thin, grippy, rubberized coating that made it look and feel different and cool. The new iHome IP4 Boombox has that same (or similar) coating giving it a feel like no other boombox out there. Not only that, but no boombox looks like it either. Let me stress that. The iHome IP4 is so unique looking, it will either be love or hate at first sight. There is no middle ground.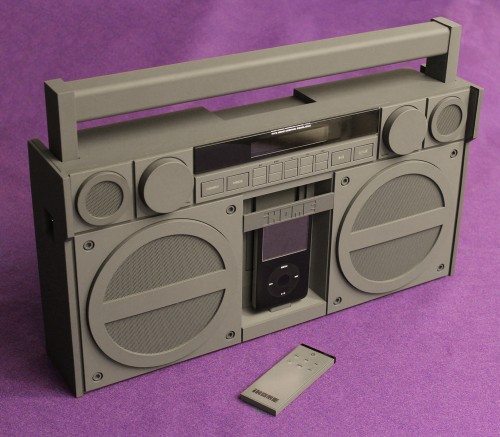 I loved the looks immediately. However, other people I have shown it to have had quite the opposite reaction. The IP4 sports a totally monochromatic look. In photos, it almost seems to be made of painted cardboard. Whether it's gray or pink (yes, pink), every part is exactly the same shade of color.
It's a rather large boombox. It's not as big or heavy as the visually-challenged Altec Lansing MIX IMT800 nor does it have the audio power of that monster, but it is $100 cheaper.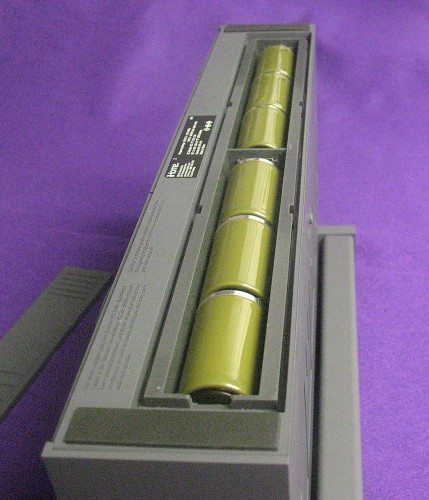 The IP4 comes with a magnetic remote control that fits loosely in a slot at the top of the unit. This remote has the usual functions: play/pause, skip, mode and volume. A large handle that's the length of the boombox (18 inches) makes it easy to carry from room to room. It's a hefty unit at 7.5 lbs. and that's without the 6 D batteries needed to make it truly portable. An included, wide strap helps offset the load when it becomes too heavy. There is a universal 100-240 volt AC adaptor for use in just about any country when an outlet is handy. Note that the IP4 must be plugged into an outlet if you want to charge any iPhone or iPod through the dock.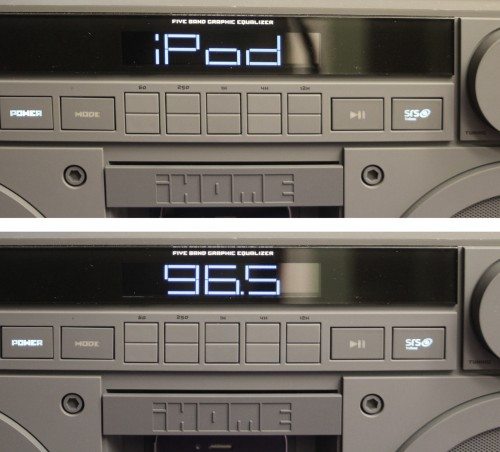 iHome has included an FM radio with the IP4, although I'm not sure why they bothered. Even though an antenna wire is included, reception isn't that great and FM audio is nothing to brag about anyway. With terrific radio apps for the iPhone/iPod Touch like Spotify or Pandora readily available, who needs FM anymore? I can listen to just about any station on the planet using other, countless iPhone apps. Also, the FM tuner is manual only. There are no memory-setting buttons.
An AUX-in jack allows connection to an additional audio source that doesn't use the Apple dock. The IP4 is equipped with a class "D" amplifier (power efficiency with lower heat) which powers two 4" woofers and two 1" tweeters. This means that the IP4 can fill a room with sufficient volume.
While the woofers are decent, I would have preferred a bit more oomph. Bass is good, but it's a bit weak for a unit of this size. I suspect the main reason for this is that the IP4 is only 5 inches thick. However, the audio quality is clear and accurate. It has a pleasing sound that holds up at higher volumes – as long as you don't crank it up to absolute maximum. Maxing out the volume can introduce unpleasant harshness. An included 5-band graphic equalizer helps sculpt the sound to personal tastes, although I prefer leaving equalizers off or on a flat setting.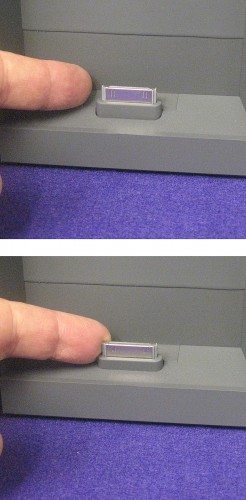 Just about any iPod will work with the IP4. However some iPods are not compatible, so check iHome's website before you buy. One neat feature is the dock pivots out which makes it very easy to connect and disconnect your iPod/iPhone. It also puts much less strain on the fragile pins in the docking port.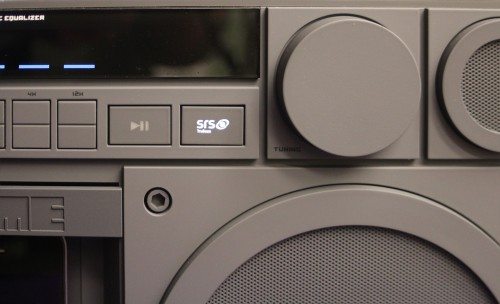 One of the nicer features of the IP4 boombox is the addition of SRS Trubass digital signal processing. I have issues with some of SRS's audio improvement claims, but on the IP4, it works beautifully. While it does make up for some of the inherently weak bass in the unit, the advertised bass improvement wasn't enough to justify itself, even if they do call it Trubass. Where SRS really shines is in the soundstage. You think the music sounds OK with SRS off… until you turn SRS on. Then, everything just opens up. The room automatically feels bigger. Turn SRS back off and the audio just sounds dead by comparison. Since I first tried this test, SRS has remained on. The difference is that pronounced. The IP4 and SRS were made for each other.
Some music genres fare better than others. I was put off by classical music on the IP4, but hey, I can't envision any Beethoven fan listening to one anyway. Rock, on the other hand, is what the IP4 was made for. I was having fun with one of Steve Miller's older recordings, "Song for Our Ancestors." This instrumental has various fog horns, sonar beeps, organ music and other musical bits mixed in a sound effects stew that sounds potent on the IP4. Again, I credit SRS digital signal processing for this song's convincing stereo separation despite the close proximity of the speakers.
I then tried an 80s song from Simple Minds (no, not that one). "Love Song" from the underrated album, "Sons and Fascination" has some kick thanks to upfront drumming in the (now) retro dance mix. Jim Kerr's vocals over synth percussion and keyboards comes through clean and clear. On many songs, vocals are forward and intimate sounding with the IP4.
The dirtiness of Keith Richard's guitar in the classic "It's Only Rock 'N Roll (But I Like It)" sounds gritty, muddled, and a total mess – exactly as it was intended to sound.
The IP4 can rock out a bedroom or small living room with no problem. It's no Bowers & Wilkins Zeppelin, but it was never meant to be. What the IP4 is, is a reasonably priced, impossibly retro-looking portable throwback to the glory days of street boom boxes. It has just enough high-tech goodies – and that wonderfully rubberized coating – to appeal to a brand new audience with their iPods, iPhones and other gadgets. Even though it lacks both Bluetooth and Apple's AirPlay for wireless playing, so what? I've got my IP4 loaded with batteries, the neighborhood's jumpin' and there's dancin' in the street.
Product Information
Price:
$199.99 US
Manufacturer:
iHome
Pros:

"Love it" retro design
Pivoting dock connector
Decent sound
SRS digital signal processing built in
Convenient handle and strap

Cons:

"Hate it" retro design
Weak FM
Bass just OK