We use affiliate links. If you buy something through the links on this page, we may earn a commission at no cost to you. Learn more.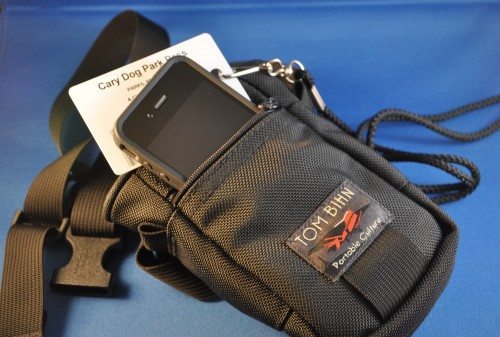 I love tech. I love my dog. I really love things that allow me to use tech in relation to other things in my life, like my dog, Jack. Tom Bihn, a premier bag maker in Seattle, has a great specialty bag called the Citizen Canine which can help you keep all your "dog stuff" in one place. I was sent the black version with the Steel grid interior to test.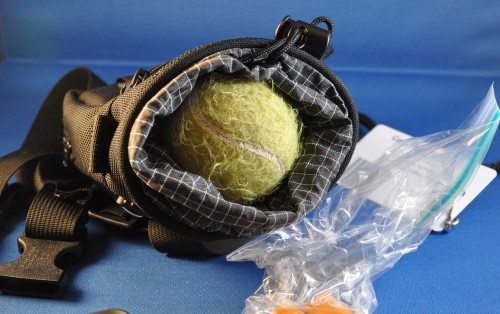 Over all, the bag is a sort of pouch, open at the top, but protected by a drawstring sleeve that closes against the weather and snuffling noses pretty nicely. There are two types of straps for the bag: an optional waist strap (which fits my 42″ girth with several inches to spare!), and an included over-the-shoulder strap. Either or both of these webbing straps (or neither, but then it's going to be awkward to carry!) can be attached or detached at will, and both are adjustable. The bag's material is all first-rate: U.S. 1050 denier Ballistic nylon and lined with Japanese nylon/Dyneema ripstop; zippers are #3.5  YKK coil with non-scratching plastic sliders. The straps are 1″ webbing with unique snap-on clips that allow you to customize the bag precisely. Build quality, a Tom Bihn hallmark, is also impeccable: bar-tacking and over-stiching at stress points, full lining and seams, etc. This bag is going to put up with years of use and abuse.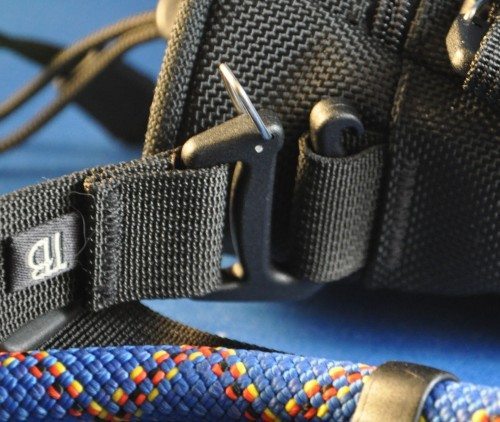 In design, the bag is built on two levels: an upper pocket with a drawstring top, and a lower compartment with a plastic grommet for dispensing poop bags. Inside the lower section is a metal roller for dispensing standard bags on rolls. It's fairly adjustable for the size of roll, but these bags are pretty much standardized within the pet industry, from what I've seen at various pet stores.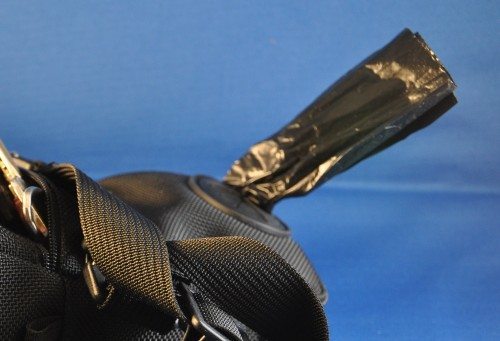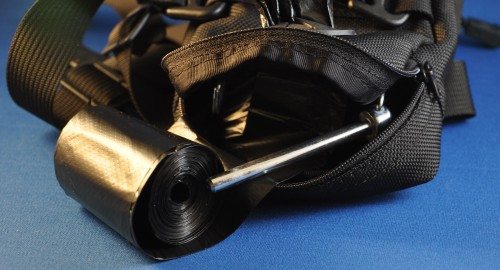 Included with the bag are clips that attach to the straps and can be used for a thick lead, ball toss stick, or other cylindrical item. They sent along their recycled leash to test, and having a place to attach it at the park is a major plus. The leash, from Krebs Recycling, is made from climbing rope, which is a kernmantle type construction. This means there is a woven sheath over an inner core of load-bearing nylon. Climbing ropes are taken out of use far before they are worn or aged, so Krebs creates these unique leases with them. They sew them with heavy, overlapped fabric at the joining points and use hot sealant to perfectly finish the ends. For $15, you'll not find a better deal at your local pet super store. (I used a kernmantle leash for one of my pups, and it lasted all of his 14 years. We buried it with him, although it was still quite usable.)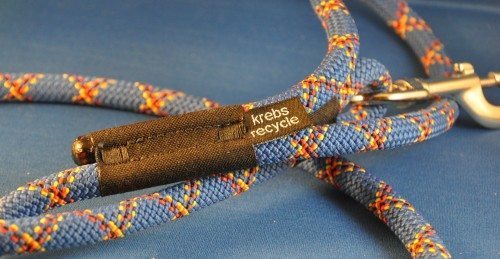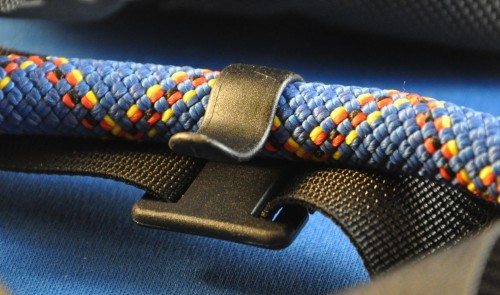 So, how does it perform? I guess it depends on your dog interactions. My current pup is still under a year, so training happens at home and in our yard, more than in a public place like a dog park. Having treats handy, though, does make things more interesting. The other dogs find the smell very tempting, so I was glad for the drawstring. Jack is learning that just because he can smell a treat doesn't mean he's going to get one, which is a good lesson for everyone! That makes the treats more effective when they are given. While the pouch is easy to access, the drawstring can make it a two-handed affair. The waist belt allows me to center it during training, so I can handle any two-handed manouvers, or grab a treat with either hand, which is also nice.
I wasn't a fan of the shoulder strap for the pouch, which actually surprised me. I usually carry a bag of some sort, usually a shoulder bag, but having this light one on my shoulder while bending down, running around, and fishing out treats for a dog was not easy. Even with it over the opposite shoulder, it was better on the waist for security and ease of use. I much preferred the waist band. I think it would be nice if it was an either/or thing, rather than having to get the shoulder strap plus pay extra for the waistband.
The size of the various pockets was good, with the possible exception of the front pocket. My iPhone 4s fits in it, but to zip it closed, I have to fiddle with getting the last little bit under the zipper. If you've got a larger phone, forget it. IDs, money, keys, and the like slipped in without a problem, but if phones continue to grow, a redesign may be in order.
The convenience of having everything in one bag is huge. I'm forever grabbing the leash for a walk, then having to figure out what to do when he stops for a nature break. I think my neighbors like seeing the bag, if no one else does!
Overall, I give it 4.5 stars. It's quite well made, designed with a lot of great features, and shows attention to details that any dog-loving gadgeteer would love!
Product Information
Price:
$55
Manufacturer:
Tom Bihn
Requirements:
Pros:

Adjustable strap and optional waistband can accommodate many different user styles.
Quality materials and craftsmanship
Generous size, yet compact - holds all dog items in one place

Cons:

Shoulder strap is a bit awkward - wish either strap was included, rather than just the shoulder one.
Front pockets are smallish for smartphone users.
Treat pocket closure is a bit tough for one-handed use. Maybe elastic?