We use affiliate links. If you buy something through the links on this page, we may earn a commission at no cost to you. Learn more.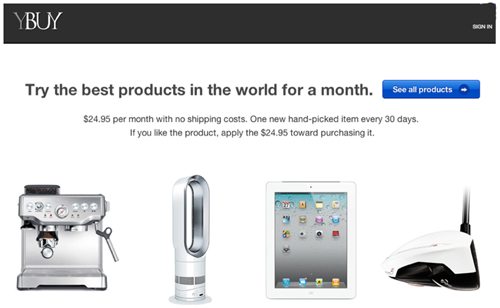 The newly-launched try-before-you-buy online subscription service, YBuy, lets you try a product for 30 days before deciding to buy.  For a monthly fee of $24.95, subscribers can try any of a wide variety of products – like iPads, Jawbone headsets, Keurig coffee machines, TaylorMade drivers, Dyson heaters, iRobot Roomba vacuums – for 30 days.  If you purchase the product, the monthly fee will be deducted from the purchase price.  YBuy says their prices are significantly lower than retail pricing, and they offer both new and refurbished products.  Read the full press release after the jump.
Why Buy When You Can Try? Test Drive the Latest Electronics, Home Gadgets at YBuy.com, Which Launches Wednesday with $750,000 in Funding
Manhattan Beach, Calif. — The new try-before-you-buy online subscription service YBuy.com launches Wednesday, January 18th, with $750,000 in financing from Stephen Svajian and Kevin Wall and a list of angel investors, giving consumers a chance to test drive the latest electronics, home and kitchen gadgets for 30 days before they commit to purchase.
For just $24.95 a month, YBuy members can try out the latest products ranging from iPad 2s and high-end Jawbone headsets to Keurig coffee makers, Dyson heaters, TaylorMade drivers or the iRobot Roomba automatic vacuum for 30 days. After the trail period, YBuyers may opt to keep the item and have the rental fee applied toward the YBuy product purchase price—a significant discount under regular retail—or they can easily send it back and choose another product from the curated list of top-of-the-line products. Shipping is free both ways.
YBuy offers both new and factory refurbished products certified by the manufacturer. All returned products are completely refurbished before being sent to another customer, and every product is guaranteed to perform to the manufacturers' quality standards.
Named the Best Tech Company of 2011 by edgy lifestyle guide Thrillist.com, YBuy effectively overcomes the last major obstacle to modern ecommerce: the inability to touch, feel and experience the product before you buy. By offering the trial experience, YBuy eliminates the hassle of refunds, returns and restocking fees common with traditional ecommerce—for both consumers and retailers.
Product returns cost the consumer electronics industry alone $16.7 billion in 2011, with the overwhelming majority of products (68 percent) returned simply because they failed to meet the customer's requirements or expectations. Another 27 percent are returned due to buyer's remorse. In order to resell these products, manufacturers must bear the high cost of refurbishment, but according to YBuy CEO Stephen Svajian, many end up in a landfill because refurbishing is simply not cost effective.
"YBuy completely eliminates all of these issues by giving consumers the chance to try the product and make sure it fits in their space or within their lifestyle with absolutely no risk," he said. "For manufacturers, we provide an easy-to-use sales channel that allows them to offer refurbished products to consumers without the added cost of marketing and sales."
Not only do YBuyers get a chance to try the latest gadgets and home products with no risk and no guilt, they also receive discount offers good toward the purchase of their product during their trial period. Subscribers can cancel anytime, or choose to skip a month and have that month's fee applied toward the purchase of a future product. Membership in YBuy is limited and by invitation only to ensure sufficient inventory is always available, which also enables the company to provide exceptional, personalized customer service.
"Our goal is to offer consumers the best products at the best price with no risk," Svajian said. "And, we're also eager to expand our product line by working with manufacturers looking for a better solution for their refurbished product resale channel."
For more information or to start your 30-day in-home trial of the latest electronics and home gadgets, go to www.ybuy.com.
About YBuy.com
YBuy.com is the premier try-before-you-buy destination that lets consumers test drive the latest electronics and home and kitchen gadgets for 30 days with no commitment to buy. Offering both new and certified factory refurbished products, YBuy eliminates the hassle of product refunds, returns and buyer's remorse and offers manufacturers a captive audience and ready-made sales channel for their refurbished products. The private company is headquartered in Manhattan Beach, Calif. For more information, visit www.ybuy.com.