We use affiliate links. If you buy something through the links on this page, we may earn a commission at no cost to you. Learn more.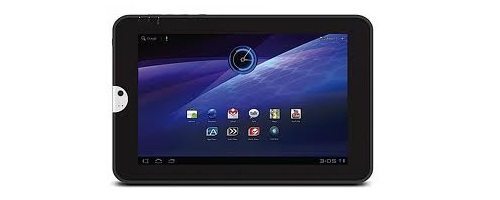 We had a good Christmas season at our house this year, electronics wise! A combination of events from price drops and clearances to unexpected cash meant that my wife and I both ended up with a tablet. She got a white 16GB iPad2, and I got a 32GB Toshiba Thrive AT105 10″ tablet. (I am not a big Apple fan but my wife is a professor of education and iPads are already deeply integrated into education, so it was a logical choice for her.)
Maybe you've read other reviews for this tablet- after all, it has been out for some time. If so, the over-all impression you probably got was that it was a good performer, and well-priced, but a bit clunky both in size and in power. What are my impressions?
In the interest of full disclosure, I was hoping this would be a review of the ASUS TF-201 Prime tablet and dock. That was the machine I was researching and hoping to get. When we got to the store to get my wife's iPad, however, they only had a demo unit available. It blew me away but I would have to wait some time before it shipped. Bummer. Combine that with the already worrisome price tag – $600 for the 64GB machine and $150 for the dock. I was also wondering if maybe a Chromebook might be a better choice for me after having a chance to play with one.
Anyway, we were in the clearance section of the store hoping to score a cheap iPad cover to get us started, when I noticed a few tablets boxed up in the section… including the same iPad we were getting ready to buy for about $100 off! As my wife got more info on the iPad from the sales staff, I looked at the Android tablets. Most were the 'off-brand' units, or 7″ screens, but one was a 32Mb, 10″ Toshiba Thrive, which had not been on my radar much before. The price was nice – $379 for the 32GB version – about $100 less than the new models a few yards away were selling for. Hmmm!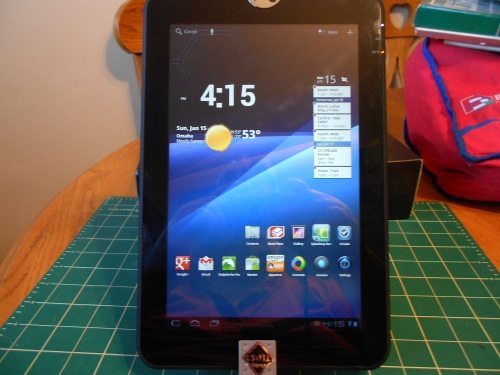 Most of the specs are pretty nice:
Android 3.2 Honeycomb (no word currently on when the Android 4 'Ice Cream Sandwich' will be coming out as an upgrade for this unit.)
10.1″ high-resolution screen, 1280×800, 16:10 aspect ratio, wide viewing angle (iPad2 – 1024×768)
1GHz Dual-Core Mobile Processor with NVIDIA GeForce graphics (iPad2 – also 1GB Dual Core)
1GB DDR 2 RAM and 32GB storage
5MB main camera with flash and auto-focus, 2MB forward camera with microphone
Stereo speakers (with pretty decent volume and quality)
Wi-Fi 802.11 b/g/n and Bluetooth 3.0 + HS
23Wh Prismatic lithium ion battery with up to 11 hours per charge
Ports and jacks (get ready for this): full-size HDMI, full-size USB, micro-USB, proprietary dock (all behind port covers), full-size SD card slot, 3.5mm stereo headphone jack, power jack
Sensors: gyroscope, accelerometer, light sensor, GPS, digital compass
Hard buttons or controls for power, volume, screen rotation, and back cover lock. LEDs for charging, connectivity, and notifications.
Textured, 'Easy Grip' back cover that can be replaced for customization
10.75 inches x 6.97 inches x 0.62 inches, 1.6 pounds. A bit of a heavy-weight compared to the iPad2's 9.5″ x 7.31″ x 0.34″ and 1.33lbs
MSRP of $480 (iPad2 32GB's $600)
In the box: tablet, AC charging cord (2-pin AC cord, 'brick' and power cord), mini-USB cable, manual, other documentation
Software includes several Google apps, several Toshiba apps, and several 3rd party apps. A lot of it is bloatware. Some of it is actually kind of neat, but there is almost always a better app available. Complete list here.
Rootable, even though they keep trying to prevent it with some of the updates. There is also a good forum dedicated to the device, with a sub-forum on up-to-date rooting directions.
Compared to most other newish Android tablets, this thing is a little thick, a bit heavy, and rather slow. The camera is nothing special. However, it does a perfectly competent job on the main tablet jobs- video, music, web, basic games, ebooks, etc.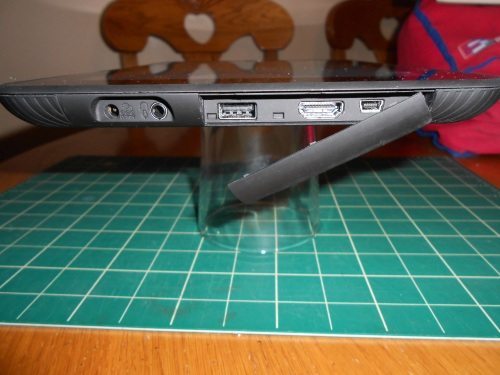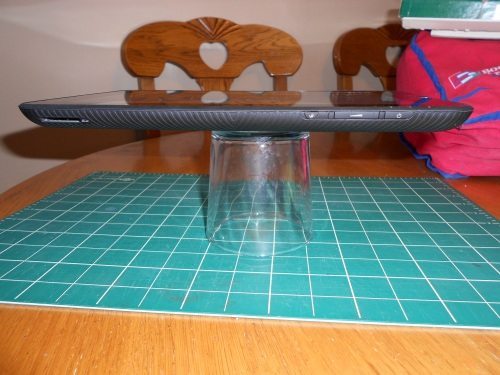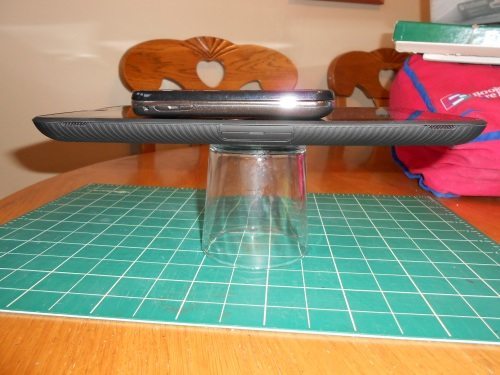 While it is a bit bigger than the top end units, it feels comfortable to hold. The 'Easy Grip' is lightly rubberized and ribbed so it feels good in your hands and you feel like you have a good grip on it. OK, holding it up in bed one-handed and such is a bit more tiring than holding an iPad would be, but I just use my cell phone for that sort of thing.
I am not going to worry much about speed specs and so on. This is an older tablet and there are lots of reviews that touch on things like that. Besides, it is a 'full-featured', but 'low-end' unit, so the numbers are not that impressive. What I would like to look at are the interesting aspects of this tablet.
First, since it has a full-sized USB port, it takes thumb drives! They need to be configured for FAT, but the file manager can copy files, media, etc. to and from the drive quickly.  So far, I have not had any luck getting it to read my Cirango 250Gb drive, but the exFAT formatting may be the issue. It also reads SD cards as easily as the slot in my laptop does.
Maybe your tablet does this as well, but I have not seen it mentioned before – the Toshiba keyboard has a microphone button so you can voice input instead of typing! It certainly is not perfect – it got my name and address right, but the phrase "I own four tortoises" came out as 'iPhone4 work', but it is pretty interesting and potentially helpful for transcriptions, interviews, and people with disabilities. I know there are apps that do this, but so far the native ability works better than any app I have tried.
Still working on using an external portable keyboard. There are several on the market that work with it, but I have a $70 Freedom Pro folding Bluetooth keyboard that works nicely with my Samsung Epic Smartphone (because it can do Bluetooth HID or SPP support, and many Android devices need SPP) that I am trying to connect. I have read that it can be done, so I probably just need to re-install a driver or something.
Connecting to the computer via the mini-USB was effortless, as was connecting to Wi-Fi and syncing to my Google accounts. Overall, the start up process was pretty dang painless.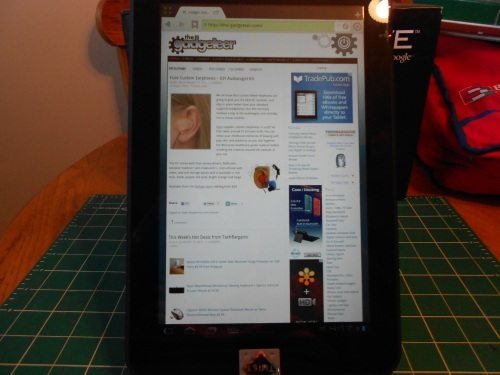 I have already seen the benefits of tablets at work, for fun, as a productivity tool in meetings, and more. As soon as I get the keyboard working, I may never tote my laptop anywhere again, and my smartphone may stay in my pocket most of the time!
I do have a short wish list for it, however. I wish it had a built-in kickstand, like the HTC EVO 4G has. That little feature was such a handy element. I know that most cases do this for you, but I really wish it had it already. I wish the power button was a bit easier to find. It almost lines up with the charging LED, but there is little sign of where to press when you look at the front of the tablet. Many other reviews touch on the idea that the camera is located where your fingers try to go – that would be nice to fix as well.
It also suffers the typical Android tablet lament – lots of smartphone apps do not like the size or processor. However, I have seen lots of reviews that suggest the issue is even worse for the newer processors, so that is another small benefit of the late adopter! My favorite games are generally board, card, and dice games that play nicely on the Thrive, even if a few are a bit stretched or pixelated. I don't do many games that demand a lot from the machine, but things like AirAttackHD play just fine.
Would I rather have gotten the Prime? Well, sure! It is newer, sleeker, faster, brighter, etc. – but with the dock to get about the same functionality as the Thrive, I would have had to spend about $650 to do what I am now able to do for under $440 (once I get the Bluetooth keyboard working.) Plus I get the benefits of the slow adopter – reduced prices, established support community, known bugs and work-arounds, less expensive and widely available accessories, etc. The dock is available on Amazon for under $15, backs can be had for under $4, and several cases are available for less than $20.
So… want something with more 'oomph' than a Kindle Fire or Nook Tablet? Not ready to spend more than a good laptop for a new tablet? OK with something a bit older, thicker, and slower? The Toshiba Thrive may be your tablet!

Product Information
Price:
$499.99 MSRP
Manufacturer:
Toshiba
Retailer:
Amazon and others
Pros:

Low cost
Full sized HDMI, USB, and SD card ports
Well-established support community and accessory selection

Cons:

Bigger, thicker, heavier, and slower than newer tablets
Only a 5MB main camera