We use affiliate links. If you buy something through the links on this page, we may earn a commission at no cost to you. Learn more.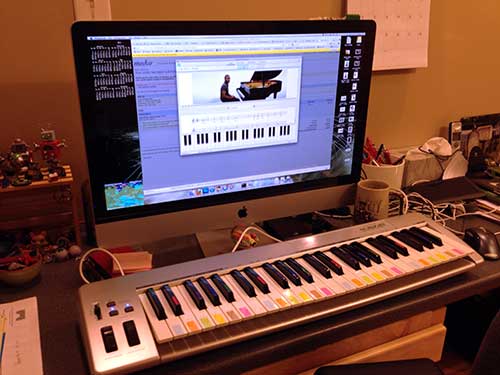 If you've ever wished that you could learn to play the piano but don't want to take weekly lessons miles from home, I have a potential solution for you. It's software for your PC or Mac and Midi keyboard called Playground Sessions. With this software, you can jump right into learning to play popular songs that you've heard on the radio and / or learn to read music and the mechanics of piano playing.
Note: Click the images in this review to see a larger view.
I've wanted to play piano since I was a little kid. My mother played and we had a piano in the house through most of my childhood. I used the same lesson books that she used as a child to teach myself the basics such as the notes on the staff can be remembered by Every Good Boy Does Fine and the letters in the word f-a-c-e. I can pick out a melody but have never taken an actual lesson. I know I can take some great music lessons to help me, but I personally enjoy the technological side of music education.
When the people at Playground Sessions contacted me to see if I would be interested in writing about their video piano learning software, I was happy to give it a try. The software is compatible with PCs and Macs and requires a Midi keyboard, which I already happened to have. Installation was quick and painless and the setup immediately found the M-audio Keystation 49e keyboard that I plugged into my iMac via USB.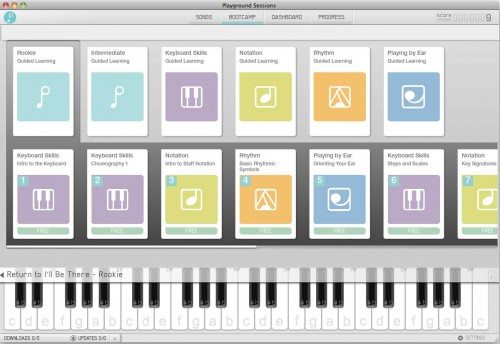 The actual lessons aren't part of the initial software download. They all have to be downloaded through the interface. The software is priced at $149.00 and comes with 3 songs of your choice and 27 bootcamp lessons for rookie (beginner) to intermediate. The video lessons can take quite a while to download depending on your broadband connection and have to be downloaded one at a time.
Their song library currently only has 15 songs to choose from. The first one I downloaded was I'll Be There by the Jackson 5. But there are more contemporary songs from One Republic, The Fray, Five for Fighting and other bands. Each song has several different types of lessons available that range from beginner to advanced. The versions of each song can be purchased with or without a video walk through lesson from David Sides the instructor. Like I mentioned the initial purchase of the software will get you 3 songs.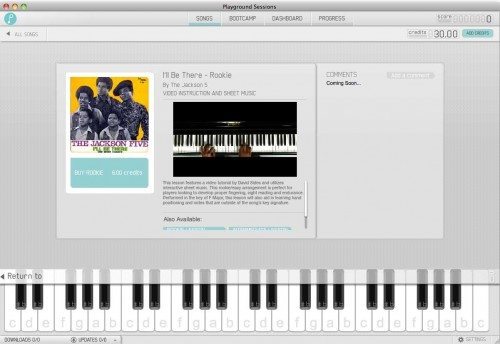 If you want additional songs, they will cost you $6 with the video walk through or $4 without. That's the price for each version of the song. So it can get expensive if you purchase the $6 rookie version + $6 intermediate version + $6 advanced version (not every song in their library has an advanced lesson). One song could cost you $18. What do you get for your $6 per version?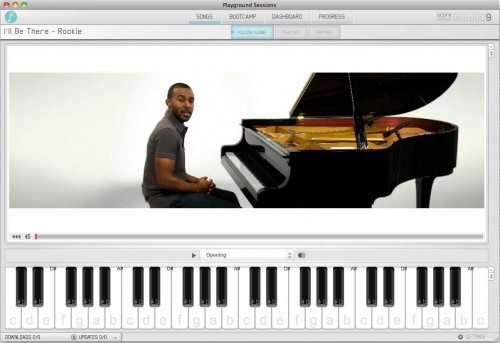 Each song lesson version has several parts. The I'll Be There rookie version that I started with has 11 different video parts because David breaks the song down into manageable chunks like Opening, Verse, Chorus and then each of those parts is broken down further into Left hand, Right hand and both hands. The keys on the onscreen keyboard play along as David plays each part so you can see the notes and positions.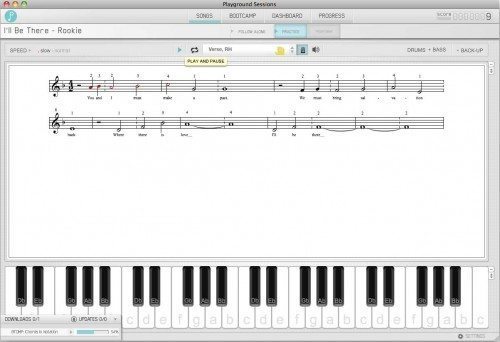 You can practice each section in slow or normal tempo with a metronome that can be turned on or off to help you keep time with the music. You can also toggle drums and bass back up instruments while practicing. As you play along, the notes you play correctly will turn Green, wrong notes will turn Red and notes you almost got right will turn Pink. This gives you immediate feedback to let you know if you're playing the section correctly and gives your practice session a slight video game feel.  If you want to work on a specific section of the song, it can be highlighted and looped as many times as you need.
I do wish that there was an option to slow the tempo even further or have the option to play the notes without any time constraints at all. I tend to get flustered when I miss a note and then it's hard to get back into the rhythm of the song.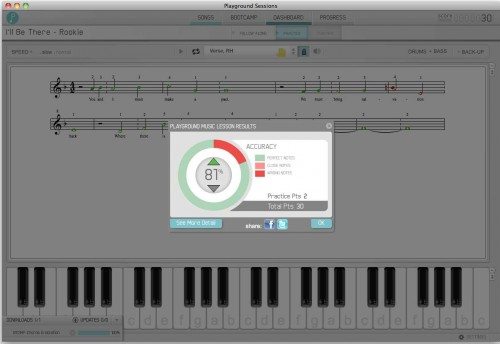 After each practice session, you'll be shown a progress chart with your accuracy level and a segmented chart that displays your percentage of right notes, wrong notes and almost right notes.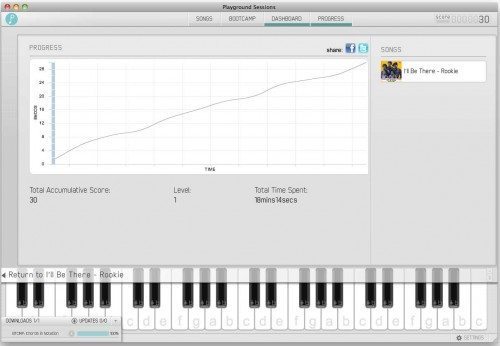 You can track your progress with each song that you're learning and the time you've devoted to it.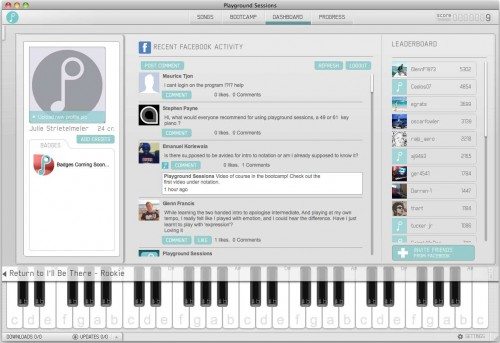 You can even let your friends know about your progress via Facebook and compare your stats to others using the software.
I found the Playground Sessions software easy to use and the video lessons easy to understand and follow. But unlike with a real live instructor, the software does not really motivate you to practice more.  It would be great if you could win credits to purchase additional lessons by improving your stats as you practice songs. As is, you'll have to supply your own motivation and $'s when you want to learn new songs.
$149.00 is a lot to pay for a software package and the relatively small selection of songs is a concern. Luckily there is a demo version which includes 1 free song lesson and 1 free bootcamp lesson. It's good for 7 days, which gives you a chance to at least try it before you buy.
Have you used software to help you learn to play an instrument? What has been your experience?
Product Information
Price:
$149.00 for base software / Additional songs with video $6 each
Manufacturer:
Playground Sessions
Requirements:
Pros:

Video instructor is easy to follow
Ability to loop sections
Practice sessions are like games where you can earn points

Cons:

Only 15 songs currently available
Expensive