We use affiliate links. If you buy something through the links on this page, we may earn a commission at no cost to you. Learn more.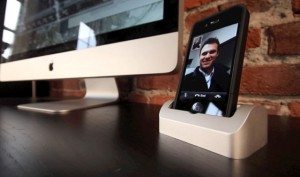 I've been on the hunt for the "perfect" iPhone dock (for me at least) since I first got my iPhone 3GS.  The stock Apple dock seemed OK, but I've always kept my iPhones in a case of one type or another, and none of them have been compatible with the Apple dock.  No dock over the last several years has excited me until I saw the Elevation Dock from ElevationLab.  It's a Kickstarter project, so it isn't actually available yet, but it looks simply awesome. 
For those not familiar, Kickstarter helps inventors, artist and other folks with creative ideas to make them a reality by providing a site that facilitates collecting funding for their projects to get off the ground.  Funds are pledged by average Joes and Janes like you and me, and in exchange (and depending on the pledge amount), "backers" can get exclusive first shots at the products when they go into production—that is, if the project receives the minimum amount of funding.
The Elevation Dock is machined from a solid block of aluminum and the basic version is finished to match an iMac or iPad.  The hefty weight, as well as a "special low-friction connection" helps make insertion and removal of your iPhone or iPod touch quick and easy.  It is also compatible with virtually any iPhone case thanks to a "clever movable support pad."  The base version goes for a pledge of $59 and the price and added features increase from there.  As of this writing, the Elevation Dock already has exceeded its required pledge funding, so it is virtually a sure thing that it will be made.  But you only have until February 11, 2012 to get your pledge in—after that, the prices will jump up when it goes retail.  It's a bit pricey, but I just might be willing to pay for what the Elevation Dock is offering.