We use affiliate links. If you buy something through the links on this page, we may earn a commission at no cost to you. Learn more.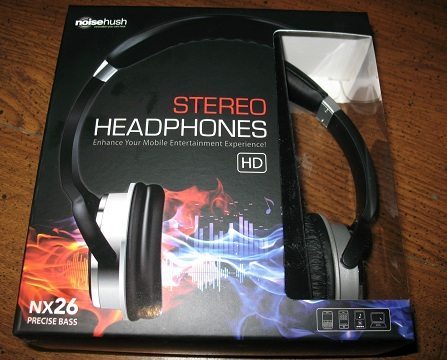 The NX26 HD Stereo Headphones from NoiseHush boasts to deliver deeper bass, lower distortion, and wider dynamic range with advanced engineering and featuring neodymium magnet drivers.  NX26 can be used for home hi-fi systems and mobile sources.  It has an in-line microphone that is built to insure filtering out of external noise and ensure that callers hear clearly.  Let's give them a look.
Specifications of Noisehush NX26:
• Driver Unit: 40 mm
• Output Power: 30mw RMS
• Speaker Frequency Response: 20HZ-20kHz
• Sensitivity: -42 ± 3dB
• Mic Frequency Response: 100-20kHz
• Cable Length: 5.7 feet
• Audio Connection: 3.5mm Stereo Jack Socket
• Weight: 175g (about 6 oz)
Features:
• Adjustable Headband for perfect fit
• Over-the-Ear design isolates external noise
• Soft-cushion design for ultra comfort
• High Fidelity Sound for extreme clarity with precise bass
• Microphone for hands-free calling, video chats and memo recording options
• Function Button to easily switch between listening to music and answering calls
• Tangle-free Cable
• Neodymium Magnet Drivers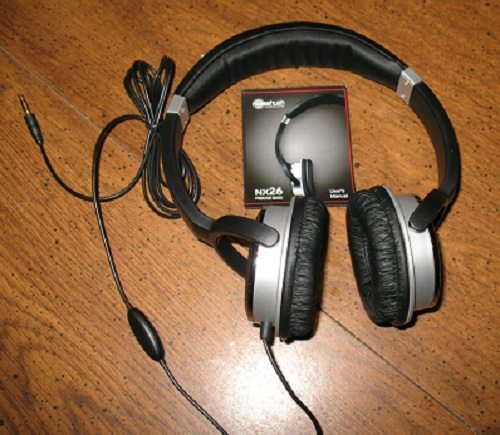 Inside the packaging, there is the  stereo headphones and a small user's manual.  The headphone cable is 5.7 feet long.  It is a good length for sitting at the computer, but maybe a little long when using an MP3 player or phone that just clips in your pocket or to a belt.  It has an adjustable headband for more customization, which I like.
NX26 has ear cushions that are like firm pillows to surround your ears.  They are very comfortable.  It also seems to do a great job blocking out external noise.  My husband was listening to music off of YouTube on his laptop at a volume level 8% with the headphones on, and he could not hear the television that was 10 feet away and at 40% of its volume level or me, who was just down on the other end of the couch unless I raised my voice quite a bit.
To test sound quality as with listening to music, I tried out the headset with some songs I normally listen to on my laptop, just for overall quality.  NX26 produced excellent sound quality, and I love the bass.  Then I wanted to try out listening to some artists  I normally have a hard time understanding the lyrics of, like Eminem.  It is amazing how understanding the lyrics can change your interpretation of a song!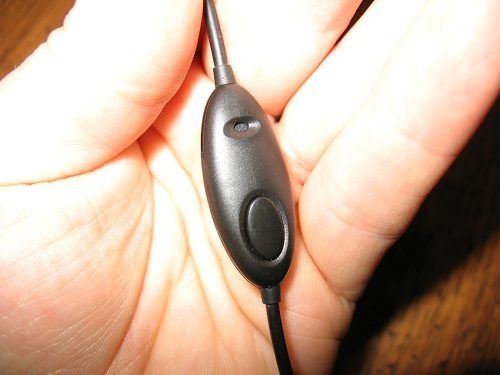 I then went to test the sound quality while on a call.  My phone, the LG Octane, does not have a standard 3.5mm jack, the jack was too small.  So I plugged the NX26 into my spouse's LG Ally.  He called me from the end of our driveway (1/4 mile in length) while I was in the house.  You don't need to bring the speaker up to your mouth, just talk normally as it hangs on the cable.  I thought the sound quality was great on my end as the receiver.  I could hear some rustling noise as my husband moved with the headset on initially, but then I didn't hear any other background noise.  My spouse said sound quality was good on his end too.  On his LG Ally, if he hit the function button while not on a call,  it would prompt him to his playlist.  It was easy to use the function button to answer and end calls.
Overall, the Noisehush NX26 has superior sound quality and bass.  It does a great job blocking out environmental noise.  The ear cushions are comfortable for use and it has the feature of an adjustable headband instead of the sometimes dreaded one-size-fits-all.  It is nice to have the dual feature of listening to music and additionally answering/ending calls in a corded headset.  The cord may be a bit long for some applications with being 5.7 feet long, and there is no volume control directly on the NX26.  I think with the dual feature and sound quality, the $79.99 price tag is well justified.
Product Information
Price:
$29.95
Manufacturer:
Noisehush
Retailer:
WirelessGround
Requirements:
Pros:

Lightweight for a corded headset at 175g (about 6 ounces)
Adjustable headband
Dual function with being able to listen to music and answer phone calls
Tangle free cable
3.5mm socket that is fairly universal
Comfortable ear cushions
Excellent bass
Great sound quality from built-in speaker

Cons:

Cord may seem long for some applications at 5.7 feet in length
No volume control right on unit