We use affiliate links. If you buy something through the links on this page, we may earn a commission at no cost to you. Learn more.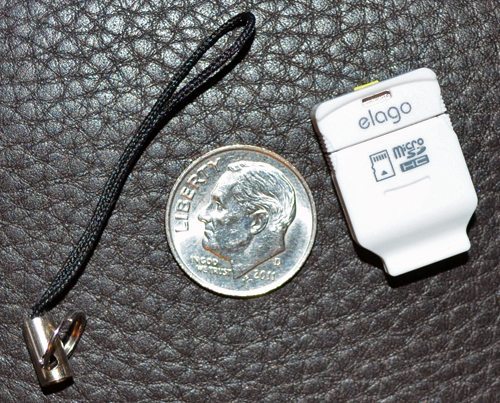 When you purchase a netbook or a MacBook Air, you want a lightweight, compact computer that you can carry in a small bag or even your normal purse/gear bag.  A limitation that some netbooks, especially older ones, and some MacBook Airs have in common is low amounts of data storage.  You can connect an external disk for more space, but having to lug around another device defeats the purpose of getting those tiny computers in the first place.  You can use a USB flash drive, but again, it's another thing to keep up with.  Not all netbooks or Airs have built-in card readers, so you can't just opt for leaving an SD card in for extra storage.  The Nano Mobile Micro SD Reader from ELAGO will allow you to add memory with microSD cards, and it's small enough that you can put it in a USB port and leave it – even while your computer is in your bag.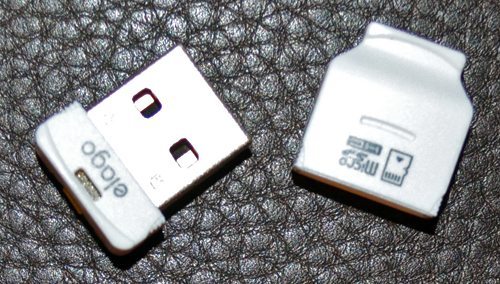 You'll see that the ELAGO nano I purchased is white, but there is also a black version.  The Nano is tiny.  It's about 0.6″ wide X 0.3″ thick X 0.9″ long with the cap in place or 0.7″ long without the cap. As you can see from the top picture, it comes with a tiny lanyard so you can attach it to a keychain.
ELAGO says the Nano is compatible with Windows Vista and is certified for Windows XP and Mac OS X.  It's a plug-and-play USB 2.0 device.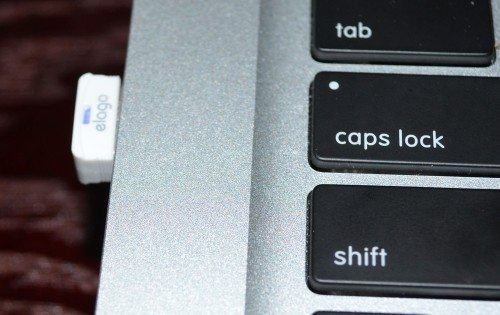 When inserted into the USB port, it protrudes from the computer about 0.25″.  The top side of the Nano has a blue LED that lights up when it's plugged in and blinks as it is accessed.
I use the Built Neoprene Tote Bag for the 13″ MacBook with my MBP, and the laptop sleeve inside the bag is a very snug fit.   I was afraid that I couldn't fit the laptop inside with the Nano installed, but it slipped in with absolutely no problems.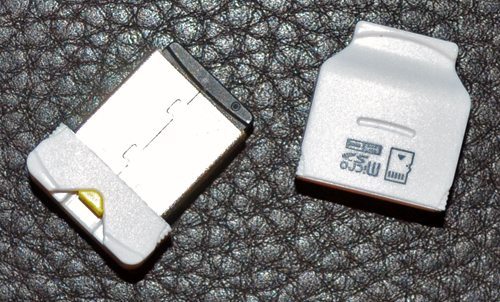 The Nano is certainly not as big and bulky as standard USB flash drives.  It's not a flash drive, though.  It's a card reader.  (It's also much smaller than other USB card readers.)  You'll have to supply your own microSD card.  I used a 4GB Dane-elec microSD card I happened to have on hand.  I've owned this card for at least 3 years, so it's probably not the latest and greatest technology.
You can see the microSD card just peeping out of the Nano's metal connector (above).  Note the position of the yellow tab on the back of the white plastic part.  This yellow tab is the ejector for removing the microSD card when you want to swap it out for another card.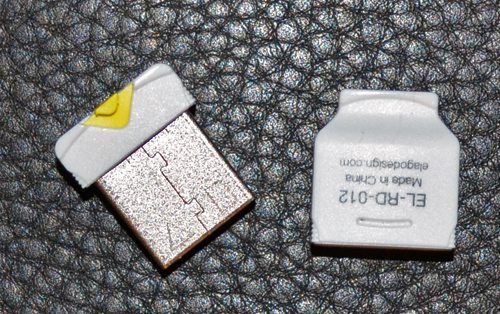 You can see the yellow tab is fully exposed here, indicating that a microSD card is in place.  I plugged it in to my MBP, and the Nano was immediately available.  There was no delay for driver installation and no problems reading the card.
Never miss one of our posts again. Sent MON, WED, and FRI with the latest gadget reviews and news!
I decided I'd try out the Nano by doing a speed test for copying files from my computer to the Nano.  I compared its copy rates to a 4GB Dane-elec USB flash drive I also had on hand.  The flash drive is about the same vintage as the microSD card.
I tested each storage device by first copying over a folder with 457 pictures in it; it had a total of 1.25GB of data.  I then copied over a single file that was 1.85GB.

I realize, of course, that the speed of the ELAGO is determined by the card inside it.  I'm not sure what the data, above, shows – other than the microSD card is much faster than the USB flash drive. But, hey!  I felt I should show something to indicate that I tested it out. 😉
I think the ELAGO Nano Mobile Micro SD Reader has a couple of advantages over USB flash drives and external drives.  First of all, the tiny size allows you to insert it in your computer's USB port and just leave it there.  You don't have to worry about transporting it or losing it.  Secondly, it is a card reader, so you aren't limited to a set amount of storage like with a USB flash drive.  (Yes, I still have a USB flash drive with a whopping 256MB of space…)  You can easily use multiple microSD cards as a means of organizing your files, or you could replace a microSD card with one with much more storage, as your storage needs grow.  You could buy a 32GB microSD, plug it into some netbooks with the Nano, and have a second drive with more storage than the internal drive.  The Nano is easier to carry than an external drive and cheaper than a new netbook.  It's an economical way to extend the useful life of your small computer without adding to the gear you have to lug around.
Product Information
Price:
about $9.00 - $9.50, depending on color
Manufacturer:
ELAGO
Retailer:
Amazon
Pros:

So tiny you can leave it in your laptop all the time
Can use microSD cards of any capacity
It's a card reader, so you aren't limited to a set amount of storage

Cons:

So tiny you could easily lose it if you don't leave it in your computer at all times