We use affiliate links. If you buy something through the links on this page, we may earn a commission at no cost to you. Learn more.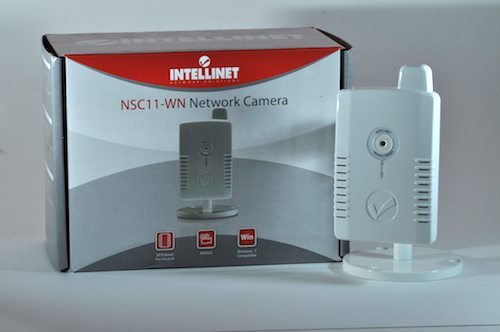 Everyone occasionally wanders into a situation where they want or need to have an extra set of eyes watching their stuff.  There are a number of ways to do this by setting up a webcam, but getting a webcam where you need it can be difficult, and not everyone has the patience or know-how to configure such a thing.  Intellinet Network Solutions has what could be the solution to this problem in their NSC11-WN Network Camera.  But is it all it's cracked up to be?  I got the opportunity to try one out and find out.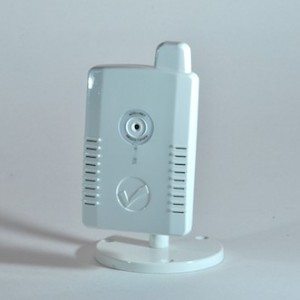 There isn't much to the NSC11-WN upon opening the box.  Aside from the camera unit itself, there's a mounting bracket, an AC adapter, a CD containing the admin software, and a user guide.  Setup is relatively easy; just install the admin software, plug the camera up to your network via ethernet, and then configure the camera's wireless adapter to communicate with your wireless network.  Once that's done, the camera can be accessed and configured in your web browser directly via its local IP address.  I had no trouble getting the review unit set up, and it was able to maintain a wireless connection throughout my home with no issues.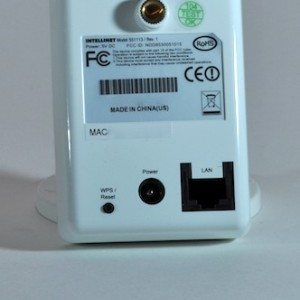 The configuration options are actually quite generous.  In addition to being able to have the camera's image emailed or sent via FTP on a schedule, one can also configure it to email or FTP the image only when motion is detected.  Further, you can set up multiple "regions" of the camera's field of view to watch for motion;  in this way, you can watch only certain areas of a room, so that, for example, it doesn't trigger when curtains blow in the breeze from an open window or when a pet walks across the floor.  Unfortunately, this is about where the options end.  There is no local storage, nor is there any option for simply saving off photos or video to a network location, so if you will be saving lots of data locally, you will have to look into setting up an FTP server on your local network.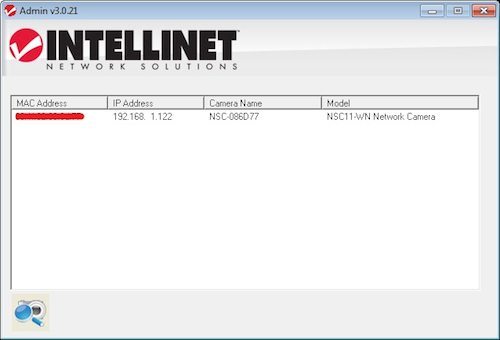 The image quality of the camera is nothing to write home about, sadly.  The camera is equipped with a sub-megapixel sensor, so even with the maximum image size of 640 x 480, images are anything but crisp.  In my tests, identifying faces was pretty difficult at anything more than fifteen or twenty feet away from the camera.  While this might be sufficient to identify if someone has been in a given place, it's not going to be clear enough to identify who it is, unless they're getting really close to the camera.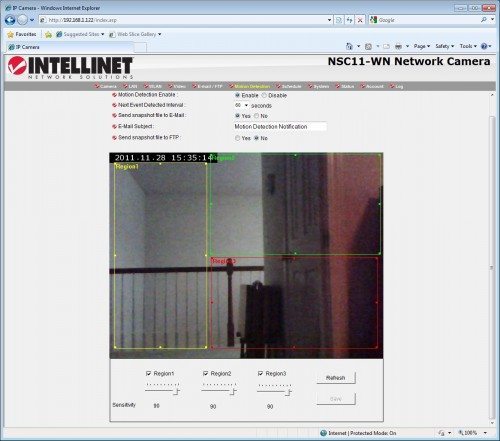 Aside from the image quality, I do have one major gripe with this product.  While both the website and the product packaging cite support for OS X, as well as the Firefox, Opera, and Safari browsers, neither the website nor the packaging indicate that you have to be using Windows and IE in order to get the most out of this camera.  The admin software is Windows-only, so unless your network configuration leaves the camera's default IP address unused, you're going to have a tough time during the initial setup.  Likewise, many of the features of the camera's web console (saving photos/video directly to disk, setting up motion activation regions, etc.) are available only in IE, leaving OS X users in the cold.  Fortunately, Mac users can get around this by running Windows either in Boot Camp or in a VM (for the purposes of this review, I used Parallels), but that's beside the point.  If a product states that it supports OS X, and no caveats are given, I expect to get all of the features available under Windows.  In this case, I feel sorely misled, and I'm not terribly happy about it.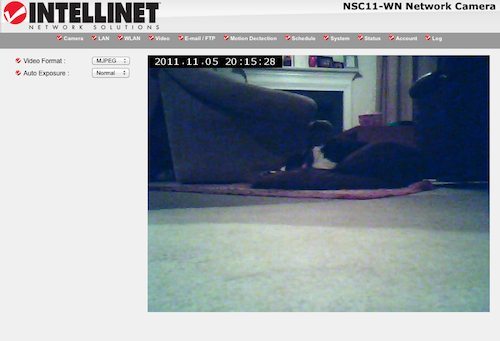 All in all, this is a decent product if you just need to stick a webcam somewhere that you can't normally reach with one, but don't really need much in the way of resolution or clarity, and as long as you have a Windows machine on your network, or a Mac with a Windows VM.  I suppose that the image quality is fairly appropriate for the price, but if I was in need of a wireless webcam, I'd certainly prefer to pay another $50-$100 for a camera with a higher-quality sensor and optics.
Product Information
Price:
$90-$126, list of vendors available on the manufacturer website
Manufacturer:
Intellinet Network Solutions
Pros:

Relatively easy set-up
Lots of configuration options available to suit your particular needs
Can be mounted almost anywhere

Cons:

Poor image quality
Weak OS X support