We use affiliate links. If you buy something through the links on this page, we may earn a commission at no cost to you. Learn more.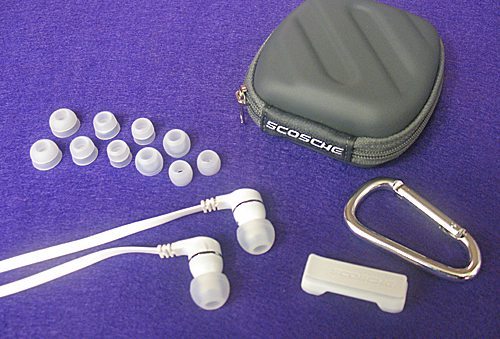 When writing about and reviewing earphones, I always include two points that are important to each model: the seal from the eartips and whether the earphone uses a warmer sounding dynamic or the more accurate, but bass deficient armature based speaker. Scosche is a maker of a seemingly endless array of affordable iPhone/iPod accessories with headphones and earphones among their more popular products. They have now released a new high-end line of audio gear under the Realm name, and one of the first products is the IEM856m in-ear monitor. There are a couple of things that make the IEM856m unique and we will discuss those in this review.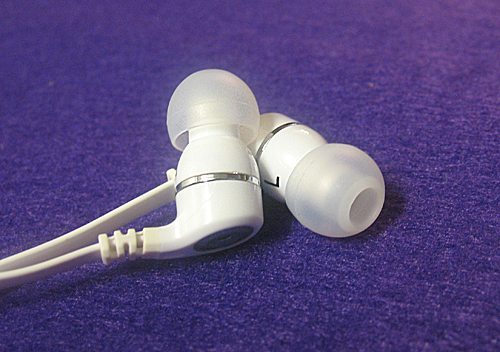 As I said, Scosche is going upmarket with the Realm line and so, let's look at whether they succeeded. The design of the IEM856m (couldn't they come up with a better name?) certainly looks good. They come in black (IEM856md) or bright Apple white (IEM856m) with subtle chrome accents.  Both have a good selection of silicone eartips to choose from. Also included is a very sturdy zippered case with a net pocket for holding tips, supplied carabiner and shirt clip.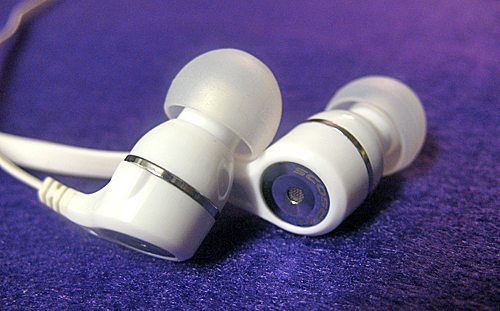 At first glance, it looks like Scosche is gunning for the Monster Earphone crowd with its design, but I think they look a bit more toned down than Monster's more aggressive look. One definite similarity the IEM856m has with some Monster earphones is a tangle-free flat cable design that really works. I have never been all that bothered having to untangle cables, but I know it drives others crazy, so these flat cables could be a deciding factor in choosing Scosche over other brands.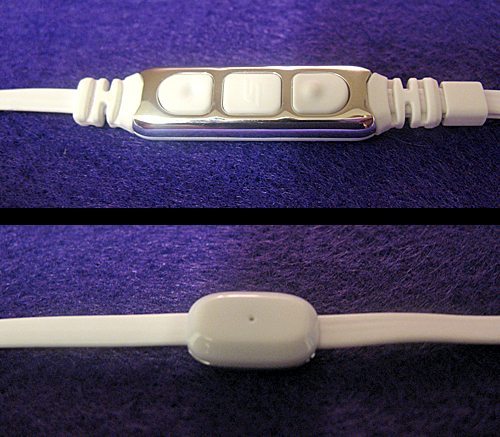 The IEM856m also includes what Scosche calls the TapLine III remote control and microphone system. It allows you to play/pause, skip tracks, adjust volume and answer calls. This setup is becoming the norm as smart phones become a prime source for personal music.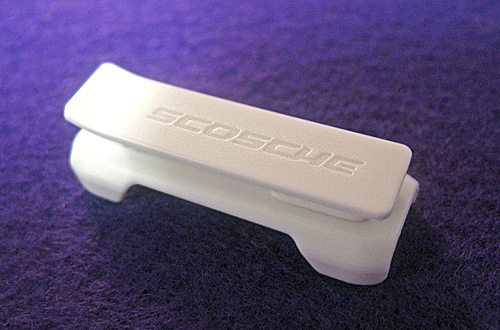 Beyond these specs, the main attraction of the Scosche IEM856m is a fairly unique speaker combination. Scosche could have decided to use the highly accurate armature speaker or the less clinical, bass heavy dynamic speaker. But they figured why not use both and hopefully, benefit from the strengths of both approaches? After all, it makes sense on paper: Combine the highs of armature with the powerful bottom end of dynamic to achieve a perfect balance. But, will this approach work in the real world?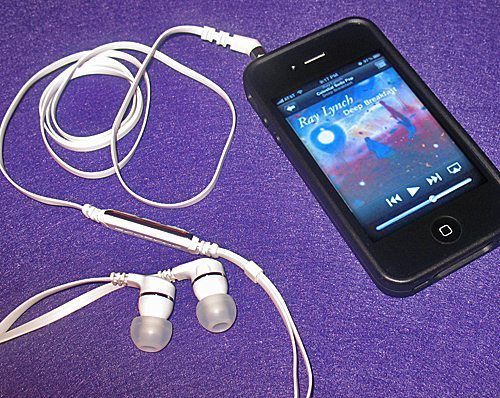 Let's first deal with the negatives. The IEM856ms are kinda big. While armatures are extremely small, dynamics aren't and adding another speaker – no matter how small – only increases the bulk. And these do look and feel bigger than most other earphones. However, Scosche has managed to keep them very light and, despite their size, quite comfortable. That had to have been a primary goal, because this combo-speaker setup just begs for compromises and Scosche seems to have wisely avoided them.
I listened to many kinds of music ripped or downloaded in various levels of quality.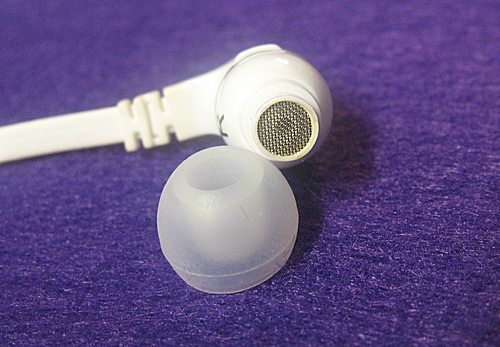 I noticed that while this combo does manage to capitalize on each speaker design's strengths – when pushed, the disadvantages of each speaker design sometimes becomes apparent. For instance, on some (not all) R.E.M. songs, their trademark, jangly guitar sound could border on brittle in the higher frequencies. I wouldn't say it's irritating, but it is noticeable. I'm half-certain that it's the recording and not the earphones, because it was rare when I heard it. Most of the time, the balance between the armature and dynamic speakers was spot-on. Their scatological song, "It's the End Of the World As We Know It," has an obscure bottom end when the group sings "… And I Feel Fine. With better earphones, you can feel the drum kick and on the IEM856m, I can feel it.
Sigur Ros is a group I have only recently discovered after becoming a fan of Jónsi and Alex. Their avant garde album, (), is a mixture of lead singer Jónsi Birgisson's falsetto vocals combined with various electronic noises and instruments, making it a perfect test for the IEM856ms. You really have to like this kind of music or you will run from the room screaming. The song, Untitled #6 (E-Bow), is a good example of covering the frequency spectrum in a song without veering too far towards the low or high ends. With the IEM856ms, I never got fatigued listening to this album.
"Actor Out Of Work" from the nom de guerre St. Vincent (Annie Clark) is an in-your-face, distortion-fest with vocals pushed so far up front that you can hear and almost feel every breath Clark takes as she sings into your head. Clark's siren singing is both discomforting and inviting at the same time and the IEM856ms let you hear it all.
Some might call Sarah Brightman's album, "Diva", a little over-the-top, but I am a sucker for her voice. I wanted to see how the IEM856ms dealt with her wide vocal range layered on top of pop songs. The effect is mesmerizing and goose-bump inducing. "It's a Beautiful Day" highlights Brightman's operatic chops and pop sensibilities over a world beat. There's not a lot of bases that this song doesn't try to cover. The IEM856ms didn't disappoint rendering each frequency range with ease.
The rock classic, "In the Court Of the Crimson King" from King Crimson is a song with a pretty muddy mix. It's never been an audiophile showcase and it still isn't. Greg Lake's lead vocals are clear and sharp on the IEM856ms, but the production is more of a wall-of-sound approach which doesn't play to these earphones strengths. This kind of song is better served by more the forgiving dynamic (only) speaker earphones.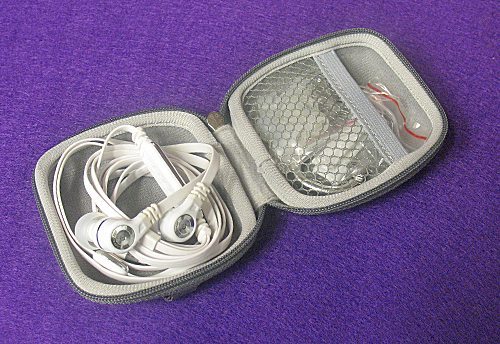 Any company known for its reasonably priced products takes a risk moving upmarket, and Scosche is no exception. While they have differentiated the upscale line under the Realm name, the Scosche brand is still predominant. It's like they are trying to have their cake and eat it too. With the unusual pairing of armature and dynamic speakers into a single earphone, they've pretty-much succeeded.
Product Information
Price:
$249.99 US
Manufacturer:
Scosche
Retailer:
Scosche
Requirements:

Music Source
Headphone port

Pros:

Combination of armature and dynamic speakers works quite well
Comfortable
Balanced bass
Nice case
Flat, tangle-free cord
Cord remote control and mic included

Cons:

A bit pricey
Large for earphones
Can distort when pushed too hard