We use affiliate links. If you buy something through the links on this page, we may earn a commission at no cost to you. Learn more.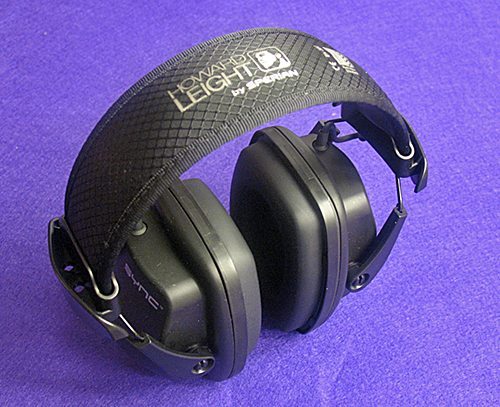 Let me begin this review by saying that I am not in construction or a business that requires hearing protection. However, I do live on 1.5 heavily treed acres, so I spend a good amount of time with electric and gas chain saws, gas weed-wackers, and lawn mowers. They are all obnoxiously loud. I used to wear earbuds and crank them up to punishing levels just to drown out the even more punishing motor noises. You can't relieve damaging decibel levels by adding more decibels. It's like throwing gasoline on a fire. I've seen many people wear earmuffs to protect their hearing, but I have to have music or audiobooks playing when doing yard work, or I will just stay in the house. Fortunately, Howard Leight, a manufacturer of hearing protection products has combined headphone technology with protective earmuffs in their Sync Stereo Earmuffs.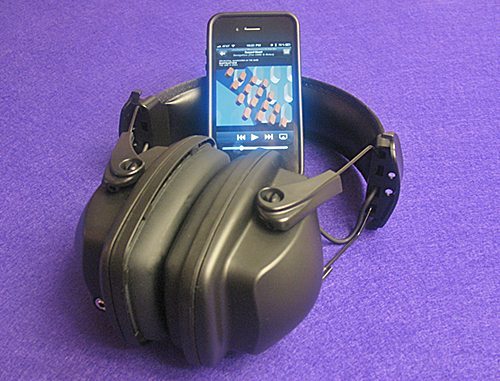 The Sync Stereo Earmuffs offer a 25 noise reduction rating (NRR) which is good for low to medium hazardous noise levels. That would cover most occupations and all those noisy yard chores. The volume is also limited to an 82 dBA rating which is below the maximum OSHA noise level of 85 dBA. Those numbers may be accurate, but I was able to produce some painful volume levels from my iPod classic with no problem.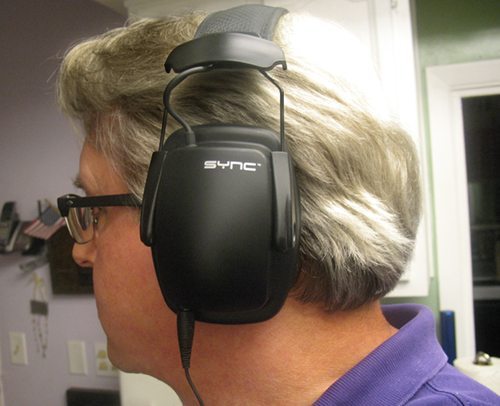 The earmuffs are passive, which simply means that no batteries are required. You just plug 'em in and go. There are two reasons they block outside noise so well. One is that they are solid construction with a strong plastic housing and vinyl padding that completely surrounds the ear. The other is that they are very tight on your head. I mean very tight. I thought some DJ headphones I've used were snug. Not like these. After about 30 minutes of use, I had pain in my temples. This really isn't the fault of the earmuffs. The problem is that I wear glasses. That can present a dilemma. Without glasses, I am practically blind. But think about it; whether you need glasses or not, if you're conscientious enough to have hearing protection while mowing than you are going to wear eye protection.  And that's like wearing … glasses. See the problem?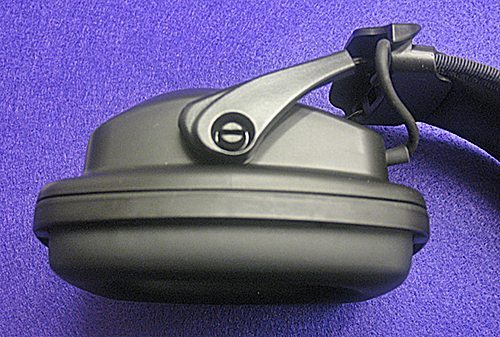 Then there's sweat. Since the pads are solid vinyl, the material doesn't breathe at all. My head sweats a lot anyway here in central Florida, so anything not made of natural materials isn't going to help. A few minutes in the hot Florida sun and the Sync earmuffs were uncomfortable and slippery. Even in an air-conditioned room, they left a damp, red ring around my ears. I would have to conclude that unless you live in a temperate zone and don't perspire that much, you would be better off with some in-ear earphones  (NOT earbuds) over the Sync earmuffs.
A factory is a different story, altogether. I can see the benefit of the Sync earmuffs being used around heavy machinery indoors in a controlled environment. SInce many factory jobs require hearing protection, why not have some of your music along to help pass the time?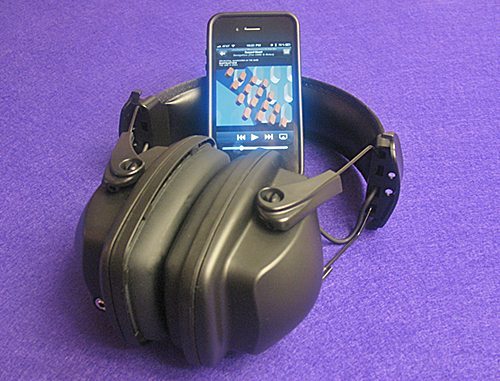 What about the music? Are the earmuffs worth it from an audio standpoint? I would say yes, sort of. Let's be honest, the Sync earmuffs do not belong in the audiophile arena. But they are inexpensive, so should they be damaged or lost, replacing them will not break the bank. There's a lot to be said for that. Just don't expect any musical revelation wearing them. There is distortion and harshness in the higher frequencies and a muddy mid range. On the plus side, the bass is not boomy or tiring, which is usually an issue with cheaper headphones. When not pushed, the earmuffs are good with MP3s and other lower resolution formats.
The Howard Leight Sync stereo earmuffs are a decent, inexpensive alternative to standard earmuffs in a noisy, hazardous indoor environment with adequate headphone speakers. Just don't expect audio nirvana.
Learn more about how you can help prevent noise-induced hearing loss at Howard Leight's HearForever site.
Product Information
Price:
$36 US but can be found for less
Manufacturer:
Howard Leight
Retailer:
Howard Leight
Requirements:
Pros:

Excellent hearing protection
Passes OSHA requirements
Decent sound for the money

Cons:

Can be hot
Very tight fit, uncomfortable with glasses