We use affiliate links. If you buy something through the links on this page, we may earn a commission at no cost to you. Learn more.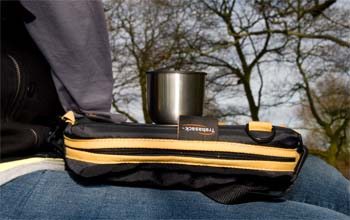 Hokay, let's be honest here.  I'm going to mention something and I want you to close your eyes and picture the first thing that comes into your head.  Ready…..
Lap Tray, Stable Table
If you're like me the first thing you see in your mind is either an elderly person sitting on a floral couch with doilies, surrounded by their six cats  or a larger gentlemen, comb-over , eating a heat and eat meal in his white singlet in a room lit only by the glow of his television 😛
So when Julie and Trabasack offered me to review their Laptop Desk and Travel bag ( Trabasack Mini ) I had to wonder if I fitted into either of those two stereotypes ( I didn't ask my kids as I know what they'd say )
So has my time with the Laptop Desk made me old(er) , fat(ter)  and lonely(ier) ……let's find out.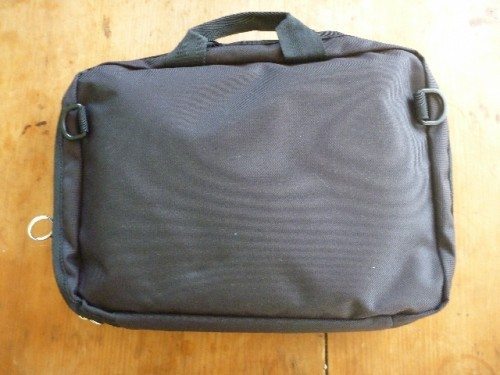 The Trabasack at first glance looks like any other small notebook bag.  At 33 x 25 x 6.5cm and 510g it's  sized to fit up to a 14″ notebook and it's machine-washable should it get too dirty.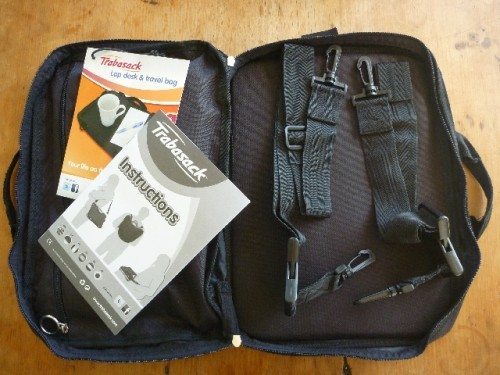 Inside, you'll also find straps that convert this bag into a messenger or backpack (more on the backpack later).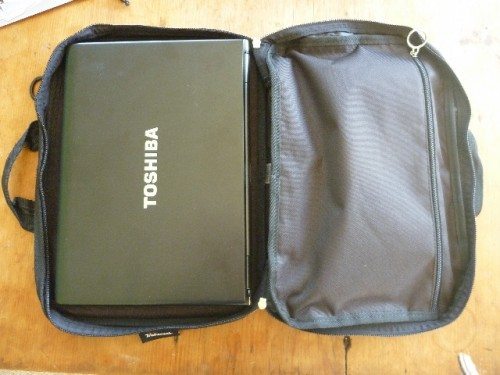 Here it is loaded up with a Toshiba 13.3″ notebook.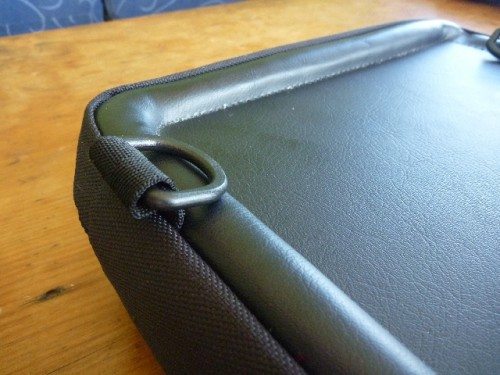 So far, so good, but this is where the Trabasack Mini differs from other notebook bags.  On the other side of the bag is a flat, vinyl covered hard surface.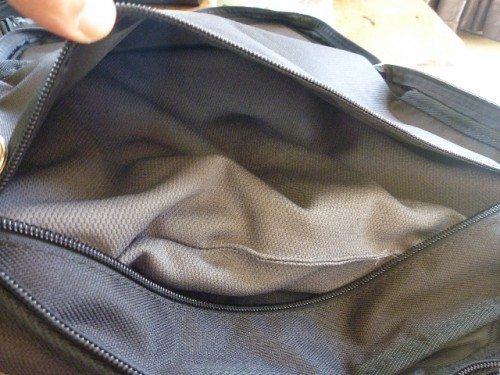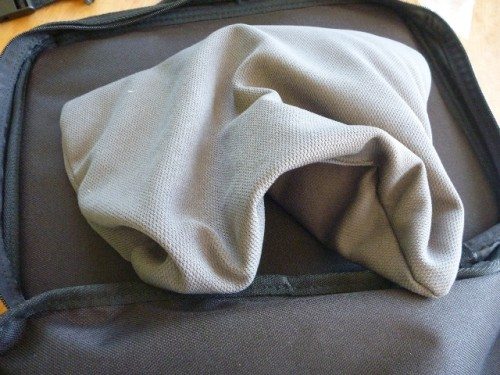 And on the other side  inside there's actually a  removable bean bag inside a zipper pocket.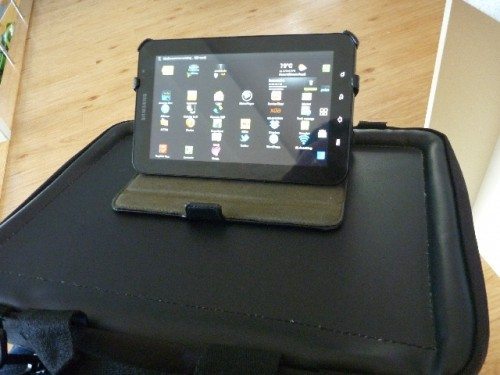 So when you're out and about, you've actually got a lap tray/stable table to use to write on, eat off or whatever.  Here it is on my lap, sitting on a stool with my Samsung Galaxy Tab 7″ on it.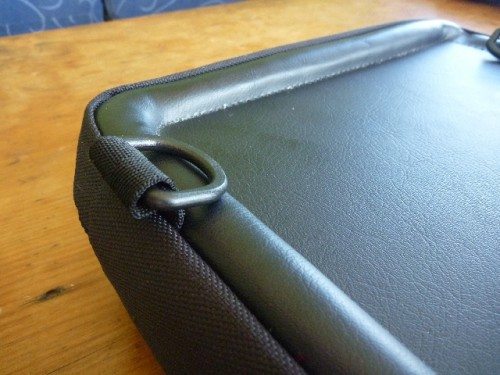 You'll note that the tray has an edge around it to assist in keeping things from rolling off the table.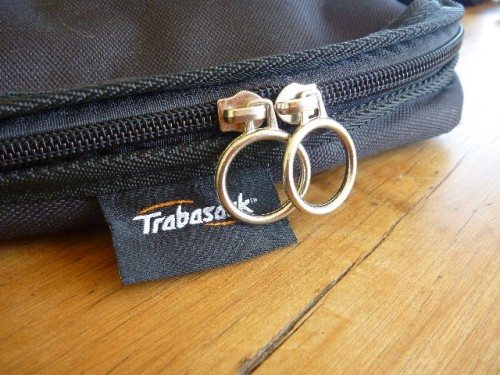 Another thing to note is the zipper pull rings used through out. They're nice and large and easy to use.
With a notebook inside, the top and bottom of the notebook are well protected by the bean bag and the table surface, however there's no protection around the edges.  Might be an issue when you're putting your notebook down or when its swinging around if you normally carry your notebook or devices "naked".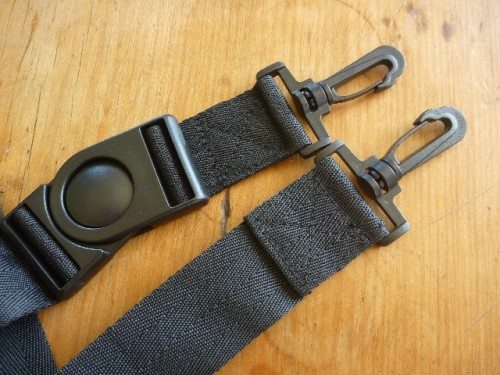 The straps included can be used to connect to the various D-Rings attached to the bag. The clips to attach are nice and big and easy to use.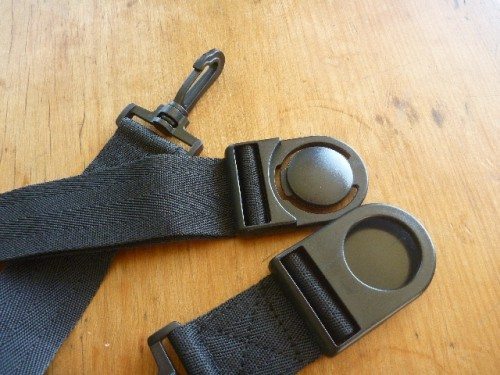 The swivel clips are really nice and big and easy to undo, so you don't actually have to slip the bag over your head to remove if you don't want to or it's too hard, just unclip, remove, and reclip.
Used as a messenger bag, it's comfortable, and depending on which side you have towards your body, the table surface raised edges or the bean bag create a cushioning effect against your body.
The strap can also be used around your waist to stop the tray from sliding off you lap if you find yourself in that situation. Again the quick release swivel strap makes this easy to use.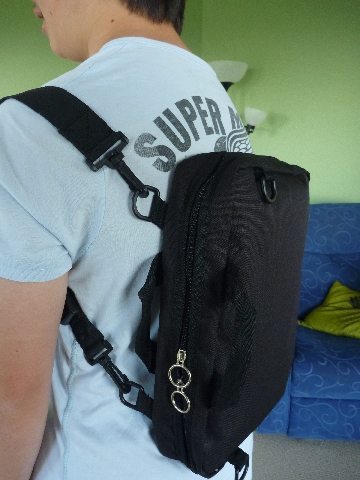 By using both straps, the bag can be turned into a backpack, and it's here that I have my real only issue with the bag. Here's my 16 year old son with the backpack on.  Again, the edges of the tray create a nice cushion against your back.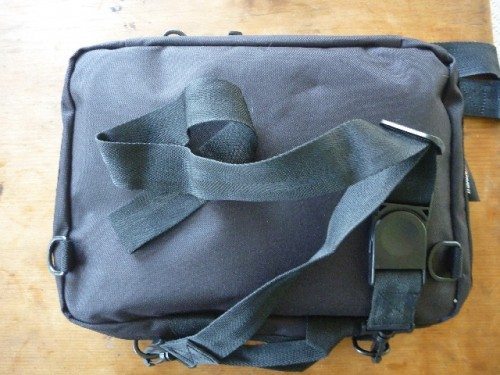 While the rest of  the features on this bag seem to be "hand friendly " (large pull-rings, large swivel buttons), the adjustment process using the adjustment sliders was not an easy one. Then once we got it on and adjusted, there was a lot of excess strap hanging down. We tried the straps clipped on both ways.  With the clips on the top of the backpack, there was a lot of excess strap and my son mentioned he didn't like the clips on top of his shoulders, and clipped the other way the excess strap hung down a long way. In the above picture, you can see how much strap was hanging in the backpack configuration. It would appear that the long straps are actually a marketing feature from reading the brochures that came with the bag, but in my personal opinion they just flap around way too much.
The good, though, was that to take it off you didn't have to swing it around and contort your arms like with a normal backpack, again you could just unclip those nice "hand friendly" swivel clips.
All in all the Trabasack Mini is a very useful companion.  I've used it out and about over the last couple of weeks, and it's proved itself extremely versatile when you need a lap tray to write on or put things on.  I've used it around town and on the weekend, and it's good for writing in logbooks while geocaching. I've used it in the house a couple of times even to rest my Galaxy Tab or a bowl of food on. I've even thought outside the square and used it as a cushion ( making sure there was nothing breakable inside ) to be a bit more comfortable and keep off the wet grass while in the park.
Also available is a version where the tray is covered in velcro material.  You can then stick small patches of "opposing" velcro to your objects so that they stick to the surface and don't slide about.
My only suggestion is that the backpack straps need to be looked into both in terms of their length (yes I could just cut them off an seal them with a cigarette lighter) and also in terms of adjustment. Some of the other features like the pull-rings and large button swivel clips are obviously aimed for someone who maybe has something like very arthritic hands, and I think they'd have issues adjusting the straps. This isn't so much of an issue when using in messenger bag configuration.
The other thing to consider is that there's no  small pockets inside the bag to store pens, or notebooks, or MP3 players and the like.
I note on the Trabasacks site that one of the target markets is people in wheelchairs, and it just so happens that I was recently at a conference with a mate who's in one. Knowing this bag was coming, I was interested to see  the "trouble" that he and other wheelchair users had while say, eating their lunch during the non-sit down buffet lunches.  I'm actually going to pass this onto him and hopefully get a review from his perspective.
That being said, don't discount this bag if you find yourself out and about and needing a stable flat surface, this might just suit your needs.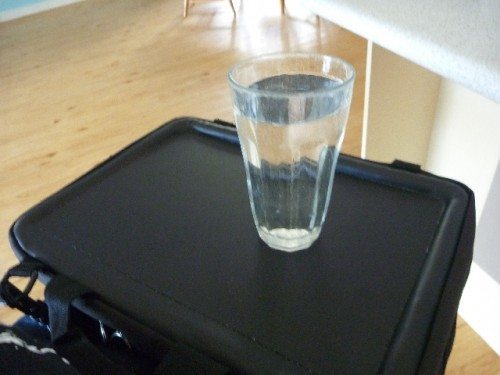 And finally to end, I notice that in all the promo pictures on Trabasacks website, all the cups being used seem to be empty.  Here's a full glass of water on my Trabasack Mini on my lap while sitting on a stool  🙂
Thanks for reading, and now if you'll please excuse me, I have to go feed my 7 cats and microwave my dinner 🙂
Product Information
Price:
Approx $55
Manufacturer:
Trabasack
Pros:

Take a table with you where ever you go.
The bean bag or the cushioned tray edges are comfortable on your back (backpack style) or hip (messenger style)
Large zipper pull rings
Large swivel clips that are easy to undo

Cons:

No slots or pouches for pens and little trinkets
Backpack configuration is hard to get comfortable and adjust; excess straps in this mode are too long
No protection to the sides of your notebook.