We use affiliate links. If you buy something through the links on this page, we may earn a commission at no cost to you. Learn more.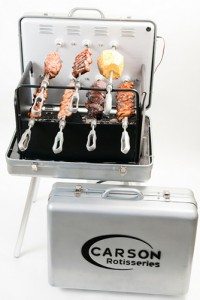 SolidWorks is a 3D CAD software package used in business and education to design and prototype products.  Many cool and useful products have been developed using SolidWorks, and they wanted us to know about some of them, including the Carson Portable Rotisserie Grill.  (See their full press release for other products, including the Zoku Quick Pop Maker already featured on The Gadgeteer.)
This grill (click the picture for a larger image) folds up into a suitcase for portability, and it opens up to give you what Carson describes as 4000 cubic inches of cooking area.  You cook your food over an open fire in the removable charcoal pan, but it doesn't lay on a grill inches above the flames.  Instead you spear meats, vegetables, and fruits on the seven included skewers, and the Carson Portable Rotisserie Grill takes care of continually turning them as they cook and self-baste, suspended over the fire.  The grill comes with a rechargeable battery and a AC power adapter to operate the rotisserie.  It's $719 in black or silver.