We use affiliate links. If you buy something through the links on this page, we may earn a commission at no cost to you. Learn more.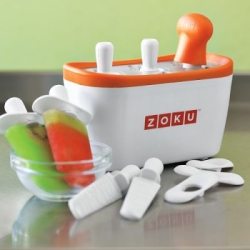 Do you like those frozen fruit-flavored popsicles but wish you could find different flavors or a healthier version with some actual fruit juice in them?    Now you can make your own frozen pop treats using Williams-Sonoma's Zoku Quick Pop Maker.  According to a video on the retailer's website, you can make pops from fruit juice, from flavored yogurts, or from sugar-sweetened drink mixes.  The only constraint is that the liquid must be sugar-sweetened, using table sugar, honey, maple syrup,  molasses, or the sugar found naturally in fruit.  Apparently you are out of luck if you want pops with artificial sweeteners.
Like with those small countertop ice cream makers, you keep the base unit stored in your freezer until you want to use it.  The base is filled with a "proprietary liquid" that quickly cools three pops in about seven minutes. You can make up to nine pops in a session.  The Zoku unit doesn't require electricity and it doesn't have moving parts, so your kids can safely make their own frozen pops.
The Zoku Quick Pop Maker comes with six pop sticks with leak-guards.  It also comes with a tool to help remove the pops from the non-stick aluminum mold – that's the orange handle in the picture.  It's exclusive to Williams-Sonoma and sells for $49.95, or you can buy two units for $79.95.