We use affiliate links. If you buy something through the links on this page, we may earn a commission at no cost to you. Learn more.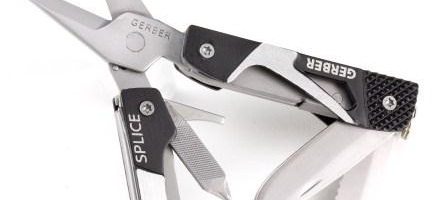 I love multi-tools! They are even my 'go to' idea for gifts for most people,. Even the non-'everyday carry' types often appreciate a pocketable device that has several handy tools built into it.
A work buddy pulled out a Gerber Splice to do a repair the other day and I instantly fell in love with this small, tough workhorse and soon got my own. How did it stack up against my old favorites, the Swiss Army Victorinox Manager and the Leatherman Juice S2?
The Splice is 2.4 inches by 1 inch closed and opens to a 4″ pair of scissors. It weighs 2.5 ounces and has 9 tools- scissors, straight clip point blade, serrated sheep's foot blade, Phillips tip with nail file, an interesting cap lifter bit with a large slotted screwdriver tip, and a very fine slotted screwdriver tip. (Hmm, there seems to be a missing tool unless they count the lanyard loop.)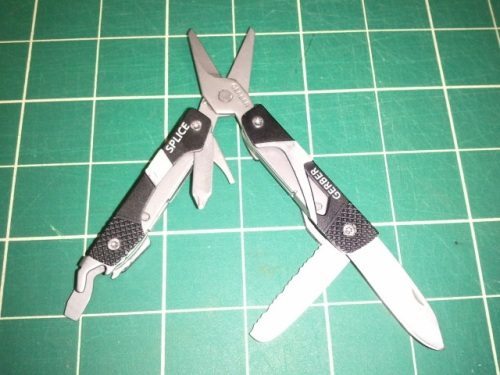 The Splice is a boxy, hefty tool. Mine was 'well-oiled' in the packaging and it feels like you are holding a real tool. The downside is that it feels like it could rip out your pocket in a heartbeat. The tools are perhaps a bit tight, but you can adjust that with a small Torx tool.
By comparison, my Manager Pocket Tool is 2.14 inches long and opens to 4″ with the knife blade. It weighs about 1/2 as much as the Splice and also features 9 tools- main clip point blade, scissors, Phillips tip, wire stripper, cap lifter, slotted tip, nail file, tweezers, and a retractable pen. (Actually, mine is a Midnight Manger version, which offers a small red LED flashlight in place of the tweezers, but I would rather have the tweezers!)
The Juice S2 is larger- a small multi-tool rather than a 'pocket tool' or 'mini-tool', but it is not really that much larger than the Splice at 3.25 inches closed, 5 inches with the pliers open, 4.4 ounces, and an even dozen tools.
All of these offer a lanyard loop, solid construction, good warranties, and a large fan base.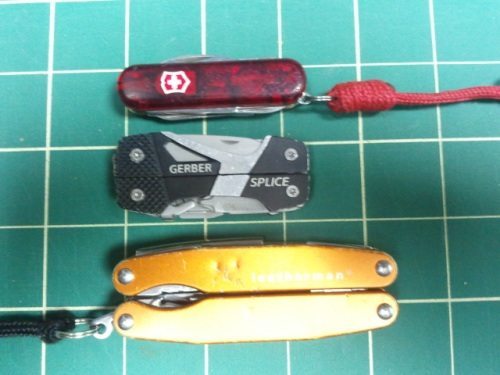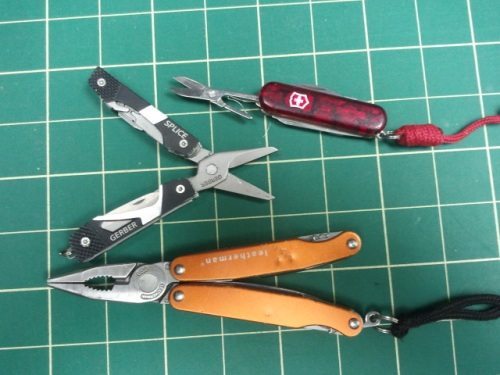 Why would you choose a small multi-tool or 'pocket tool'? Quick convenience. In the last couple days I have used a mini-tool to open packages in the kitchen, clip some unruly hairs, open several boxes, tighten a cabinet door knob, remove a partially torn fingernail, trim loose threads, and more. The thing is that I could have gone to a drawer or cabinet and gotten the 'right' tools for each of these but instead I just whipped the tool out of my pocket and the job was done.
I think I prefer my sleeker, lighter Manager Pocket Tool for general carry, but the Slice is definitely a hard working option for people who need a little more 'umph' than the comparatively light-weight Swiss Army units can offer.
Product Information
Price:
$15.99
Manufacturer:
Gerber Gear
Retailer:
Gerber Tools
Requirements:
Pros:

Small size
Tough and durable
Good selection of well-sized tools

Cons: