We use affiliate links. If you buy something through the links on this page, we may earn a commission at no cost to you. Learn more.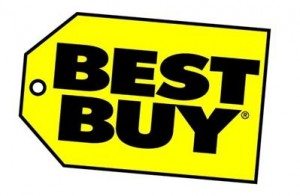 One of the first places many folks in gadget circles may have gotten a glimpse of their first gadgets may have been a local Best Buy Superstore. They are located in just about any city of decent size, and usually carry many small electronics, in addition to larger things like computers, TVs, car audio, and the like. Driving home from work today, I thought about my days of wandering around the cavernous showroom, compared to my current habit of checking things out online, or in an Apple store. What's the difference? Why has one died off while the other has grown? Since many Best Buys also carry official Apple products, and have an Apple employee assigned to the "store within a store", it can't just be the difference in the products. You can buy most of what's in an Apple store in a Best Buy.
Best Buy today took a beating in the Stock Market, reflecting the beating it's been taking in the market over the last year-plus. Investors are worried that management has no solution to pull the big box store from the morass that is the post-brick-and-mortar revolution of this new decade. I'd like to make a few humble suggestions which I think would make it a mecca for those searching for new technology and expertise, as well as a place to learn about and try out tech solutions.
If you've visited one of their cavernous locations recently, I'm sure you were shocked by the amount of bare floor space. What was once a crowded, packed store with racks and end caps overflowing and people milling about is now a ghost town. No longer are all the cool kids listening to current hits via headphones placed every few feet in the racks upon racks of CDs. (You remember CDs, right? Those were the shiny discs folks used to get before iTunes and other download sites put physical media in the Museum of Ancient History.) So, why so much open space? No one buys physical media anymore is the short answer. A longer answer includes lower prices of online retailers that can sell for less by not paying the meager salaries of clerks who do little more than point you to a product and try to press the extended warranty or Reward Zone program on you. Hmmm… Have it today with hassle, or wait until tomorrow without having to firmly say "no, thank you" seven times in a transaction. I'll go with online, says America.
But, walking past any Apple store in any mall anywhere tells quite a different story: scores of young folks, all hunched over iPads playing Angry Birds or CritterBall, or posing with friends for pictures taken with Macs that they can upload to FaceBook. Do they buy products? Maybe, or maybe not, but they are all allowed to freely explore unfettered products, check email, and hound salespeople with random questions about technology. If they ever do buy, which place do you think they will go – to the folks that helped them get comfortable and learn about their tech lives, or the ghost town down the road where the few things of interest are bolted down in an almost unusable state? Yeah, that's kind of a no-brainer.
So, what's my great suggestion? Use the room in the center of the store to attract a more hands-on crowd. Do some training sessions on various tablets, smart phones, and software programs. I'm sure Microsoft would front a few marketing dollars for a good presentation of MS Office or OneNote or their latest mobile phone. Same for other manufacturers. Get some discounted hardware (not end-of-life junk, but current stuff you'd really like to sell/buy) and lightly secure it so that people can actually use it, heft it for weight and feel, etc. The layout could be many different configurations, or even flexible, depending on which product is being showcased.
Also, put in a coffee bar with free wifi. Let folks use the demo machines to check their webmail, Facebook, or Twitter accounts. Encourage hanging out, rather than bugging folks to death. You've already got the space, and with a little additional training, you could make your Geek Squad into true rock stars by letting them show off their knowledge to your customers. They want to show off, and your customers want their knowledge. This is not something you're leveraging at all currently. The only way you're getting money from the GS folks is by having them at the bench doing repairs, or doing the occasional home theatre install. Imagine if you could entice folks into being so devoted to the Squad that they would pay for training? What? Crazy talk!
While you've got that nice open presentation/training space, encourage outside technology groups to use it for meetings. In my local area, we have a Mac User group, a handheld/portable tech group, a Ruby group, a Linux group, a PhotoShop group, an Android development group or two and several iOS programming groups at various levels. You know what each of those groups need that is in short supply? A meeting place with good coffee, free high speed wifi, and a presentation system that they don't have to pay for, or can rent for a buck a seat or so. Sure, this is free space you're giving away, but it's all about what is not happening currently – getting warm bodies into the building and having them stay and value the experience.
Wise salespeople will tell you to get the customer to agree to several things early in the conversation. This gets them used to saying yes in your presence, makes you seem to understand them more, and puts them at ease. For the same reason, being helped in small ways while being made comfortable, having a place to hang with friends and share, and being shown that you're in the presence of true experts who can solve your technological issues makes you more likely to purchase something without putting up a front.
Or you could let leases expire and get smaller stores that no one will visit, rather than the big ones no one is visiting currently, like the current management is suggesting.
What do you folks think? Are the days of the big box store over, or can they re-brand themselves into techno hubs and foster a learning community? Think it'd fly in your Best Buy?