We use affiliate links. If you buy something through the links on this page, we may earn a commission at no cost to you. Learn more.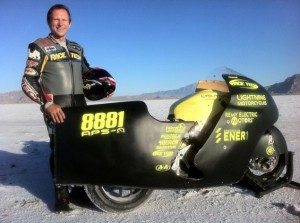 As a motorcycle rider as much as I love my MotoGP bike racing (go Stoner !!), as a Citizen of Planet Earth I always wonder how much of our precious fossil fuel is used up during a weekend of racing  (and that's not even taking into account transport to and from events and other things).
Recently at the famous Bonneville Salt Flats, Lightning Motorcycles, specialist in electric scooters and motorbikes, set a new World Landspeed record for electric Bikes .  With an average run speed of  205.238mph this is the fastest Electric Bike out there. Their fastest run, a very respectable 208.386mph.
Riding the bike for Lightning was Race-Tech's Paul Thede, a veteran of the salt in his own right. Thede's 200+ mph passes meant his induction into Bonneville's 200 MPH Club. One of only 65 motorcycles inductees ever to set a record over the 200 mark, Thede was the first to do so on an electric motorcycle.
Of course the big balance with any electric vehicle is distance between charges.  No good  if you can't go very far at 200mph before you have to refill the electron tank 🙂
Check out their bikes at Lightning Motorcycles