We use affiliate links. If you buy something through the links on this page, we may earn a commission at no cost to you. Learn more.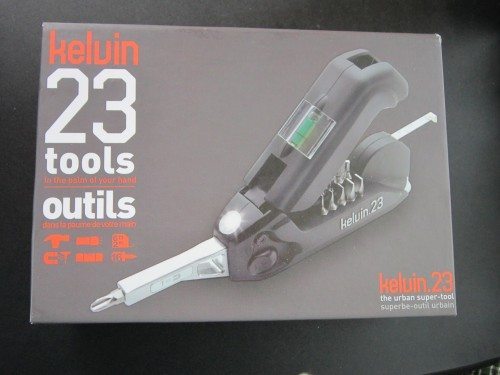 I am sure all of you have had a moment where you've been in a pinch to find tools to hang a picture, tap in a nail that has stuck out on a piece of trim, or needed to get a quick measurement.  These are some of the projects the Kelvin.23 can help with.
The Kelvin.23 multi-tool is "The Urban Super Tool" that fits into the palm of your hand and features 23 tools.  It has a hammer head, LED light, 5 1/2 ft tape measure, magnet to hold loose screws, spirit level, and 16 screw bits.  The screwdriver can lock at 180 degrees or 90 degrees for extra torque.  Kelvin.23 is priced at approximately $30-35, is 5 1/2″ long, 1 1/2″ wide and weighs approximately one pound.  It was invented by Kevin Royes of Vancouver, Canada, and is made in China.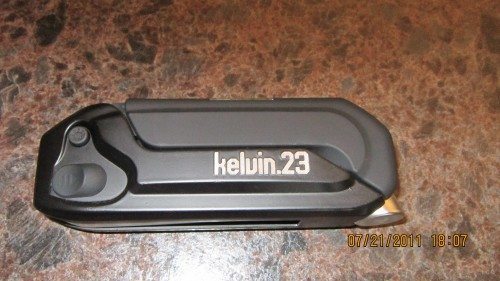 Kelvin.23 feels well built in my hand and is made of a cast aluminum body.  It has a hammer head on the lower right end of the device in the above picture. Please note this is for small jobs and not for full carpentry projects.  The website, http://www.kelvintools.com says "for any of those jobs where the heel of a stiletto would make a good solution, then we've got your back. Zinc die cast and chrome plated…hammer away and save those shoes for Saturday night".  It would be nice if the hammer head would be placed out a bit further from the body so there was less possibility of hitting the body of the unit or fingers when swinging.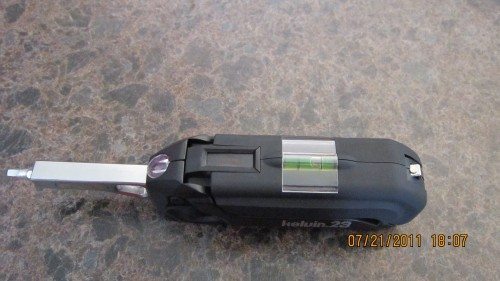 The screwdriver can lock in at 90 and 180 degrees.  The bits seem to sit securely in place.  There are two magnets on the sides of the screwdriver, which are ALNICO magnets and seem quite powerful to hold loose screws.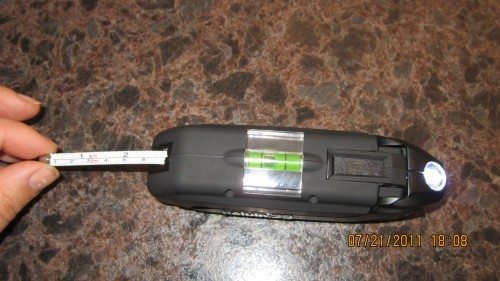 A tape measure is included.  The packaging says it's a 6 foot tape measure, www.kelvintools.com says 5 foot, and comfortable working length is 5 1/2 feet.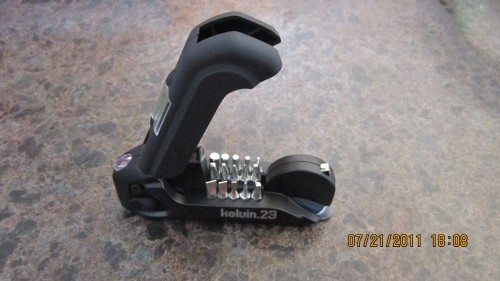 The bit compartment holds 16 bits that are of standard sizes.  The bits may be hard to remove for someone who has large/thick fingers.  There is no lock for the hinged portion that contains the level and sits over the bits.  If it wasn't shut all the way or if debris got in the hinge, level function could be off.  The battery cover is to the left of the bits, under the hinge, with a thin cover.  Once the battery cover has been opened, it seems difficult to keep it locked in place.  I have a fear of batteries falling out with longer use.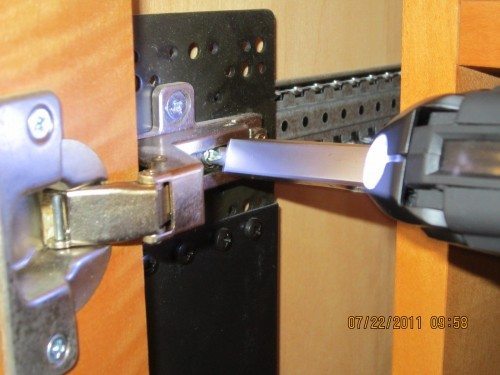 There is an LED light above the screwdriver that is nice to give some extra illumination.  It works well as a small, portable flashlight to help locate objects too. The light does disperse and it would be nice it would be a bit more fine focused for use.
Overall, it does seem handy to complete small kitchen tasks.  This gadget is said to be 23 essential tools, which are the 16 bits, level, LED light, hammer, tape measure, two magnets to attract the loose screws, and the extra angle to the screwdriver.  I wish it would combine some essentials from the Leatherman, like pliers and maybe a cutting tool.

Product Information
Price:
$29.99
Manufacturer:
Kelvin Tools
Pros:

Compact and feels well built
16 standard size bits included
90 and 180 degrees lock position for screwdriver
Strength of LED light
Level and hammer head included
ALNICO alloy magnets

Cons:

Compartment for bits is very compact
Placement of hammer head
LED light focus
Battery cover