We use affiliate links. If you buy something through the links on this page, we may earn a commission at no cost to you. Learn more.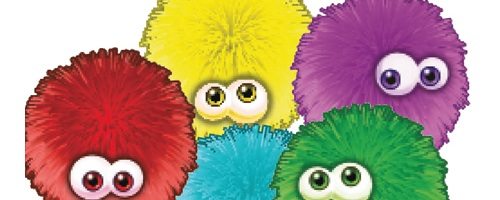 I generally use my Smartphone for non-game activities, but I like to keep an assortment of good games around- backgammon, mah jong, solitaire, and so on. One of my old Palm favorites was a Pop Cap game called Bejeweled. I played it and some clones (mostly a nice version called JewelLust) but the game play was getting old.
Then, Amazon's amazing 'Free App a Day' offered one called Chuzzles that I had never heard of. I downloaded it and ignored it for a while. Then I downloaded it… and wow!
There is a backstory and cute comments about Chuzzles, but this is basically a grouping game. Slide rows or columns around to line up three or more Chuzzles in a line or a shape (L, square, or other irregular cluster connected horizontally or vertically), and they pop out of sheer joy. Like Bejeweled, etc., they refill from the top. Unlike Bejeweled, etc., the rows and columns wrap- that is, if you move a Chuzzle off the side, it shows up on the other side- a significant strategic value.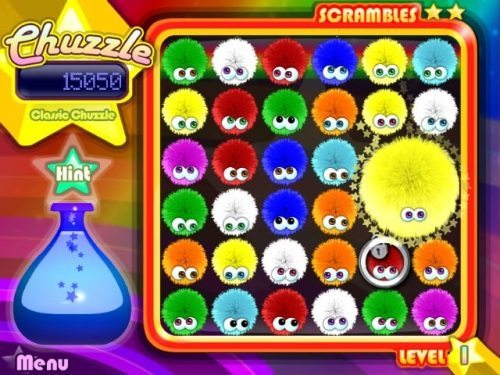 The Android version shows the active playing field shown above with the blue bottle thing off-screen. In this screen, I can capture the red Chuzzles in the upper left by sliding the top row to the left one step and making a column of three, or by sliding the 3rd column down one step to make an L-shape, or, more sneakily, slide the 3rd column down two steps to make a square and catch 4 at once! Then the dark blue in the top row can slide down to the other two dark blues, and I'll have some whites I can probably catch after that…
The screen also shows a couple other game quirks- huge Chuzzles (like the yellow one) that force you to move two columns or rows at a time, and handcuffed Chuzzles (the red one under the big yellow one) that lock both the row and column they are in. You can also see the big yellow one developing a halo that indicates it is about to pop and take the two yellows above it with it.
(Another game quirk- the large chuzzle is regular sized, the others are Giant Chuzzles. Read the pre-game tip screens to figure this one out!)
You earn points and cool little badges, and the games go pretty quick. There is enough difference here that mastery of Bejeweled will help, but not a ton- my daughter beats my high scores routinely, dang her! Besides the main game, there are other variations like a pattern matching version, a Zen game that seems to never end, and so on but the main game is my key interest!
It is a bit of a resource hog and only downloads over wifi, and the in-between screens are almost sickeningly candy-like but it is fun, fast, and engaging. Oddly enough, not available on the Google Android Market, but $2.99 at Amazon.