We use affiliate links. If you buy something through the links on this page, we may earn a commission at no cost to you. Learn more.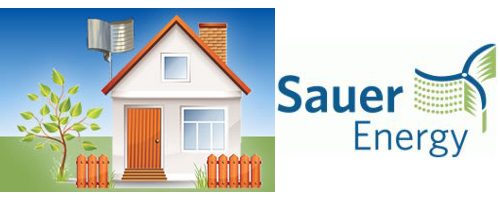 This is a Sponsored post written by me on behalf of Sauer Energy for SocialSpark. All opinions are 100% mine.
The cost of all forms of energy we use daily is going up. The continually rising price of gasoline seems to be driving up the cost of everything we use. The energy we need to heat, cool, and power our homes is no exception to rising prices, and we all are feeling the pinch. We can buy hybrid cars to help with our gasoline bills, but there have been few options for controlling the cost of energy for our homes – and our precious gadgets! – and those options tend to be limited to expensive solar panels or building specially designed buildings from the ground up. Other than the sun, there is one energy source that's free, safe, and often plentiful – the wind. Let's see how Sauer Energy can help us safely harness the wind.
Gone are the days of the picturesque windmills turning lazily in the open fields. Today's wind turbines are usually giant propellers on 300-ft tall structures, spinning at high speeds. They take up a lot of space and they are noisy. They are very dangerous – have you ever seen a video of one of those things ripping itself apart? – and are often devastating to bird populations. The cost of these structures means you couldn't afford one for your home, even if the dangers weren't a consideration. Enter Sauer Energy's Vertical-Axis Wind Turbine (VAWT).
Sauer's wind turbine is relatively small. It's about six feet in diameter and about 3 feet tall. It can be installed on existing structures, and it requires only 2 feet of clearance above the roof. You can have them painted with company logos or even landscape or sky "camouflage" patterns. Their small size means they can be turned with only a 5mph wind, so they will be effective in many geographic areas. They are also quiet, and their vertical orientation makes them much safer for bird populations.
Sauer Energy estimates that a typical installation will cost between $6000 and $15,000, depending on the configuration and output. In windier areas, they predict that a VAWT will provide 25-50% of the electricity for a typical home and will pay for itself in about 24 months.
Check out these videos of a VAWT assembly and of wind-tunnel testing.
Meet Joe… from Dieter Sauer on Vimeo.
You can also learn more about the company's plan for making these wind turbines available to help you control your energy costs safely. Remember, the energy you save helps protect the earth, and the money you save can be used to feed your gadget habit!