We use affiliate links. If you buy something through the links on this page, we may earn a commission at no cost to you. Learn more.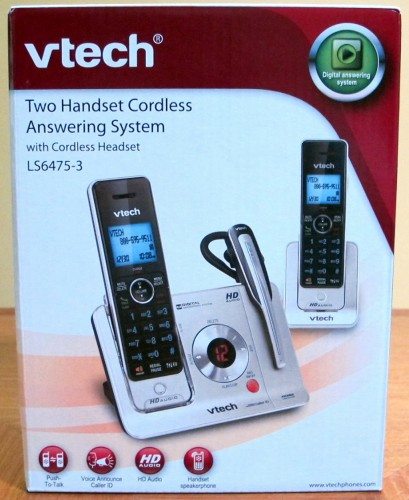 One would have thought that with the shrinking of the land line telephone market there would be less product variety for cordless telephones.  Apparently VTech doesn't see it that way, and keeps coming out with new and interesting products.  The LS6475-3 incorporates several unique features, but are they really useful?
Over the years I've upgraded my telephones beginning with a 900 mhz model and then moving to 2.4 GHz, 5.8 GHz and now Dect 6.0.  Along the way I also purchased models incorporating digital voice, answering machines and headset jacks.  I would have thought that my list of reasons to upgrade had been fulfilled, until I got this unit from VTech.
Features:
Included cordless headset with multiple wearing options
Push-to-Talk intercom
Audibly announces the name and number of the caller on all of the handsets and base unit.
DECT 6.0 Digital technology provides the best sound quality, security and range in cordless phones.
Interference free for crystal clear conversations—won't interfere with wireless networks and other electronic devices
Protect yourself from identity theft with digital security—your call is digitized and encrypted, making it nearly impossible for someone to eavesdrop
Expandable up to 12 handsets using only one phone jack—uses [var] accessory handsets
Return phone calls and recall numbers with 100 name and number caller ID memory. (*Caller ID service requires a subscription from your local telephone company.)
Digital answering system—no tapes or moving parts
With just the touch of a button, hands-free conversations are made easy with the handset speakerphone.
Conference an outside call between handsets
50 name and number phonebook directory—easily store and dial frequently called numbers
Blue back-lit keypad and display
Trilingual prompts—choose between English, Spanish or French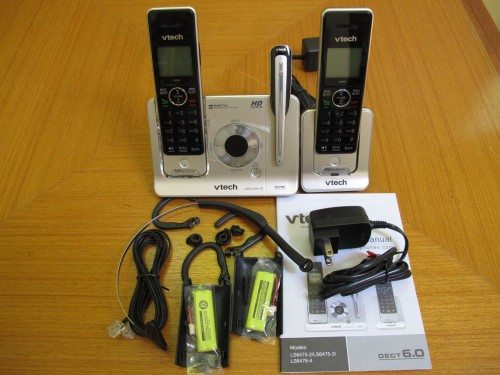 The contents of the box include everything you need to hook to your telephone line.  I did have to install the batteries in the handsets and let them charge for awhile.  I have patience, so I waited for about 12 hours before I hooked them up.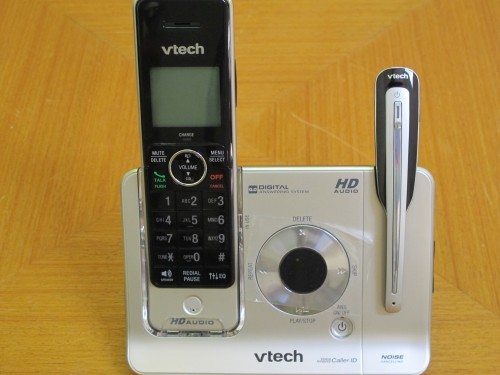 A closer look at the base station with one handset and the headset.  The headset charges in the base station and is held in magnetically.  Talk time for the handsets is listed as 7 hours and for the headset 9 hours.  This was not a problem for me, because I don't talk that much and I always put the hand/headsets back in the charger when not using them.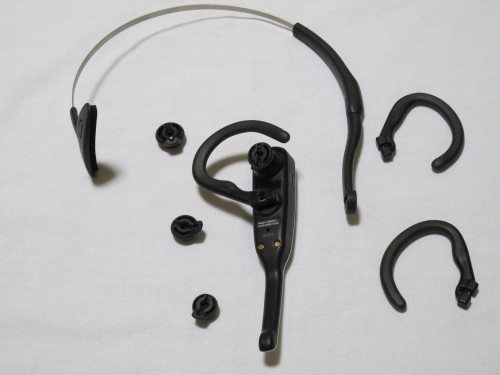 VTech is smart enough to provide several different ways to wear the headset.  There are 3 different earbuds, 3 different ear hooks and a headband if that's your preference.  Personally, I use the ear hooks.  It took me awhile to get the best fit, but now it's comfortable.  I usually wear the headset when I'm out in the yard or in front of the computer.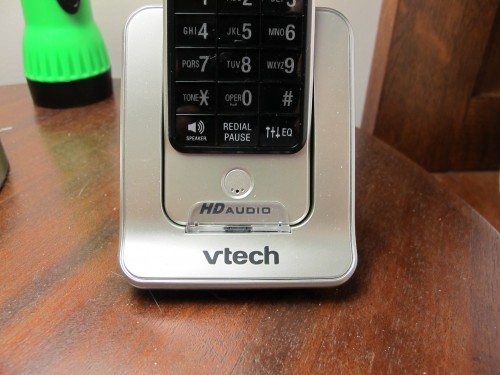 VTech has addressed an issue I've had with some cordless phones, and that is sometimes when you put the phone into the charger or base, it really doesn't make connection with the contacts.  As illustrated by the above photo, there is plastic bracket (just above the VTech logo) that ensures the handset is firmly in the base or charger.  No more dead handsets or not hanging up the phone correctly.
So, now it was time to give this phone a test drive.  I hooked the base up to my Ooma voip system and put the extra handset in my bedroom upstairs.  Although the answering system capability was redundant, because I have voice mail, I turned it on anyway and set it to answer after 2 rings.  This had to be done otherwise my voicemail would have picked up first.   All I have to say about the answer system capability is that it was easy to set up, the messages were clear and it is accessible remotely.  On the down side it's less functional than voicemail and it seems like a legacy function considering the increased number of people using their cell or voip for phone communication.  Both of these technologies have voicemail as standard.
One of the things I learned about myself when checking the telephone out is that I don't call many people.  It's not that I'm a hermit.  I just IM, text and email a lot.  Perhaps this says something about me, or maybe it's just a sign of the times.  Also, of those people I do call, they either use a cell or voip as their main number.  Because cell and voip voice quality is a variable, it was hard to judge quality of the VTech phone.  When I made an effort to call a known POTS number, it did seem that the audio was clearer than my older phone.  The phone does have an equalizer that allows bass and treble enhancements.
The talking caller id seems a little gimmicky to me.  The mechanical voice needs some elocution lessons.  Some of the announcements were amusing and not at all understandable.  However, the correct name and number is on the handset, so I always knew who was calling.  The talking caller id only works on the base and handsets.  The headset will ring on an incoming call, but it does not announce caller id.
Then you have the push to talk function.  This makes the handsets act like walkie talkies.  It would probably come in handy when there are 3 or more handsets, because you can broadcast to all of them at once.  For a 2 handset system I use the intercom function.  It allows full duplex conversations.
Features I like are the speaker phone in base and handsets;  Ability to add caller id numbers to the phone book; Expandability up to 12 handsets; long range (I was able to use the phone 200 ft from the base) and my major selling point is the supplied headset.  Using the headset I can answer a call plus change and mute the volume and flash the system to answer a call waiting call.  To make a call you have to use a handset and then switch over to the headset.
The LS6475 is a functional and attractive telephone system.  I'd like to see a similar unit less  the answering system because I don't see the need given the ubiquity of voicemail.  After evaluating the unit, I turned of the answering part of the phone and I'm using the Ooma voicemail.  I now get notified via text when there is a message and messages are taken even when the line is busy.  These features are not available with the answering system.
Product Information
| | |
| --- | --- |
| Price: | $79.54 at Amazon |
| Manufacturer: | VTech |
| Retailer: | Amazon plus many others |
| Pros: | Good voice quality, ease of use, included headset, light weight and attractive and long range operation |