We use affiliate links. If you buy something through the links on this page, we may earn a commission at no cost to you. Learn more.
Logitech HD Pro Webcam. Whoopity doo.  Honestly, I hate to sound negative but I just do not get what the big deal is.   I get HD.  I do.  Maybe not in the same obsession as anyone with a television or cellphone or video camera.  That group is a whole different breed.   I've seen HD and because I'm married to a computer geek, you can bet everything is Hi-Def and Blu-Ray.  While I am not knocking how nice the picture is…I'm just not entirely a part of this "everything's-gotta-be-HD."
Webcams.  Again… I see the usefulness of a webcam.  Most computers are installed with webcams and many blogs, sites, online columns and anyone with any pretense to American Idol aspirations use them.   My husband uses the Logitech HD Pro Webcam C910 for conference calls (720 p)  and he seems thrilled with it.  He likes the clarity, the picture, the auto focus and the ease of the 1 Click Upload to Facebook and YouTube.   He uses the Logitech C910 every day because he's a software engineer who works from his home in Indiana and connects with his team in Oregon, California and elsewhere.  It's quite useful and he likes it.
But I remain unimpressed.   The movements and sound  of the person on the other end are still jerky and out of sync like a badly looped film.  And this came during testing of the webcam with my husband in the other room instead of with someone across the ether in another state.  But I must say that, with all of the webcams my household has gone through, owing to my husband's work, the Logitech C910 is by far the most superior.
The set-up is pretty simple too.  Even non-techies can figure this one out.  You set up the camera where you want it, install the software (comes with DVD) and then you connect the webcam to the your computer.  You set up an account, add your friends, co workers or "call-ees", (my word, not theirs) and that's pretty much it.  You are also able to fine tune whatever webcam conference call you're on.  You can adjust for lighting, you hide your own image while staying connected and pan and tilt to show off certain aspects of a project you are featuring.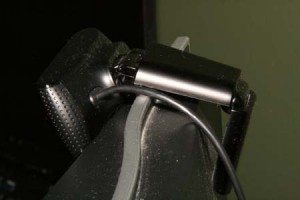 You can also take photographs of yourself or whoever is in front of the web cam, preview it, dump it, or upload it fast and simple. You can edit your photos or "personalize them" like adding smiles and sunglasses and to the pictures and other dorky stuff.  This is a a feature that is best aimed at the twentysomething and younger market.  The cuteness of putting a  human smile on the face of a koala bear lost its appeal with me years ago but my nieces get a kick out of it.
The video option is pretty interesting.   You can use this feature, as many of my friends do, for web blogging, video letters and the teens are big on the doing their own mash-ups and posting them on You tube in 1080p.    You can even use the settings on the webcam to record video whenever it detects movement which is actually the best thing I like about the Logitech C910.  Whenever there is movement in the room where the webcam is set up, the camera will record it.
The Logitech HD Pro Webcam C910 works with the Logitech Vid HD, Skype, Yahoo! Messenger and Windows Live Messenger.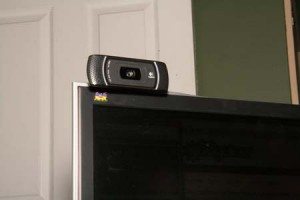 Now maybe you want to use the motion detection feature to catch your kitty going to the bathroom where she should not be going, or catch someone in your household hiding or sneaking into hidden Christmas presents.   I know a couple of artists who use this feature to capture movement and pose and light in order to assist them with whatever project they're working on.   One friend used this to capture movements of some local cardinals as they snacked on the birdfeeder she'd set up to purposely record which feathered visitors came to the feeder and what went on. This summer, she wants to do the same thing with hummingbirds which is actually a cool idea.
Here's a sample video captured with this webcam:
Caveat Emptor:  amp up your machine before you use.  Now it may sound simplistic and almost insulting to inform you that you will need a system running Windows XP, Vista or 7 (32 or 64 bit) and that you will need a USB port,  and that you will need 200 MB of hard drive space with 512 MB of RAM.   But you would be surprised at how many machines are out there that are not even rocking XP yet.   Join the 2000's and upgrade your computer or you cannot run this equipment.  Just saying.
The C910 is going to run you about $99.00 on the Logitech website ($80 on Amazon) and that's a little steep for my blood unless it's going to seriously be used.  There are cheaper, albeit lesser picture quality, webcams out there.  If a good webcam is essential to your business, then this is the way to go.

Product Information
Price:
99.00 from the Logitech Website
Manufacturer:
Logitech
Requirements:

Windows XP(SP2 or higher) Windows Vista or Windows 7 (32 bit or 64 bit)
1GHz
200 MB Hard drive space
Internet Connection
USB 1.1 Port (2.0 recommended)

Pros:

Cool video features, records in 1080p and video conferences in 720p. Can use with Skype, Yahoo! Messenger and Windows Live Messenger. Easy upload of photos and videos to Facebook, You Tube, etc.

Cons:

The web conferencing quality is really only as good as your internet connection or the service you use. The video conferencing movements of the person you ware talking with are shaky, jerky and sound is out of sync. The price is a little steep at $99.00 but pretty reasonable if this is a piece of equipment that you use every day.