We use affiliate links. If you buy something through the links on this page, we may earn a commission at no cost to you. Learn more.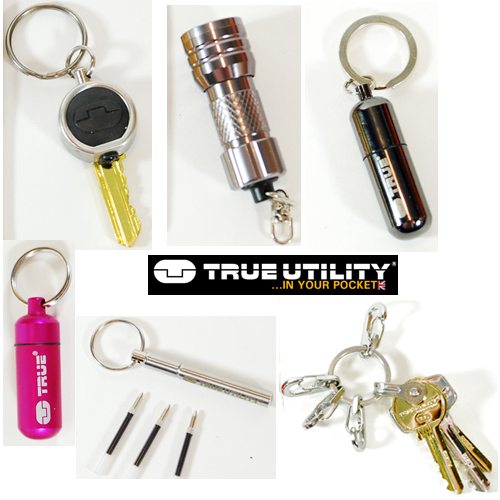 A while back, I posted a news item about a small capsule-shaped lighter for your keyring sold by ThinkGeek.  Turns out the FireStash lighter is made by an English company called True Utility.  They sent a variety of their keychain gadgets and gear to The Gadgeteer, and Julie selected me to give them a try.  Let's give them a closer look!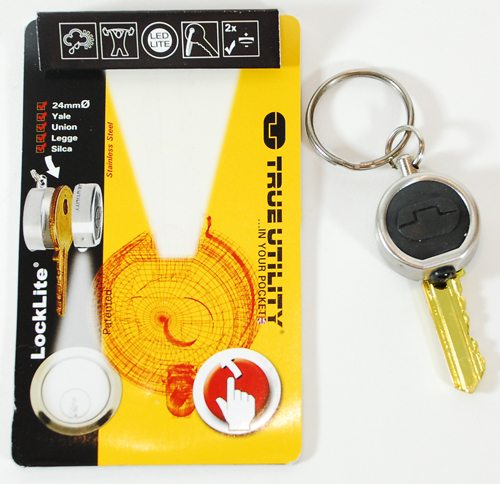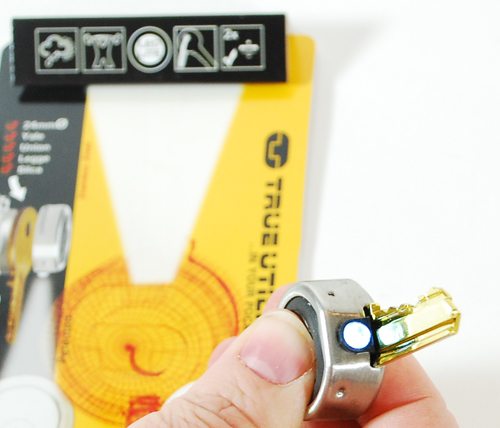 The first item is the Locklite.  This is a patented key cover that fits a round-top key.  The round body slides apart so you can replace the dummy key (shown) with your own key.  You can also change the coin-style battery (included) when the body is open.  The black rubbery button is a switch that turns on a white LED light that shines down the key to help you find the lock opening in the dark.  Unfortunately, the only keys I have that are an appropriate size to fit the Locklite have hexagonal heads; they won't quite fit.  If you have a key that fits the Locklite, I think you'll find the LED provides sufficient light to find the lock even in pitch darkness.  The Locklite is £4.99 (about $8.00) and comes with a keyring.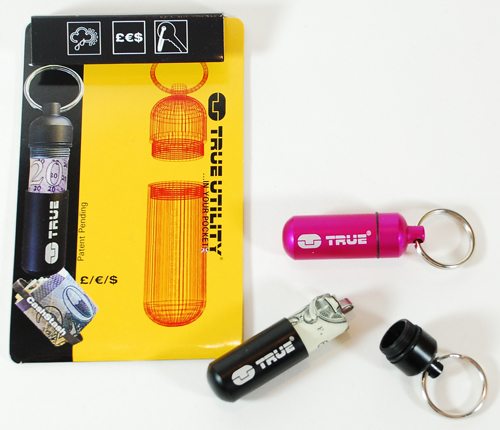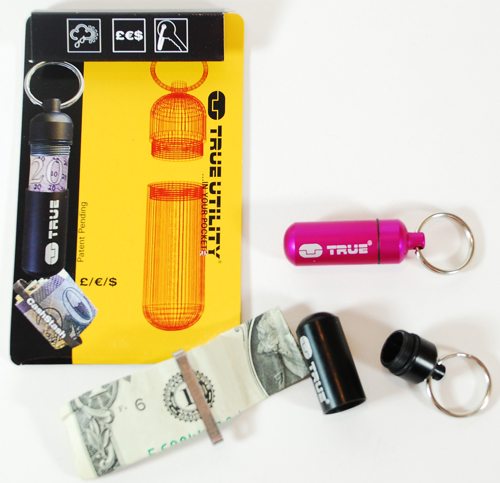 Next is the CashStash.  These little capsules are made of dark chrome-plated aircraft-grade aluminum; they have a waterproof neoprene O-ring to keep moisture away from the emergency money stored inside.  There's a metal "cash clip" inside that you wrap a folded bill around; you can store British pound, US dollar, and Euro notes inside the 1.78" long X 0.6" diameter capsule.  I had no trouble folding up and storing a dollar bill inside the CashStash.  (Hope your emergency fund is a bit bigger than mine!)  The Cash Stash is also £4.99 (about $8.00) and comes with a 0.4" keyring.  It's available in Hot Pink and Matte Black; you can see I was sent both colors.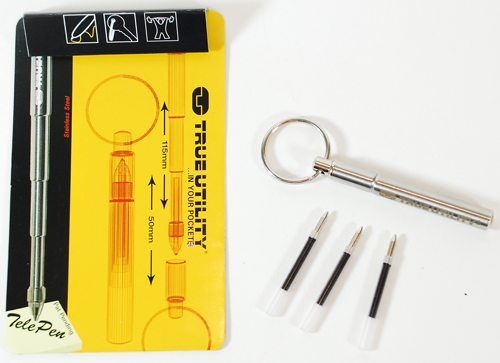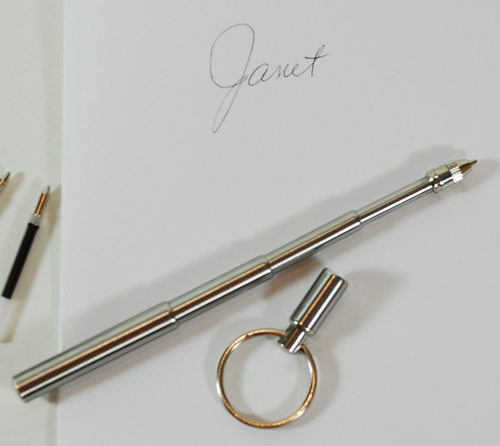 The True Utility TelePen lets you always keep a ballpoint pen close at hand.  The TelePen comes with its own keyring.  The pen is made of stainless steel, and it is about 0.2" in diameter and 2" long when collapsed down.  Pop it free from the cap, and it will expand to about 4.5" long.  It's very thin, so I'm not sure it would be comfortable for writing the Great American Novel by hand, but it's great for leaving a quick note or for signing your receipt with your own germ-free pen during flu season.  The TelePen comes with four black ink refills (1 installed, and 3 spares).  I had the bright idea that I could store the extra refills in one of the CashStash capsules, but the refills are just a bit too long to fit.  The TelePen is £4.99 (about $8.00).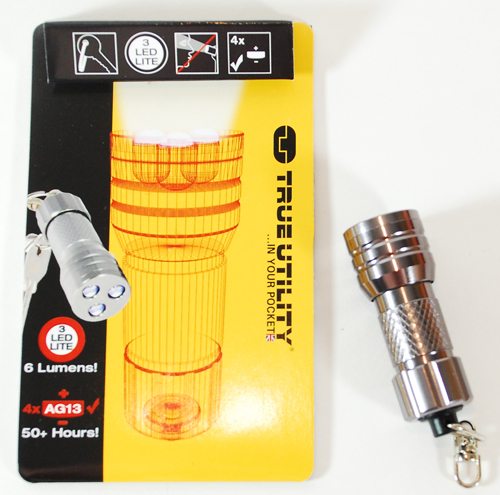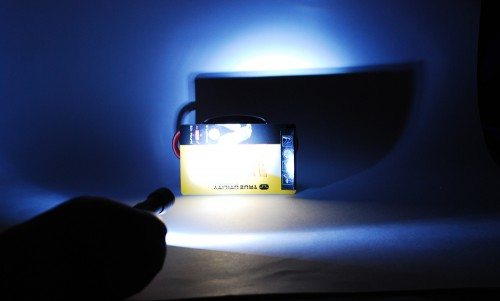 The Compact Microlite 3 LED flashlight is only 1.9" long X 0.75" in diameter and weighs 0.9 ounces.  It's made of aircraft-grade machined aluminum with a dark chrome or black finish; I received the dark chrome finish.  Each of the three white LEDs outputs 0.22W and has a brightness of over 18000 mcd/5 lumens.  The top twists to turn the flashlight on/off; it also twists completely off to allow you to change the 4 lithium batteries (included).  A rubber O-ring helps keep water out of the flashlight.  The packaging says you can expect 50+ hours from the batteries included with the Microlite.  You can see from the above photo, this tiny flashlight produces an amazing amount of light.  It will be a great tool to have on your keychain.  The Microlite is also £4.99 (about $8.00).  It doesn't have a keyring; it has a connector that will fit easily onto your existing keyring.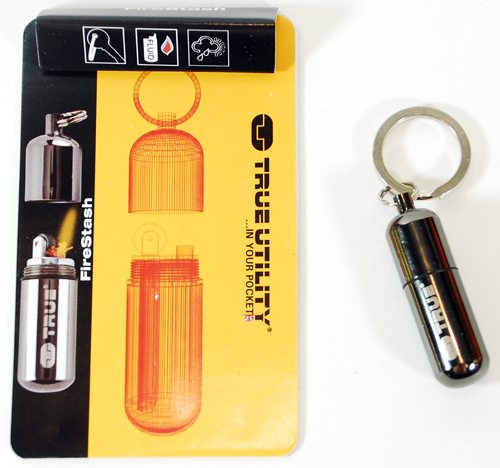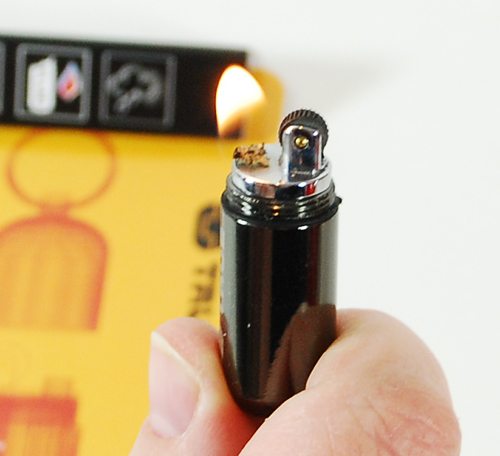 Next up is the FireStash lighter.  This little canister is made of a dark chrome-plated zinc alloy.  It is only 1.8" long X 0.6" in diameter.  Unscrew the cap to expose the striker wheel and the wick; pull this assembly out of the shell to fill it with your own standard lighter fuel.  An O-ring keeps the canister watertight.  If you are a smoker, you may not find the FireStash lighter will work for your daily needs.  It will make a handy daily-carry lighter for emergencies.  Despite how tiny it is, striking the FireStash lighter worked easily.  It is a little hard to gauge when the small fuel reservoir is full when filling it.  I over-filled it a bit and got some of the fuel on my hands.  Let's just say I was quite excited when I lit my thumb on fire while striking the lighter the first time.  I recommend you carefully wash your hands after putting the fuel in before you use the lighter.  The FireStash is £6.98 (about $11.25) and comes with a keyring.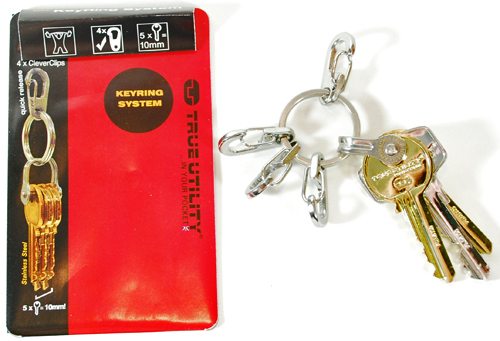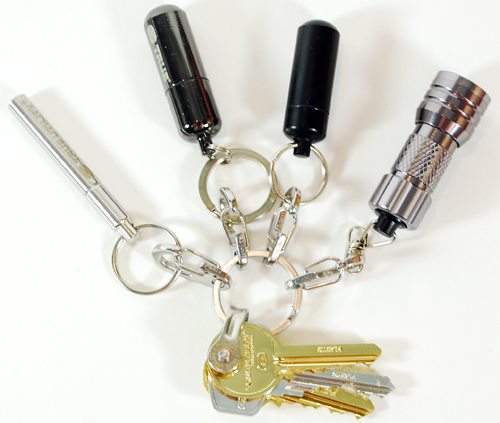 Finally, we have the Keyring System – a 1.1" stainless steel keyring with a stainless KeyShackle and four stainless CleverClips.  The KeyShackle looks a bit like a stirrup on a saddle; it holds up to five keys locked together so they are always in an expected order when you try to use them.  I only carry three keys, and one of them has the electronic fob top, so my keys won't fit into the KeyShackle.  I was thinking the KeyShackle would be a great way to corral all my small store customer loyalty cards.  Keeping them compacted together like that will prevent them from getting twisted and broken in purse or pocket.  The four CleverClips are to clip keys or any of the True Utility tools on your keyring.  The clips make it easy to remove the key when you leave your car for service or to remove a tool for easy use.  The Keyring System is also £4.99 (about $8.00).
These True Utility pocket tools are great little gadgets.  They all worked well, and they are inexpensive.  Because they are sold individually, you can buy just the tools you need to complete your everyday carry kit.  The Keyring System makes it very easy to add some tools to your keys, or you can use it just to corral your tools.  I really like the True Utility tools.
Product Information
Price:
Varies with style. Prices shown in review.
Manufacturer:
True Utility
Retailer:
True Utility, and Amazon in the US.
Pros:

Inexpensive gadgets that work well
Useful everyday-carry tools

Cons:

Not all True Utility tools are carried by Amazon in the US