We use affiliate links. If you buy something through the links on this page, we may earn a commission at no cost to you. Learn more.
If you live in the midwest, you've had a rotten winter.  You've had snow upon snow upon a solid three to five inch thick rink of ice.  You've had issues with melting, leakage and if you live in Indiana, you've just been hammered with what feels like one gallon of rain a minute. Now compound that situation with dogs.  You have a mess.  Not just any muddy, doggy, melty, track it all over the place mess, you have a serious five-alarm mess. Except me.  I have Soggy Doggy Doormat. 
With two dogs and any number of foster dogs traipsing in and out of my house,   I've tried every single method of entryway rug known to man. I've tried towels, industrial restaurant rugs, indoor/outdoor carpets, the braided rag rug things, nothing really truly worked.   It got to the point where it just didn't make sense to wash the floor until after the spring thaw was over.   Soggy Doggy Doormat solves the problem of wet pet feet.  That's it.  It's that simple.  It sucks up the water, snow, rain, mud and whatever else my dogs track in.  It sucks up the yuck I track in for crying out loud!  I'd call it the Sham Wow of doggy mats, but this product actually works!  The Big Secret is that the mat is made of microfiber chenille.  I like microfiber.  I like ANYTHING microfiber because it makes no bones about drying up spills and water and wet stuff and it does it without complaining.  It's advertised to hold seven times its weight in water but honestly, I think it absorbs more than that.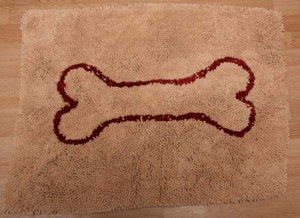 It's also solidly made.  Most rugs I've used do not have any sort of backing and the ones that do have a backing that I swear is engineered to make me slip and fall on my back.   Soggy Doggy has a no-slip backing that grabs your floor and doesn't go anywhere.
But aside from using it as a pet floor mat, you can pretty much use Soggy Doggy for anything else pet related.  It's deliciously soft and comfortable.   If you like your pets to snuggle but don't want to vacuum up pet hair from the couch, Soggy Doggy makes a great couch pet blanket.  A lot of us who have dogs, have crates for them and Soggy Doggy makes a fabulously, soft, warm and comfy crate bed.
When testing out Soggy Doggy, my intention was to use it for it's intended purpose… as a doormat for wet pet feet.  My dogs decided differently and it performs double duty as both doormat and snooze blanket.  I love it.  I want more of them.  I'd like to see these mats come in larger sizes as well.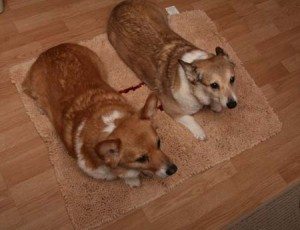 You can buy Soggy Doggy doormat right off of the website (www.soggydoggydoormat.com) but I would love to see these in pet stores, Tractor Supply and any other store simply because I don't want to wait for it.   $39.99 sounds a bit pricey but this is a product that is worth every cent.
Product Information
| | |
| --- | --- |
| Price: | $39.99 |
| Manufacturer: | Soggy Doggy Doormat |
| Requirements: | Machine wash separately, no chlorine bleach, low dryer. |
| Pros: | Everything! Soaks up water, takes mud from dirty paws, is comfortable and can be used as pet blankets, pet beds etc. Non slip backing seriously works! |
| Cons: | I haven't seen this sold in pet stores in my area and that's a shame. I'd also like to see this in larger sizes. |