We use affiliate links. If you buy something through the links on this page, we may earn a commission at no cost to you. Learn more.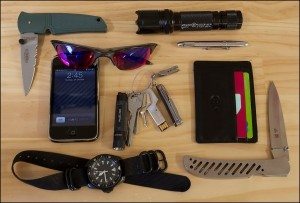 I dig EDC.  It stands for Every Day Carry and refers to the essential gear we tote around on our person that helps get us through our daily tasks.  In my online study of EDC, I stumbled upon a blog called simply, EDC.  Pictures of EDC are uploaded to the site daily, mostly in the form of "pocket dumps" (see example), which involve emptying your pockets and dumping the contents on the table (and often arranging them with artistic flair).  You'll find lots of pocket knives, multi-tools, flashlights, pens, wallets, watches—tons of fundamentally gadgety stuff that people actually carry with them—but some other unique nuggets too.  Check it out and you may find a new gadget that you never even knew you needed, or submit a pic of your own daily carry.
My EDC essentials are my iPhone 3GS, Skullcandy Full Metal Jacket earbuds, Leatherman Squirt PS4 mini multi-tool, G-Shock watch and wallet.  What are yours?