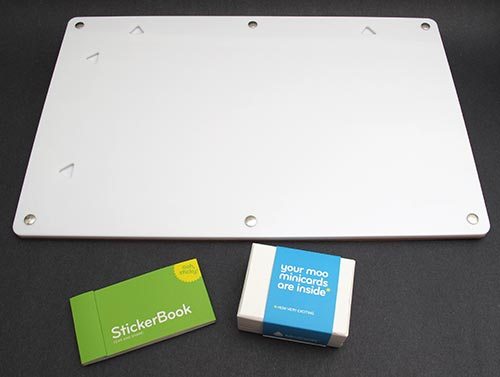 Creating framed pictures and photo books from your own snapshots is a great way to add your own flair to your home and gifts. Need some more ideas of things to do with your photography? MOO to the rescue with custom StickerBooks, MiniCards and a special MiniCard Mosiac frame.
Note: Most of the images in this review can be clicked to view a full-size version.
MOO StickerBooks
Who doesn't love stickers? Remember back in the 70's or 80's (I don't remember exactly when, but I was still a kid…) when all the shopping malls had sticker kiosks? I know my sister and I spent quite a few dollars and hours picking out all sorts of neat stickers that we promptly went home and stuck on our bedroom doors. When I left home and my Dad remodeled my old room, it took him a long time to scrape them all off. 😉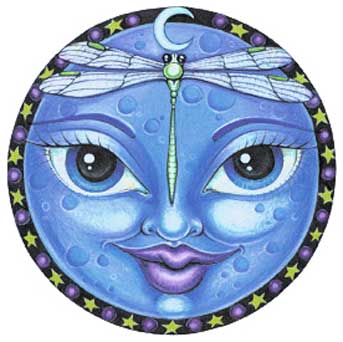 MOO's order process is simple. Get some images and upload them. They recommend 343 x 343 pixels. I used photoshop to size my images to that requirement and uploaded them. One such example is shown above.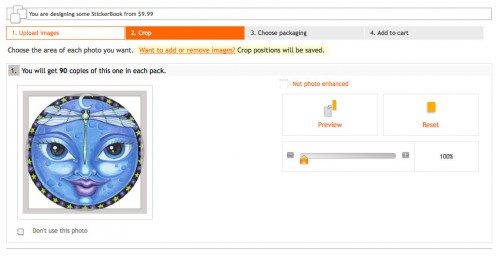 Once uploaded, you can move the image around on the sticker template to get it just right. I was worried that my images weren't the correct size because of the grey border overlapped the edges of the image. The re-size slider on the cropping page would not allow me to make it any smaller, so I manually re-sized and re-uploaded the picture in photoshop and had the same result. I hoped that it would be fine and uploaded a bunch of similar images.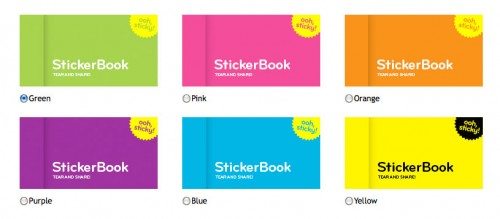 The next step in the ordering process is to choose the color of your StickerBook cover and then you're done! Let's see the final product…

Cool! I was really really happy with the StickerBook until I took a closer look at the stickers.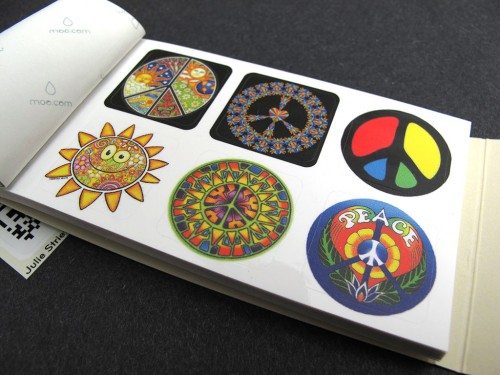 You'll need to click the image above to see what I'm talking about. See the perforations?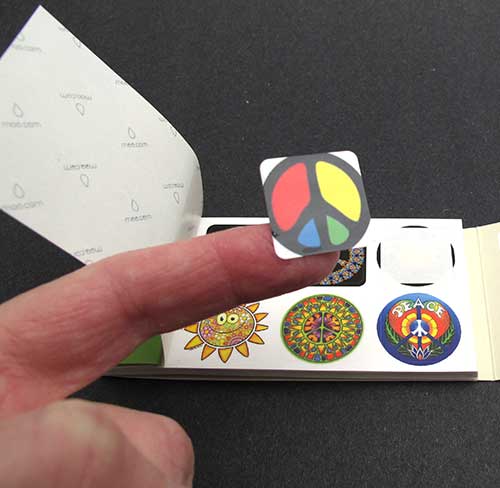 Dang it! Every one of my stickers were like this. I guess the only way around this happening to is to make sure that the image has a large 'gutter' around it. Even though MOO says that the optimal image size is 343 x 343, don't allow your image to come right up to the edge of that size. I actually had some room around my images, but I'd suggest leaving a lot more room than I did.
Even though my stickers didn't turn out perfect, I am impressed by the quality of the StickerBook and the stickers themselves. They are vinyl and won't tear. The colors are bright and the printing is very crisp.
The prices aren't bad either. 90 stickers for $9.99 up to 360 stickers for $39.96.
MiniCards
MOO MiniCards are half the size of a standard business card. They can be used as a unique business card, bookmarker, custom gift tags, etc.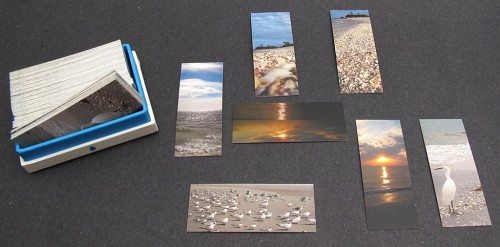 The ordering process for the MiniCards is similar to the StickerBooks.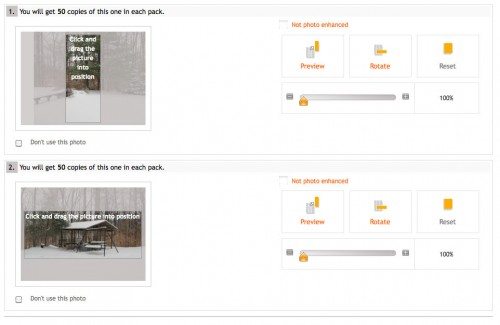 Upload your images and then decide what portion of the image you want to use for each MiniCard. You can rotate the crop tool and move it around on the image, but once again, you can't make the image smaller. Not sure why…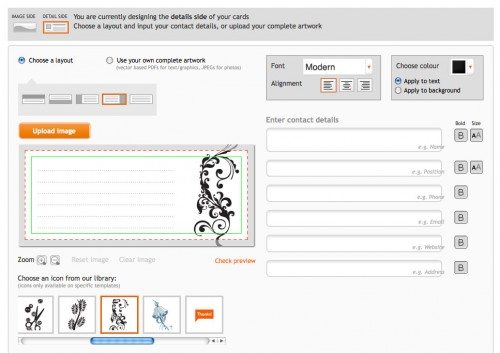 In addition to customizing the front of the card, you can also customize the back with your own artwork, contact details and various icons. I opted for a simple icon and no text.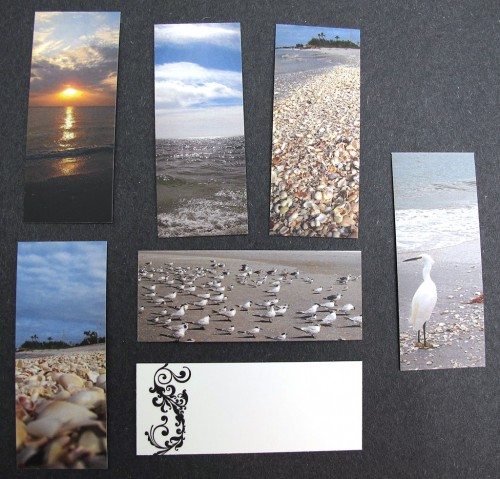 My MiniCards turned out better than the stickers as you can see here. The images are from my recent trip to Sanibel Island Florida.
The card stock used for the MiniCards is nice and thick and the print quality of the front and back is very nice. I'm impressed with the way the cards turned out. The prices are 100 cards for $19.99 up to 400 cards for $68.99
Mosiac Frame for MiniCards
Once you have a bunch of MiniCards, what do you do with them? How about framing them with the MOO Mosiac frame.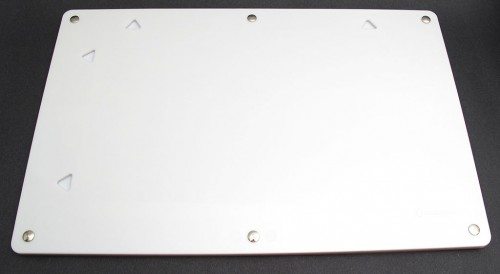 The Mosiac frame is a 16.50 x 10.75″ acrylic frame with a clear plastic cover that is held in place with 6 screws. The frame is available in White or Black and can be oriented and hung in either portrait or landscape orientations.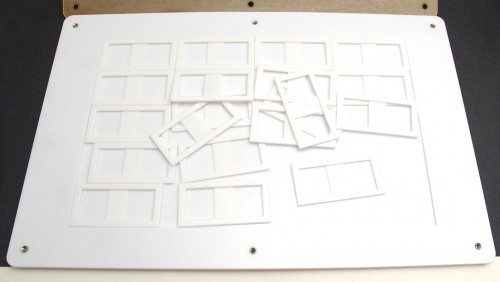 When you remove the clear cover, you will see 20 individual MiniCard sized holders.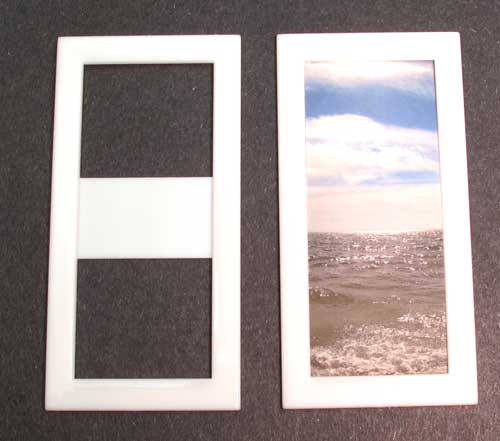 The MiniCards fit in these small plastic holders perfectly. Just slide a card into each one and arrange the 20 holders in various ways till you are happy. The last step is to screw the clear cover back in place and you're done!
Nifty huh? The fun thing is that you can easily rearrange and switch out the images anytime you like.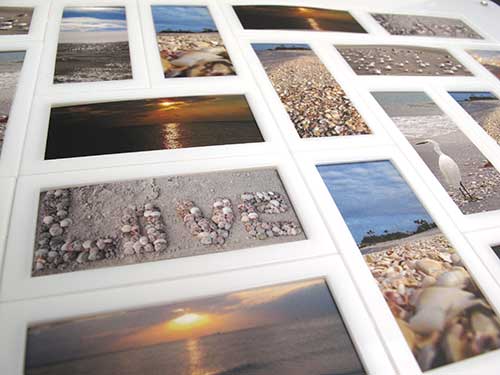 The individual frames fit together perfectly.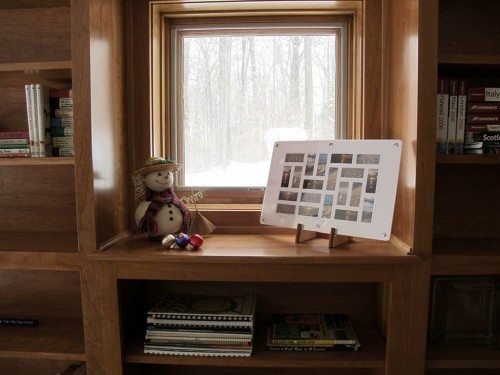 Hang the Mosiac frame on the wall or use a stand to place it on a shelf like I have here. iPad stands work great like this one from Scott A. Snyder. The box that the frame ships in has instructions for cutting and folding the cardboard insert to create a free frame.
The MOO Mosiac Frame is priced at $34.99.
With the exception of my stickers not turning out as I would have liked, I am impressed with the quality of MOO's products. They are a fun and relatively inexpensive way to take your own photos and do something fun with them that you can use and enjoy.
Support The Gadgeteer
:
We may earn a small affiliate commission from purchases made from buying through links on our site. As an Amazon Associate I earn from qualifying purchases. Learn more.
Product Information
Price:
Varies, see review text
Manufacturer:
MOO
Pros:

Vinyl stickers don't tear
Thick paper used for MiniCards
Print quality on stickers and cards is very good
Frame is fun to customize

Cons:

Stickers perforations can cut into graphics
No way to resize images in editor