We use affiliate links. If you buy something through the links on this page, we may earn a commission at no cost to you. Learn more.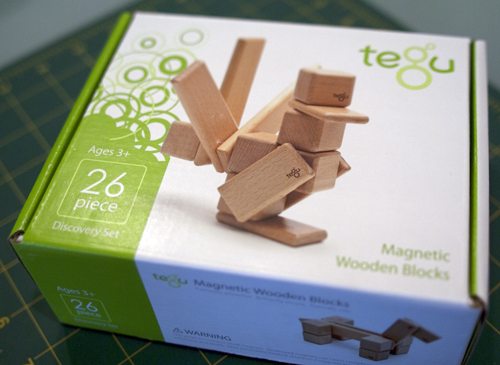 Well, I did it. I went ahead and bought a set of the Tegu blocks "for my son". If you will recall, these are wood blocks with magnets in them. This lets you create some unique structures with the box. The front of the box displays a rooster created out of the blocks. The options have changed a little since my post in August, so lets take a look at the options.
Sets
The blocks now come in new 8-piece set. So the three sets include:
8 Block Pocket Set (comes with pouch) $28.57
26 Block Discovery Set $55-$70
52 Block Original set $100-$125
Finishes
The blocks now come in three finishes, with an additional combo pack:
Natural (the least expensive)
Color Tints (mix of colors)
Jungle (includes natural, mahogany and green-tinted blocks)
Mahogany (the most expensive)
We purchased the Natural Discovery set. Unfortunately we purchased it before they started offering a free Travel Tote with purchase, but that's what you get as an early adopter.
What's in the Box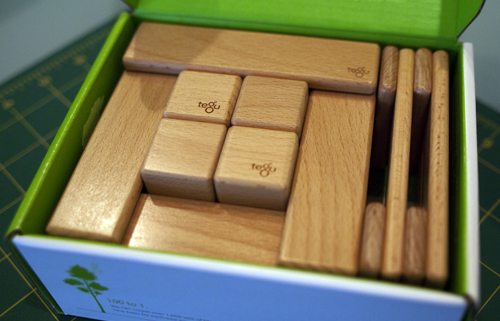 The Discovery Set consists of:
12 Cubes
4 Small Planks
10 Large Planks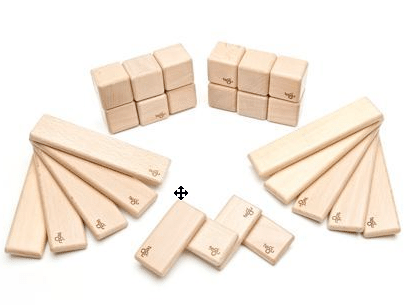 The original set has 52 blocks, and contains some blocks that are thicker than the two planks and not quite as long as the large one.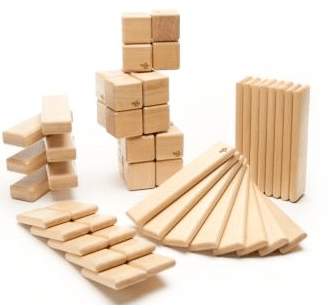 I liked the packaging. It is simple, efficient, but looks nice. The blocks have a very nice finish and the edges are rounded. They are, however, a little smaller than I expected. If they had had the colored and Jungle sets when we ordered ours, I think I would have gone for the Jungle. The Green and Mahogany blocks would have made a nice combination with the natural blocks. However, I do like the natural finish.
I have not spent a lot of time with them. I did break them out before wrapping them up in the interest of science… uh… yeah, that's why. They are fun to play with. The magnets make for an interesting effect. I built a wing-less rooster: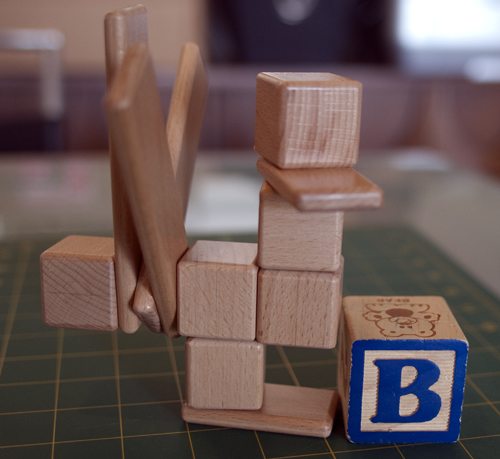 I placed one of my son's blocks next to the rooster to give an idea of scale. The cubes are 1 inch square and feel small. The comb of the rooster as a little tricky, it wanted to rotate, but then again, it is fun to try to get it to hold the shape. Check out their web site to see a running video of using the blocks. As I am writing this post they are running the 12 days of Christmas with all the gifts built in Tegu blocks.
Unfortunately, they have also made that their home page, so I can't see where to get to some of the other cool pages they had that displayed a number of creations, and more story of the blocks. You can get a lot of that information from a downloadable PDF off that page, but that is not as nice as being able to browse as before.
The Company
A big part of their story is how they make them. They are made in a factory in Tegucigalpa, Honduras where they are committed to paying a living wage to their workers, and harvesting wood responsibly. Again, go to their site to read more about them.
Construction
I SO want to take these apart to look inside, but they are too pretty (and too expensive) for me to do that. Here is a nice closeup: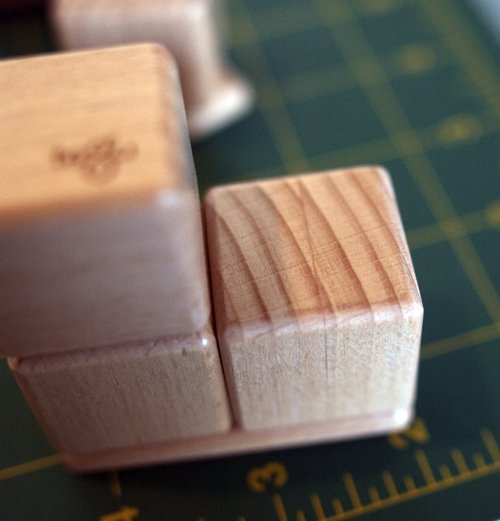 It looks like the cut them down the middle, and insert the magnets. The seams match up remarkably well, and that block was the most visible in my set.
I really like these blocks. They are a little pricey, but I think they have a a quality and uniqueness that justifies the cost. It is a great twist on the classic block set, and feels like something that my son we be able to share with his son some day.

Product Information
Price:
$28.57-$110.00
Manufacturer:
Tegu
Pros:

High Quality
Embedded Magnets

Cons: