We use affiliate links. If you buy something through the links on this page, we may earn a commission at no cost to you. Learn more.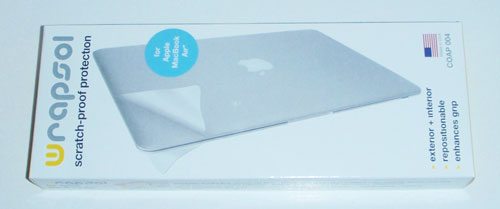 Recently I bought one of Apple's new 13″ MacBook Airs and resolved myself to use it naked (aka without any protection). Using the MBAir without a case definitely goes against my anal-retentive nature. I have used a case with every MacBook I have ever owned. These cases, while doing a great job of protecting my laptops, added a significant amount of weight and a bit of bulk to my MacBooks. I did not want to burden my new 2.9 pound piece of tech-candy with any additional weight and/or bulk, plus show it off a little as well :). All of that said (& being the AR guy that I am), I do want to take care of my MBAir, protect it, and keep it looking as nice as possible. So, when I was asked if I would like to try/review one of Wrapsol's protective films I jumped at the chance.
Wrapsol protective films are very similar to the invisibleSHIELD I installed on my iPad a few months ago. Wrapsol promises that their films are stronger, clearer, longer lasting, and easier to apply than invisibleSHIELD. Like ZAGG (the maker of invisibleSHIELDs), Wrapsol creates protective films for a multitude of devices. In this case, this film is great way to add protection to your MBAir without sacrificing its lightweight and slim figure.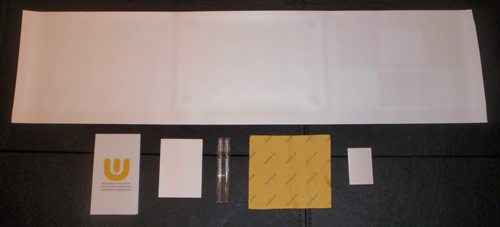 Wrapsol includes:
Custom-cut films to cover the MacBook Air's top, bottom, palm rest, keyboard surround, and trackpad
Mister with application solution
Cleaning cloth (aka microfiber towelette)
Squeegee
Instructions

Wrapsol directly compares themselves to invisibleSHIELD in a several tests and according to their results/graphs they are superior in all of their comparisons; strength, clarity, and durability.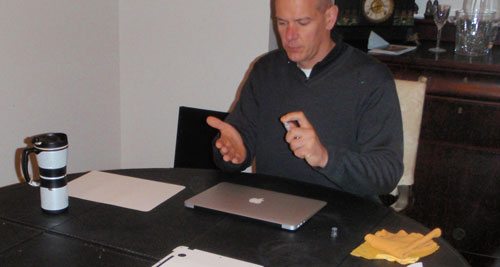 Installing Wrapsol's protective film is nearly identical to installing ZAGG's invisibleSHIELD. The installation involves using a liquid solution to place the film. To keep your fingers and hands from sticking to or leaving prints on the film, you must first spray your hands before touching the film.
Never miss one of our posts again. Sent MON, WED, and FRI with the latest gadget reviews and news!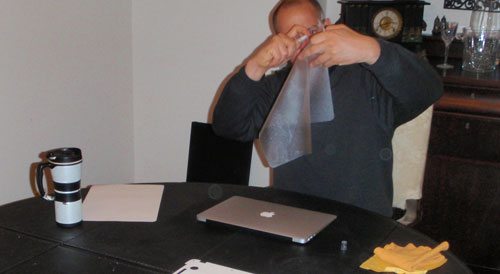 After removing the film from its backing, you 'mist' the sticky side prior to placing it on the device. The liquid allows you to maneuver the film exactly into place. There is definitely a fine line between too much liquid and not enough. Too much makes a mess; while not enough makes it difficult to place and maneuver the film.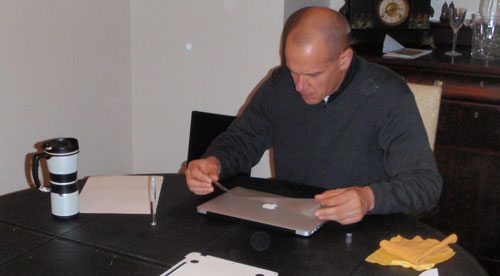 Placing the film perfectly takes a good amount of patience, time, and a bit of luck. After installing six invisibleSHIELDs over the past few months, I consider myself relatively experienced at the task. It is not something you can bang out in 5 minutes. Once I got everything pre-placed/staged, actually installing the films took me about 20-25 minutes.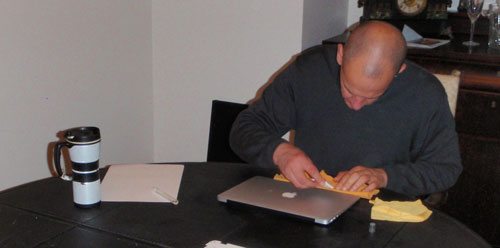 Once the film is in place, you squeegee out all of the extra liquid and air bubbles locking it in place. The residue liquid completely dries over the next 24 hours locking the two together. Throughout the entire process, I was using a cloth to absorb the excess liquid I squeegeed out; to prevent any moisture from getting into the guts of the MBAir.
There were many folks that commented on my invisibleSHIELD review about the difficultly they had during the install procedure. While Wrapsol calms to be 'easier', I would say it takes the same amount of patience and skill. For those of you who have never installed a film like this, I suggest watching the Wrapsol online instruction video first and potentially having an extra set of hands ready to assist.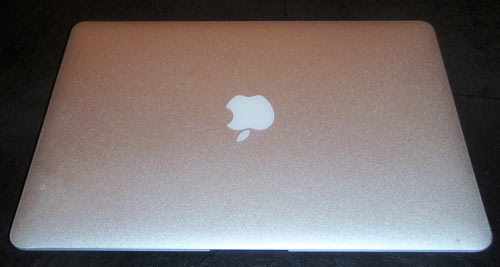 After the film has dried, you can barely tell its there. There were a few minor bubbles here and there….hardly noticeable. I have been slowly rubbing them out over the first few days and most are gone. For the few that would not go away, I carefully lanced them with a needle, releasing the air, allowing that small portion of the film to lay flat.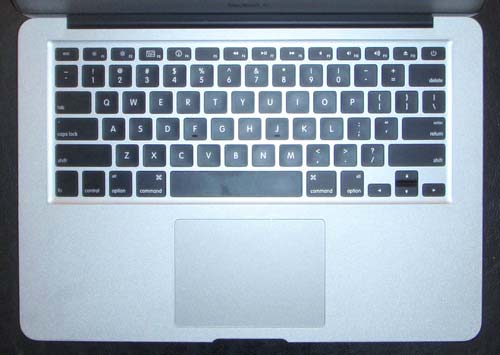 All of the pieces are precisely cut and fit perfectly in their intended locations.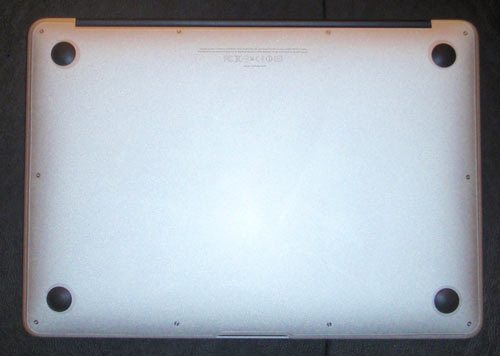 The one interesting design choice Wrapsol made worth mentioning, is that they did not leave screw cutouts in case Apple (or you) ever needed to access the internal workings of the MBAir. I will cross my fingers that need never comes to pass. Because removing the film is an effort…..
The Wrapsol protective film does add extra 'gripability' to the slick MacBook Air. Although, the Wrapsol film does not have as tacky of a feel to it as the invisibleSHIELD does (which I find a good thing). Overall, the film does a great job of protecting the main surfaces of my MacBook Air from 'everyday scuffs and scratches'. While this film will not protect my MBAir from drops, dents, and dings like my Vaja i-volution cases protected my previous MacBooks, it does not add a pound of added weight either. The Wrapsol protective film costs $50, a fair trade for the protection it provides. Wrapsol backs their films with a lifetime warranty.
Product Information
Price:
$49.95
Manufacturer:
Wrapsol
Pros:

- Perfectly fitted for the MacBook Air
- Crystal clear
- Adds grip-ability to the device
- Great scratch protection
- Adds zero weight or bulk

Cons:

- Difficult to apply perfectly
- Needs a liquid for installation