We use affiliate links. If you buy something through the links on this page, we may earn a commission at no cost to you. Learn more.

Gift-giving has long been a way of sharing the joy of Christmas with one another.  I love to give gifts, though I'm not that fond of picking them out.  I'm also hard to buy for, because when I want or need something, I typically do a boat-load of research to pick out just the right thing, then buy it.   All that said, here are my "wish" list of gadgety items that I've been thinking about for a while, and a few gadgety suggestions that might help with your own "hard to buy for" people.  A merry Christmas, I wish you!
My Wish List
1. Tunes Sans Wires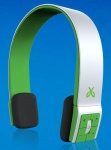 Like many of us, I sit at a desk and work on a computer for most of the day.  And like a lot of us, when I'm cranking through writing documents or fighting to keep some daylight in my email inbox,  I'm jamming to Pandora.  But always via headset so as not to disturb my fellow residents of Cubesville.  Right now, I'm using a pair of Skullcandy earbuds, but what I'd really like is a set of wireless (read: no pesky cables or cords to get tangled in when you're leaning over to make a phone call or reach for your coffee) Bluetooth headphones,  something like the down-to-bidness Tenqua HP-109 ($60) or the retro/sexy Jaybird ($99), pictured at right.
2. Journal Armor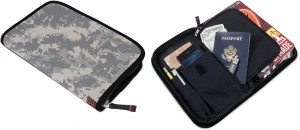 In the last year, I've started keeping a journal, and doing it the old school way–with a notebook and pen.  I've also succumbed to a love of that grand-daddy of hipster notebooks,  the classically-style Moleskine, and I have one stuffed in my messenger bag with me every day.  I'd like to have something that protects my Moleskine, holds a few extra items (Gadgeteer-worthy writing instruments, scraps of paper,  Death Star Plan, etc) and looks cool.  The Moleskine Folio from Rickshaw Bags looks like it would fit the bill for me.  Though I typically carry my iPhone 3GS with me separately, I'm kind of partial to the Smartphone version of the Folio, in case I would want to slip my iPhone in there from time to time.  $50.00, custom-made to your color choice specs (I'm partial to the DigiCamo).
3. Bag Full 'O Pockets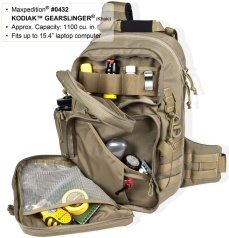 As  many of my fellow husband/dad-types can attest, we wind up being the pack mules of the family during hikes, sightseeing and an other activity in which Mom's purse just isn't big enough.  My pack of choice for about 9 years has been a Panic backpack by The North Face.  It's been a great pack, but after our last few family outings, with all of the…stuff…we seem to 'need' to bring with us (read: have Dad stuff into the pack and lug around), I've decided I need something with more pockets, dividers and compartments to stow and stash things.  My brother turned me on to to Maxpedition products, in particular the Maxpedition Kodiak Gearslinger Shoulder Bag.  The Gearslinger series are hard-core packs that you wear bandolier-style over one shoulder, which allows you to sling them forward under your arm for quick access without complete removal.  And the Kodiak is the biggest of the Gearslinger bunch, with a good chunk of volume and lots of smaller compartments.  Available in multiple military-inspired color schemes for $152 each (ACU camo add $7).
My Gift Suggestions
1. Lotsa Tools, Smallish Space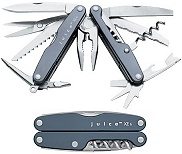 I'm a big fan of pocket knives and multitools–the more functions and features the better–and I think everyone should carry one.  My current EDC (Every Day Carry) pocket tool is an orange Leatherman Juice S2.  Quite a bit smaller than a typical multitool, it still has a lot of features including both pliers AND scissors.  Then I discovered the Leatherman Juice XE6.  It has even more tools than the S2 and is only a bit larger.  Truly a pocket tool kit.  Check it out for your handyman, techie guy, or even your wife or girlfriend–anyone who wants to be prepared.  About $70 from various online retailers.
2. Sporty Safety

Not long ago, I posted a review of the Road ID Wrist ID Sport.  I was impressed with its style, quality of construction and purpose, which is to display important emergency contact info about the wearer to first responders in the event that the wearer is involved in an emergency situation.  I would not only recommend the Wrist ID Sport (or any of the Road ID products) for athletes and fitness enthusiasts, but for anyone who just wants some peace of mind about their safety and would like an alternative to a MedicAlert-style bracelet.  $19.99 in various colors.
3. iPad's Bigger, Better Bro

I thought hard about whether to include the vaunted iPad on this list, but went instead with the Apple MacBook Air.  The newest MacBook Air is available with either an 11- or 13-inch display, is mind-bogglingly svelte at only 0.68 inch and less than 3 pounds, and includes Multi-Touch trackpad, FaceTime camera and loads more.  And with Mac OS X Lion coming summer 2011, with Launchpad for apps and the Mac App Store, it really can do everything the iPad can do–and so much more.  It's a bit more expensive than the iPad, cha-chinging in at $999 for the base model, but IMO, well worth it for the extra power and features.