We use affiliate links. If you buy something through the links on this page, we may earn a commission at no cost to you. Learn more.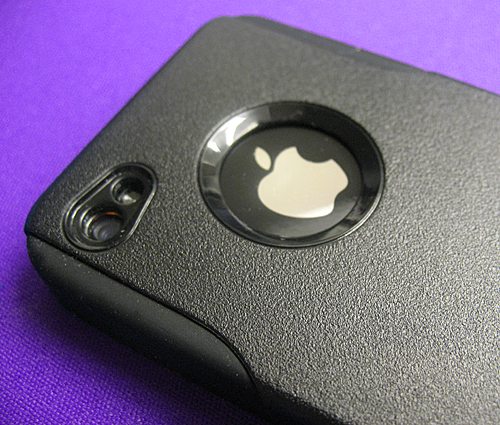 Earlier this year, I reviewed the Otterbox Commuter and Commuter TL cases from Otterbox for another website. And interestingly, I came to the realization that I liked the less expensive Commuter TL case over the regular Commuter case.
Well, spring forward in time and we have a totally new iPhone, and I have two totally new Otterbox cases to "protect and defend" my precious gadget made of glass.
Only this time there is no Commuter TL case for the iPhone 4, only the Commuter case. But now, I am also lucky enough to have Otterbox's big daddy of iPhone protection, the Defender case. So which case will win out this time, eh? The mighty Defender or the less expensive Commuter? Maybe this review will help you figure out which one might fit your needs.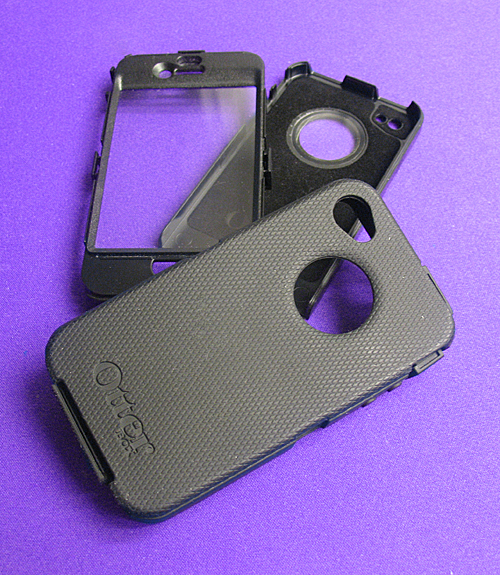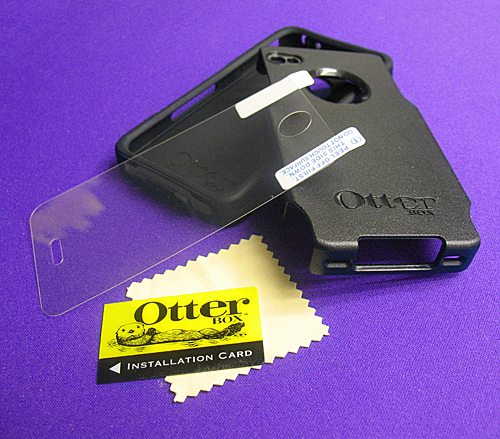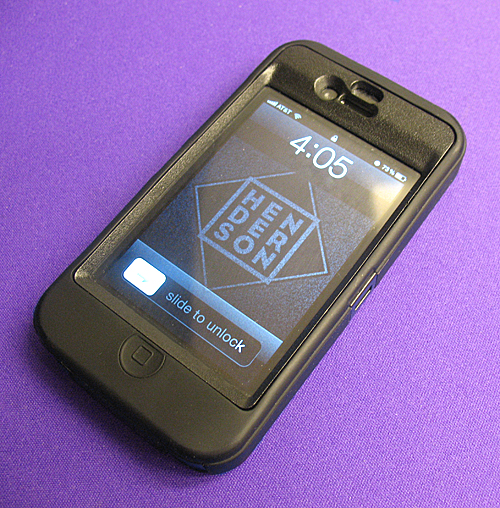 I'll start with the Defender. Once you figure out how to put together this brute of a case, you soon realize that while there may be a sexy, sleek iPhone 4 inside, you'll never see it – or feel it. It reminds me of those thick-necked bodyguards you see around celebrities. Beauty surrounded by lots of beefy protection.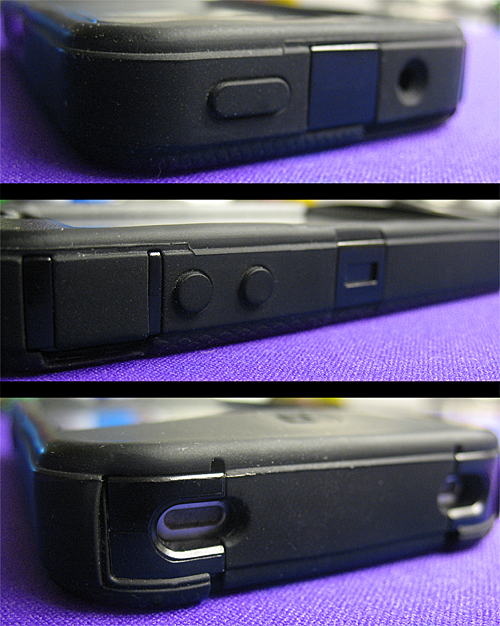 Never miss one of our posts again. Sent MON, WED, and FRI with the latest gadget reviews and news!
Just about the whole iPhone is protected against the elements, including the touch screen window. Each button is either covered or hidden behind a silicone flap for weather protection, as are the headphone and USB ports. There's almost no way for dirt or water to get at your phone when its surrounded by all this plastic and silicone. Do keep in mind though, that although there is a lot of rain protection, the Defender case is NOT waterproof.
The only parts not covered are the camera and flash lens on the back of the iPhone and the speaker and mic on the bottom. Even the Apple logo showing through a hole in the case is protected by clear plastic. The headphone port flap is large, so that any sized mini plug housing should fit easily.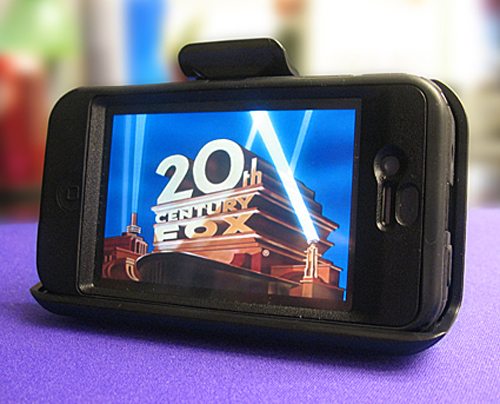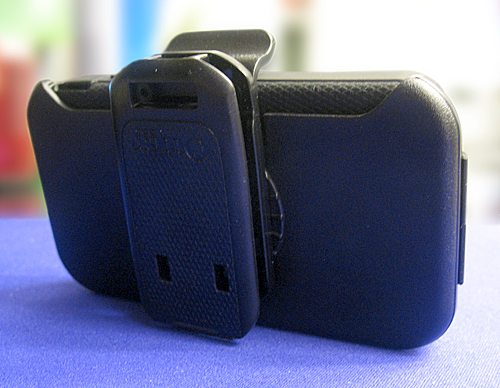 You could probably drop the Defender off a roof and your iPhone would be none the worse for wear. I say probably, because I haven't – and I won't. I'm not stupid. But fumbling around for your iPhone in a parking lot in the rain with slippery hands helps you appreciate why you covered it with the Defender in the first place. And living in Florida's wet climate, I do a lot of fumbling in the rain.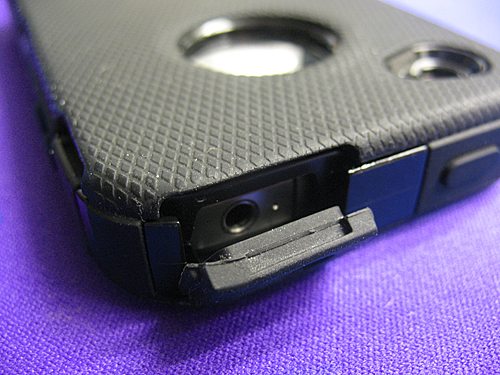 One thing I did notice is that the silicone outer case does get a bit stretchy over time. So the fit is not quite as snug as when brand new. Still, if anything comes loose, I can easily move it back into its correct position. The polycarbonate inner shell is a sturdy skeleton for the silicon outer shell to latch onto. The Defender also comes with a snap-in holster and belt clip that also acts as a stand. Truth be told, I don't use or trust holsters, but it's available if you want it and Otterbox says that it's been redesigned for a stronger hold. I'll take their word for it. The polycarbonate inner back piece is lined with felt to minimize scratching. It's a dirty little secret that some cases can actually cause scratches rather than prevent them. I have seen no scratching caused by this Defender case. My iPhone still looks brand new with the case off.
The Defender's plastic touch screen window has a coating that minimizes fingerprints. It really helps. There is also an invisible texturing on the inside of the touch screen which Otterbox says will prevent bubbles or that "oil-slick appearance". I didn't appreciate this until I saw a competitor's case on a friend's iPhone. Wow, what a difference. Every time she pressed down on her touchscreen, that slick would appear. It became so distracting, she returned her case and ordered a Defender.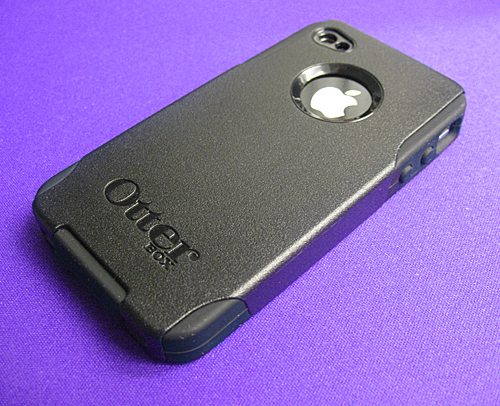 But what if you don't want total protection at the expense of good looks? Then the Otterbox Commuter might be a better choice. This case will not protect like the Defender (it's not really designed to), but it will give you plenty of security against those butter-finger moments.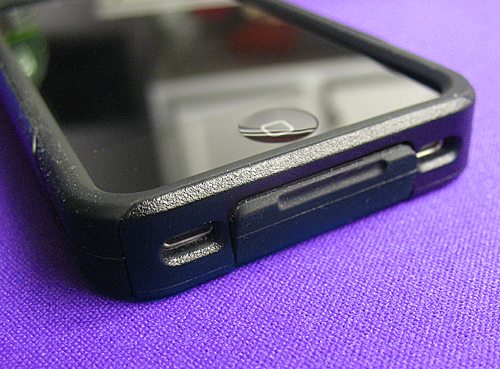 The Commuter case is the opposite of the Defender, in that it has a silicone inner shell and a polycarbonate outer shell. Like the Defender, it also uses flaps to protect ports, but there is no plastic touch screen window or Apple logo protection on the back. The Commuter does come with a self adhering front screen protector. I don't like or use those thin protectors, so I can't say how well they might work. When I used the Commuter, my glass touch screen was not covered. The Commuter outer shell can be tricky to put on since the silicone inner shell keeps moving around. It takes practice but it can be done. Patience is required here. Also note that the headphone port flap is smaller that the Defender's, so make sure that your mini plug will fit if the housing is larger than normal or "L" shaped..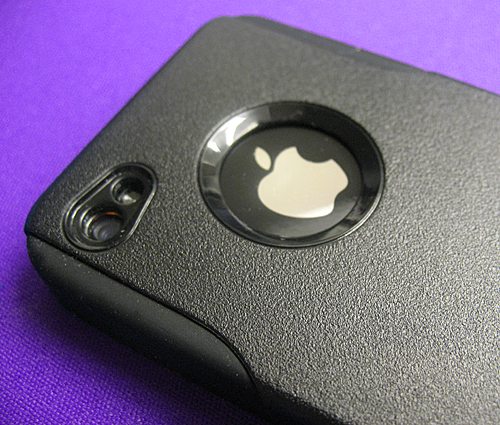 The Commuter is quite a bit less expensive that the Defender but it is much more elegant looking (anything compared to the Defender would seem more elegant). But as good as a case as the Commuter might be, it can't hold a candle to the protection offered by the Defender.
So, if you want to protect that expensive toy made of glass, both the Commuter and the Defender will do the trick. Which means you have a choice to make: Go for the looks or go for the armor. As for me, I'll take the armor, every time.
Product Information
Price:
$49.95 US – Defender $34.95 US – Commuter
Manufacturer:
Otterbox
Pros:

Very good protection from the Commuter.
Outstanding protection from the Defender.

Cons:

Silicone can stretch with age