We use affiliate links. If you buy something through the links on this page, we may earn a commission at no cost to you. Learn more.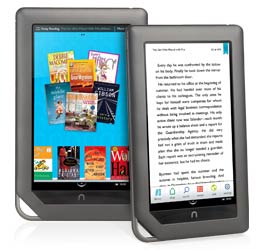 Barnes & Noble just announced the next version of their Nook eBook reader. It's the NOOKcolor. It has a 7″ 1024 x 600 color display. However, unlike the original Nook, the entire display is touch enabled. It's also interesting to note that the display is 169 dpi. By comparison the iPad is 132, iPhone 3gs 163, iPhone 4 retina display 326 and 6″ e-ink displays are 167 dpi.
Other hardware features include built in WiFi (no 3G), 8GB on board for six thousand book capacity with expansion on microSD. You'll be able to read for up to 8hrs per charge as long as you turn off WiFi. It is powered by Android OS and will have a special B&N app store. Why it won't run regular Android apps and have access to the regular app market remains to be seen.
Reading features… isn't that the main reason why you'd want the NOOKcolor in the first place? … include special kid features that will allow for interaction and the ability to have the book read to them. The book lending and borrowing features appear to be unchanged. Lend a book to a friend for up to 14 days once and that's all. You can tweet and update your Facebook page with details of what you're reading, as well as surf the web via the installed browser.
The NOOKcolor is priced at $249 and will be shipping on or around November 19. With pre-ordering open now. Will you be buying one?