We use affiliate links. If you buy something through the links on this page, we may earn a commission at no cost to you. Learn more.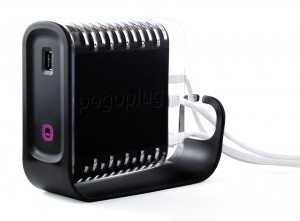 Pogoplug has added a new version of the Pogoplug, available today. We have covered the Pogoplug updates in the past as they added printer support and a wireless adaptor, and added the Pogoplug Biz. This appears to update and replace the Pogoplug, with the following features:
Built-in wireless capabilities
All-Black
Same $99 retail place as the Pogoplug
I recently bought a pogoplug, and will post a review soon. I liked it so much, I've already bought a second. I think the built-in wireless is a great add, and I couldn't stand the pink, so I am a fan of the all black design.
Full text of the press release after the jump
Pogoplug Unveils Latest Version of Award-Winning Product Pogoplug Pro is Available in Best Buy Stores Today
San Francisco, CA, October 11, 2010 – Cloud Engines, Inc, today announced Pogoplug Pro, the latest version of the company's award-winning multimedia sharing device. The Pogoplug Pro delivers even more flexibility to store, access, and share personal content from anywhere on the Internet.
Pogoplug allows users to easily and securely access, share, and stream their personal content from anywhere, without uploading.  Content remains safely on USB hard drives connected to the Pogoplug device in their home or office, and is available from any Internet enabled device, including apps for the iPhone, Android, iPad, BlackBerry, and Palm.
"Pogoplug is a great option for those who want to quickly and securely share personal files over the Internet," said Ross Rubin, executive director of industry analysis at The NPD Group.
The Pogoplug Pro includes all of the popular features of the second generation Pogoplug, including the ability to connect up to four USB drives and to print from any mobile device. In addition, Pogoplug Pro adds built-in wireless connectivity.  Owners can place the device anywhere in their home without having to physically connect it to their router.
Pogoplug Pro is available today in Best Buy stores and online for $99 (MSRP).
About Best Buy
With operations in the United States, Canada, Europe, China, Mexico and Turkey, Best Buy is a multinational retailer of technology and entertainment products and services with a commitment to growth and innovation. The Best Buy family of brands and partnerships collectively generates more than $49 billion in annual revenue. Approximately 180,000 employees apply their talents to help bring the benefits of these brands to life for customers through retail locations, multiple call centers and Web sites, in-home solutions, product delivery and activities in our communities. For more information about Best Buy, visit www.bestbuy.com.
About Pogoplug Pro
The Pogoplug is a device that connects up to 4 external hard drives to the Internet wirelessly. It is designed for consumers who have an external hard drive and have high speed Internet. Consumers can securely access and share all of their content [Files, Photos, and Video] from any Web browser or enabled mobile device with no additional monthly fees.
About Cloud engines, Inc.
Founded in 2007 by experienced entrepreneurs from the digital media and security industries, Cloud Engines is located in San Francisco, California. The company was formed with a mission to change the way personal content is stored and distributed over the Internet. The Cloud Engines philosophy is that by making a product simple, open and affordable, the community will participate in making it better. For more information, please visit, www.cloudengines.com and www.pogoplug.com