We use affiliate links. If you buy something through the links on this page, we may earn a commission at no cost to you. Learn more.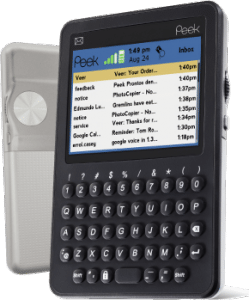 The makers of the Peek Pronto have introduced a new device; the Peek 9. Great!
What is it? Is it a phone? A scientific calculator? A digital dictionary? I got it, it's an Electronic Foreign Language Translator!
Actually it is none of those things. It is an Email Device. It probably should be some or all of those other things, then perhaps we can have a reasonable expectation of people actually wanting something like this. In a world of the Smart-Phone and even the Feature-Phone becoming better at doing practically everything except cooking your dinner, what could a simple email device do for you?Simple Gone Social
The idea behind the original Peek was for it to be a simple way to get your email on the go. Period. No bells, no whistles. Just email. The later released Peek Pronto enabled SMS, Twitter and Facebook capabilities along with a few other enhancements (if you can call it that). Simple not so simple anymore…
Even with those features, it doesnt seem to be worth the 70 bucks they were asking. Not to mention the $20.00 a month for service.
New and Improved?
"Everyone else was doing more, we did less. Everyone else was chasing premium. We made it cheap. Everyone was focused on flash and trash. We made nuts and bolts. Cheap, simple, fast email," said Amol Sarva, the Peekster-in-Chief.

"For some reason, while everyone is busy making $99 touch screen phones (we're not), the average cell phone bill seems to be going up (including ours). But aren't people talking less? Texting, email, etc, more? Isn't that cheaper?"
True, most people do not talk as much on their phones. But we all still want the option. You ever try to give detailed directions through text messages or emails, going back and forth with the person? The fact is, talking is still the fastest form of communication. Sometimes you need an answer, quickly. Sometimes it's an emergency. Sometimes we want to hear our loved ones voice.
Cheaper isn't always better.
On the Otherhand…
Peek however, may have a chance if targeted at the right market. Business professionals.
If you have ever worked at a large office you would see just about everyone has a Blackberry that is provided by the company. A lot of corporate phones are used now for email only. Peeks would be a lot cheaper for the company to have for sure. That should be the target demographic. Not regular consumers. Consumers want more than just email. I mean, if I work at Target as a cashier I'm not gonna be checking email my entire lunch break. Twitter and Facebook is nice but I have a whole 30 minutes to an hour to kill. Can I surf the web, or listen to music, play video games or call my brother?
If its cheap its cheap, and aren't we always surprised when cheap stuff actually does something cool? Why? It's because we didn't expect it to do much in the first place. That's where Peek stands. Most people like simple things. But we aren't asking for the world when we say, "Peek why not put a web browser on there and maybe we can talk." Or someone would say, "Peek, how about a new hardware design if your gonna come out with a new model. I haven't seen a scroll wheel on anything since my Blackberry 8700 from like 20 years ago."
Simple is not better for everyone. But what do you think?
Is Peek 9 a deal or is Peek just not getting it?