We use affiliate links. If you buy something through the links on this page, we may earn a commission at no cost to you. Learn more.
Anyone watch the NBC television nerd series "Chuck"?  It's all about this average computer whiz guy nerd who works at a Best Buy-like store.  He's harmless, nerdy, a little on the wussy side.  One day Chuck receives an encoded email from an old college buddy who is now with the CIA.  The email  embeds the only remaining copy of the world's greatest spy secrets into Chuck's brain which he recalls randomly through any series of visual or auditory triggers.   Of course this makes him sought after by all of the bad guys.   It's a cool show but my whole point is that sometimes, Chuck has to carry around all sorts of super-secret-spy-stuff that he doesn't want.  One of those things is super-secret-spy-secrets in a fabulous gold Mezzi M-Zero Molded Aluminum briefcase.   It looks cool on the show, it's cooler in real life.
Because of copyrights, I can't post a picture here of actor Zachary Levi who plays nerd Chuck Bartowski with the gold Mezzi briefcase but you can get a good idea of it here at the Mezzi website.
I have reviewed cases from Mezzi before.  The last one was a pink aluminum slimline which is nice and pretty and little on the cramped side.   What the pink slimline lacks, the gold M-Zero makes up for.  It's nice, roomy, comfy, fits all of my stuff and I very much appreciate the larger locking buckles.  It comes with a nylon strap for shoulder carrying with the comfy shoulder pad to keep the strap from digging in.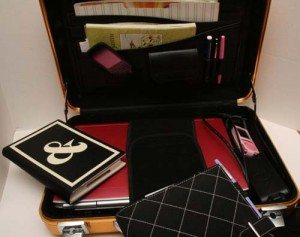 In the gold Mezzi M-Zero,  I am able to carry my full sized computer, charging cables, pens, pencils, cell phone, Nook, notebooks… all sorts of neat stuff, comfortably and neatly.  The straps are sturdy, comfortable and the briefcase's fantastic color seems scratch resistant because I've already dropped it twice on accident.
If I had to complain about the gold M-Zero, it would be the pen holder loops.  I am a girl who loves her pens and pencils and I always fill these little loops with pens and mechanical pencils because you never know when you need one.  Most of today's pens and mechanical pencils are not the small little round writing instruments of my childhood.  Manufacturers are keen to the comfort of writing instruments and many pens and mechanical pencils are made with "comfort grips" or are just larger in circumference than your standard garden variety Bic pen.   Felt tip Bic markers, thin pens and thin pencils without the comfort grip are about the only writing instruments that will fit in the pen loops.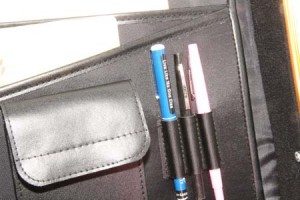 If I had to change one thing about this terrific briefcase, it would be to make at least one of the pen loops wider.  Most writing instruments come manufactured with side clips that will allow it to cling to a pocket, paper… etc and can be pushed down far enough to hold onto the side of the pen loop if the loop is too large.  That is not the case here, only the thinner pens and pencils will slip into these loops and if you have to force a writing instrument into the loop, good luck getting it back out.
But that is pretty much where the complaints end.  The Mezzi gold M-Zero is the answer to the tired black leather laptop bag.  It's sturdy in construction, good solid locking buckles with two keys if you want to lock the locks, roomy and holds plenty.  It's perfect for travel because this can be your one carry on that will hold your computer, books and a lunch if you're not into eating airplane food.  This is also the chic go-to bag for the executive who has everything and maybe wants to stand out.  He's going to stand out with this briefcase.  Because you can't miss it.

Product Information
| | |
| --- | --- |
| Price: | $89.95 |
| Manufacturer: | Mezzi |
| Pros: | Sturdy construction, solid locks, spacious, chic styling, scratch resistant. Stands out. Definitive change from the usual. |
| Cons: | Pen loops are a bit tight for any writing instrument manufactured with a comfort grip. |